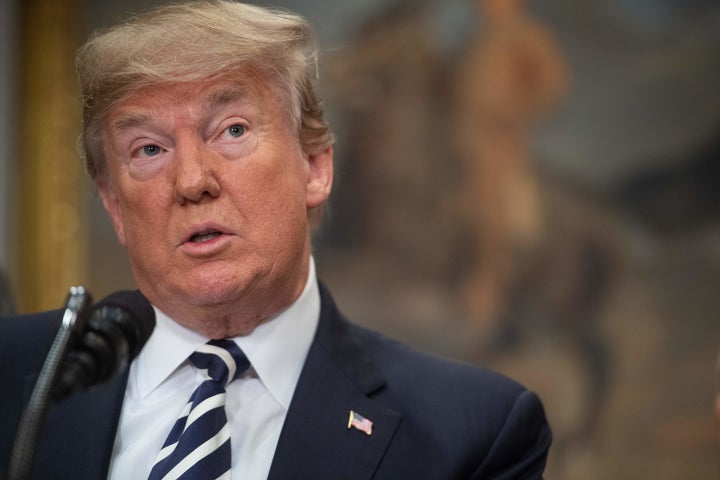 The Trump administration is forging ahead with a previously sidelined plan to allow U.S. gun manufacturers sell their products abroad more cheaply and easily.
The proposed rule, published Thursday in the Federal Register, would shift control of U.S. firearm exports from the State Department to the Commerce Department, in a move the regulatory language said is aimed at reducing "procedural burdens and costs" on American gunmakers doing international business.
The plan would also save the U.S. government money by simplifying the licensing process, according to the proposal.
As a result, gun companies would likely be able to expand foreign sales of popular civilian firearms and accessories that have attracted controversy in the U.S. These include semi-automatic military-style guns like AR-15s, .50 caliber rifles, scopes and certain high-capacity ammunition magazines.
That would be a boon to an industry that has experienced sharp declines in sales since Donald Trump's won the White House in 2016, after years of record sales driven by fears that former President Barack Obama would tighten gun laws. The Obama administration had mulled a similar export plan during his first term, but abandoned it following the 2012 mass shooting at an elementary school in Newtown, Connecticut.
If the rule change takes effect, foreign arms sales are expected to increase as much as 20 percent, according to the National Sports Shooting Foundation, the gun industry's trade association. Other arms trade experts have predicted a much smaller boost.
But the plan has also raised concerns among foreign policy experts and some Democratic lawmakers who say that the reduced oversight under the new system could increase gun violence in other nations by putting more powerful weaponry in the hands of human rights abusers and criminal factions, as well as the civilian population.
Direct civilian access to U.S.-made weapons would depend on their nations' gun laws.
"It was already problematic, and now all the indicators are that the gates will open and there won't be any controls on who gets weapons that are legally exported."
Under the current version of the Arms Export Control Act, the State Department issues licenses and attempts to monitor the flow of U.S. firearms, including who ultimately receives exported guns. Larger arms exports are also subject to scrutiny from Congress and the public, a system that has at times effectively prevented firearms from ending up in the hands of corrupt governments, terrorist organizations and especially violent foreign law enforcement bodies.
In 2016, for instance, Sen. Ben Cardin (D-Md.) blocked a proposed arms export deal between the U.S. and the Philippines, amid reports of human rights abuses by that nation's police forces.
The Commerce Department, critics of the proposed rule change said, lacks any of the infrastructure or oversight ability to properly monitor what happens to U.S.-made weapons once they leave the country.
"When it comes to Commerce, the inspection program isn't transparent, it doesn't report to Congress, and it's unclear what they do at all," said John Lindsay-Poland, a researcher for Global Exchange, an international human rights group.
"We anticipate there will be even less oversight by Commerce now than there was by State," he said. "It was already problematic, and now all the indicators are that the gates will open and there won't be any controls on who gets weapons that are legally exported."
Democrats and human rights groups have warned that the rule changes could worsen gun violence problems in foreign countries, particularly in Mexico and other Latin American nations.
The proposed rule change, slated to go into effect no less than a month after a public comment ends in July, would be "extremely hazardous to global security," Cardin said in a statement.
"Small arms and light weapons are among the most lethal weapons that we and other countries export because these are the weapons that are most likely to be used to commit atrocities and suppress human rights, either by individuals, non-state groups, or governmental security and paramilitary forces," Cardin said.
House Democrats have introduced legislation to block transferring the arms export oversight to Commerce, but it's unlikely to advance in the Republican-controlled Congress.
"On this one fundamental human concern, the thing that matters most to us, our physical safety, and the physical safety of our loved ones, we don't lead."
Many of those guns are illegally smuggled into Latin America. But firearms also reach criminal factions thanks to legal exports and sales to police: in Mexico, more than 20,000 firearms, many of them American-made, have been lost by or stolen from police since 2006, Lindsay-Poland said.
"All of the evidence and experience with gun violence in Latin America indicates that there will be more blood from U.S.-sourced weapons" thanks to the rule change, Lindsay-Poland said.
Sen. Chris Murphy (D-Conn.), a gun control advocate who opposes the proposed rule change, said this week that the U.S. could be on the verge of "exporting" its epidemic of gun violence to other nations.
"We created the modern open economy, we created participatory democracy, we created the internet age, but on this one fundamental human concern, the thing that matters most to us, our physical safety, and the physical safety of our loved ones, we don't lead," Murphy said at a forum on the arms trade. "In fact, we do the very opposite. The United States runs at the very back of the pack."
Popular in the Community