But it is mostly a symbolic measure. Declaring the national emergency, by contrast, would allocate more federal funding to state and local officials dealing with the crisis and pressure lawmakers to take more long-term steps.
"The opioid crisis is an emergency, and I'm saying officially right now it is an emergency. It's a national emergency," Trump said on Aug. 10, before adding that he was "drawing documents now" to make the official declaration.
Trump's description of the crisis as "a serious problem, the likes of which we have never had," was seemingly made off-the-cuff, just two days after Health and Human Services Secretary Tom Price said the administration believed the epidemic "can be addressed without the declaration of an emergency."
Later that day, the White House released a statement affirming that Trump had issued instructions "to use all appropriate emergency and other authorities to respond to the crisis caused by the opioid epidemic."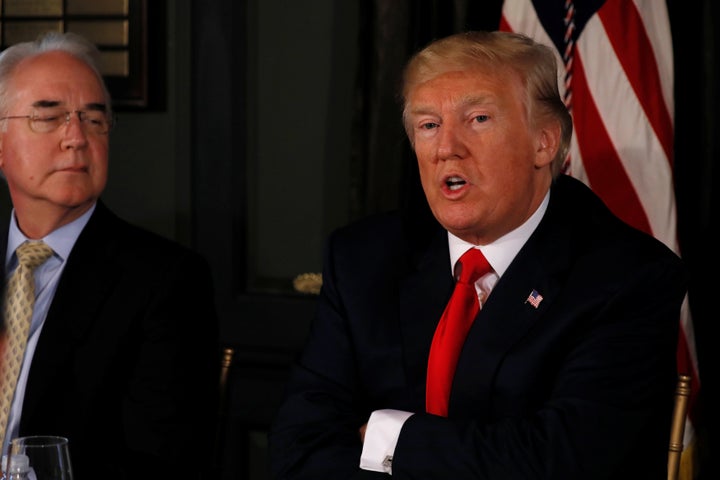 But since then, the administration hasn't said when Trump will make the official declaration and what that would entail.
Public health officials in a number of states ravaged by the crisis, including Pennsylvania, Ohio and West Virginia, say they have yet to hear from the White House on specific guidance.
The White House did not immediately respond to a request for comment.
White House press secretary Sarah Huckabee Sanders told reporters last week that Trump was "absolutely taking [the declaration] very seriously," attributing the delay to administrative and legal matters.
"The commission and members of the administration have continued to meet and work on the details of that national declaration. And that's certainly a big priority for the administration, and we'll continue to focus on pushing that through," she said. "It's a much more involved process, and that's something that they're working through on the legal side, the administrative side, and making sure that it's done correctly."
Price similarly provided no details in New Hampshire on Thursday, when he announced more federal grants to help community health centers address substance abuse and mental health issues.
"The president has talked recently about raising the level of the opioid crisis to an emergency, and we're working on that with his staff, literally as we speak, to bring greater clarity and focus to that," Price said.
"We're understanding that, as we see the urgency placed upon these other national disasters, we need to appreciate that there's an urgency around this national disaster that merits the same comprehensive approach," former Rep. Patrick Kennedy (D-R.I.), a member of the White House opioid commission, said on Thursday.
Declaring a national emergency was among the White House opioid commission's extensive list of recommendations in July. The panel also suggested measures to expand treatment options and to improve medical education on addiction. Trump has not said whether he will implement any of those proposals.
More broadly, members of his administration have sent mixed messages on drug policy. Despite pledging compassion for victims of the opioid crisis, Attorney General Jeff Sessions has proposed an aggressive approach to drug enforcement, and Trump's pick to head the Office of National Drug Control Policy, Rep. Tom Marino (R-Pa.), has called for more criminalization of drug use, which could undermine efforts to treat addiction as a public health issue.
The White House commission met again on Monday, with Christie holding a press conference to announce a partnership between the National Institutes of Health and pharmaceutical companies.
Asked about the delay, Christie said White House officials "want to make sure they get it right." He added that Trump is "waiting for his staff to come up with the appropriate way to do this," and noted that the declaration was "an unprecedented move."
"The president and I speak regularly, and every time we speak, we talk about this issue," Christie said. "And he is completely resolved to this being done." 
This article has been updated with additional comments from Christie on Monday afternoon.
Calling all HuffPost superfans!
Sign up for membership to become a founding member and help shape HuffPost's next chapter
BEFORE YOU GO
PHOTO GALLERY
2017 Scenes From Congress & Capitol Hill