President Donald Trump has decided not to officially declare a state of emergency for the opioid crisis, his health and human services secretary said Tuesday, a week after a White House task force recommended the president take "urgent" action to stem overdose deaths.
Speaking at a press briefing at Trump National Golf Club in Bedminster, New Jersey, HHS Secretary Tom Price said Trump is treating the opioid epidemic "as an emergency," but without an official emergency declaration, which could provide additional government resources.
"We believe that at this point that the resources that we need or the focus that we need to bring to bear to the opioid crisis at this point can be addressed without the declaration of an emergency," Price said.
Price added that "all things are on the table." The opioid crisis, he added, differs from national emergencies that typically follow infectious disease outbreaks or natural disasters for a set period of time.
Last month, Trump's opioid commission, headed by New Jersey Gov. Chris Christie (R), released a preliminary report that recommended the president declare a state of emergency.
"With approximately 142 Americans dying every day, America is enduring a death toll equal to September 11th every three weeks," the report said. "Your declaration would empower your cabinet to take bold steps and would force Congress to focus on funding and empowering the executive branch even further to deal with this loss of life."
The task force largely encouraged a public health approach to the epidemic. The report urged Trump to broaden treatment availability by supporting the elimination of a Medicaid provision that prohibits federal money from going to residential mental health and substance-use facilities with more than 16 beds. It also called for all treatment facilities to offer medication-assisted treatments like buprenorphine, which have been proved effective, but have faced institutional resistance.
The White House opioid commission is slated to release a final plan to Trump on Oct. 1.
Price said he and other officials met with Trump earlier on Tuesday in what the president had teased as a "major" briefing on the opioid crisis. Some reporters predicted Trump would announce a significant policy shift after the event.
Price said the briefing included discussion of policies outlined in the commission's report, including expanding resources for treatment and recovery, increasing access to the overdose-reversal drug naloxone, and improving data collection and sharing efforts.
But he announced no real shift in policy.
"The president and first lady are absolutely, fully engaged on a tragedy that is crossing the country," said Price.
Trump, speaking to reporters before Price's remarks, did offer one potential solution.
The president also decried the downturn in federal drug prosecutions and the trend of shorter prison sentences for drug crimes.
"We're going to be bringing them up, and bringing them up rapidly," said Trump.
The opioid commission's preliminary report didn't mention law enforcement in its recommendations, though Attorney General Jeff Sessions has regularly argued that aggressive action from police and prosecutors will help curb problems of drug abuse and addiction.
Recent studies have detailed the devastating extent of the opioid epidemic. More than one-third of U.S. adults were prescribed opioid medications in 2015, while about 5 percent were misusing the prescriptions, and 1 percent had an opioid-use disorder, according to the National Institute on Drug Abuse.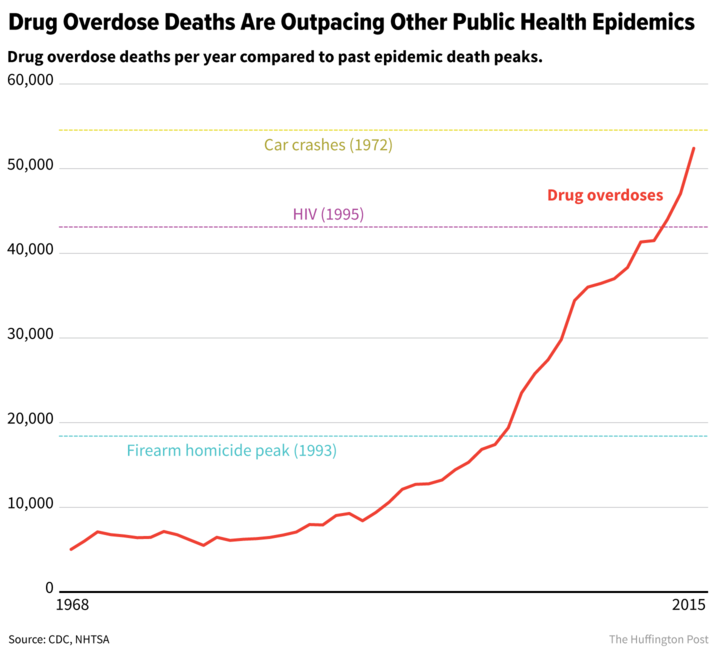 Drug policy experts had expressed concerns about the possibility of Trump declaring a state of emergency. Although the declaration could provide additional federal resources, it could also be used to ramp up a punitive response, they said.
"It could give the administration leverage to push for new sentencing legislation, or legislation that enhances drug penalties or a law enforcement response," said Grant Smith, deputy director of national affairs for the Drug Policy Alliance, a nonprofit that advocates for a public health-focused approach to drug laws.
Emergency declaration or not, it appears that Trump continues weighing enforcement-focused initiatives, including those advocated by Sessions.
"So far, Attorney General Sessions' escalation of the war on drugs and President Trump's attempts to take away health care and treatment from millions of people is extremely worrisome," said Smith. "To date, the Trump administration's response to the opioid crisis is an epic fail."
Popular in the Community