President Donald Trump on Thursday formally declared a public health emergency for the opioid crisis, an action that has been more than two months in the making.
"Families, communities and citizens across our country are currently dealing with the worst drug crisis in American history and even, if you really think about it, world history," Trump said. "That is why, effective today, my administration is officially declaring the opioid crisis a national public health emergency under federal law and why I'm directing all executive agencies to use every appropriate authority to fight the opioid crisis."
A public health emergency is less expansive than a full-on national emergency, which Trump had previously suggested he would declare in this case, even though they are typically rare outside the scope of natural disasters. Declaring a national emergency would free up billions of dollars in federal disaster relief funds. The public health emergency fund currently only holds around $57,000, according to the Department of Health and Human Services. It was not immediately clear what additional resources, if any, Trump plans to direct to the opioid crisis.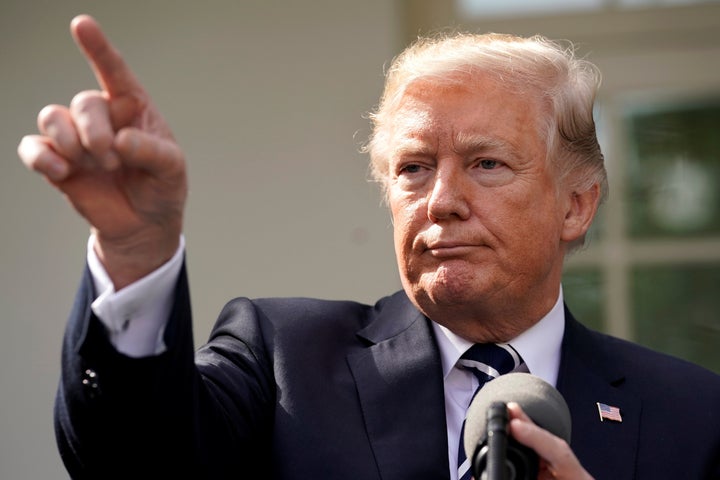 "I'm saying officially right now it is an emergency," Trump said at the time, during a press conference from his golf club in Bedminster, New Jersey. "It's a national emergency."
Trump went on to say he was "drawing documents" on the declaration, but the White House offered few updates until last week, when the president teased Thursday's announcement.
"If this scourge has not found you or your family yet, without bold action by everyone, it soon will."
With opioid overdoses now claiming an estimated 91 lives around the country each day, more than 7,000 people may have died from these drugs since Trump's remarks in August. Since then, Trump has also lost HHS Secretary Tom Price, the top health official in the nation. Price resigned in September amid controversy over his use of private planes for official travel.
As a candidate, Trump vowed to take prompt action to halt the opioid epidemic, which has taken a particularly heavy toll in communities that supported him last November. But there have been few signs of urgency coming from the White House.
In an interim report released in late July, Trump's commission on opioid abuse urged the president to take immediate action by declaring the epidemic a national emergency and expanding access to treatment to alleviate the crisis.
"Your declaration would empower your cabinet to take bold steps and would force Congress to focus on funding and empowering the executive branch even further to deal with this loss of life," the report said. "It would also awaken every American to this simple fact: If this scourge has not found you or your family yet, without bold action by everyone, it soon will."
Thursday's announcement appears to fall short of that. Among other measures, the declaration shifts regulations to allow for the prescription of medication used for substance abuse via telemedicine, and frees up additional medical personnel to be dispatched to states that request it, according to STAT News.
Addiction experts were quick to criticize the plan for failing to do more to expand access to naloxone, an opioid overdose reversal drug, and buprenorphine, a medication that has been shown to be highly effective in treating opioid use disorder.
"This is a swing and a miss ― pretty much what you'd expect from a White House that has been fighting health care access, proposing deep domestic spending cuts, and elevating posturing over policy," said Daniel Raymond, deputy director of planning and policy for the Harm Reduction Coalition. "There's little here that will bend the curve of overdose deaths, and a lot of missed opportunities."
Regina LaBelle, chief of staff at the Office of National Drug Control Policy during the Obama administration, applauded the telemedicine aspect of the order, but said it fell short in other ways.
"Such actions could have included building a naloxone stockpile, addressing regulatory barriers to mobile methadone vans, not to mention including more funding to address the epidemic," she said. "At a time when only 20 percent of people with opioid use disorders get needed treatment, we need to act with urgency."
Jason Cherkis contributed reporting.
Popular in the Community