Before an audience Tuesday night that included female legislators dressed in white to protest his record on women, President Donald Trump told a joint session of Congress that he wanted to work with them on two policies that are key to gender equality and long the territory of Democrats: paid family leave and affordable child care.
"My administration wants to work with members of both parties to make child care accessible and affordable, to help ensure new parents that they have paid family leave," Trump said.
The child care and leave ideas come at the urging of Trump's daughter Ivanka, who holds no official position in his administration but has reportedly been pushing legislators to pass a child care tax credit as part of a larger tax overhaul. Her proposal would cost an estimated $500 billion over 10 years, according to Bloomberg.
Even if the policies come to nothing, and the versions that Trump has floated before have been extremely weak, that a Republican president is even talking about them is fairly remarkable.
Particularly this president, a man accused by more than a dozen women of sexual harassment, who's already moved to curtail abortion rights overseas and whose presence in the Oval Office has led millions of women across the country to take to the streets in protest.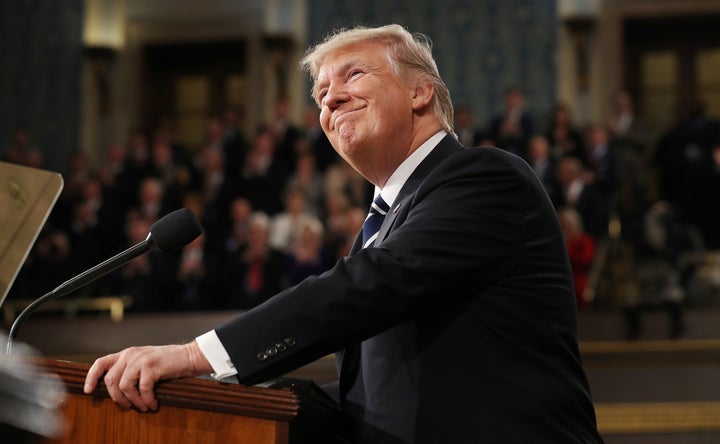 Trump's inner circle is entirely male with the exception of senior counsel Kellyanne Conway. Indeed, the last president to put so few women into his first Cabinet was Ronald Reagan. Trump has also offered little indication that he's thinking of the needs of working women, recently addressing a roomful of governors and "their wives," perhaps having forgotten that some U.S. governors are women.
Trump on Tuesday seemed to be trying to position himself as more female friendly, also touting a partnership with Canada meant to foster entrepreneurship among women.
The U.S. is the only developed economy without paid leave. The lack leads many women to leave the workforce or scale back their careers and ultimately keeps many out of the labor force. The lack of affordable child care also holds women, who are typically the family caretakers, back from the workforce.
Since at least the 1970s, the GOP has opposed supporting day care because it clashed with "family values." President Richard Nixon even vetoed a bipartisan bill that would've provided for subsidized universal childcare. The underlying rationale was: don't encourage women to work because they belong at home.
"I know of no mainstream elected Republican who's on board with child care support," Michael Madowitz, an economist at the Center for American Progress, told The Huffington Post on Tuesday.
In reality, most children are now growing up in households where the mother works outside the home.
Trump offered no further details on these plans in his speech, but he seems to be following up on two proposals he made over the summer during the presidential campaign.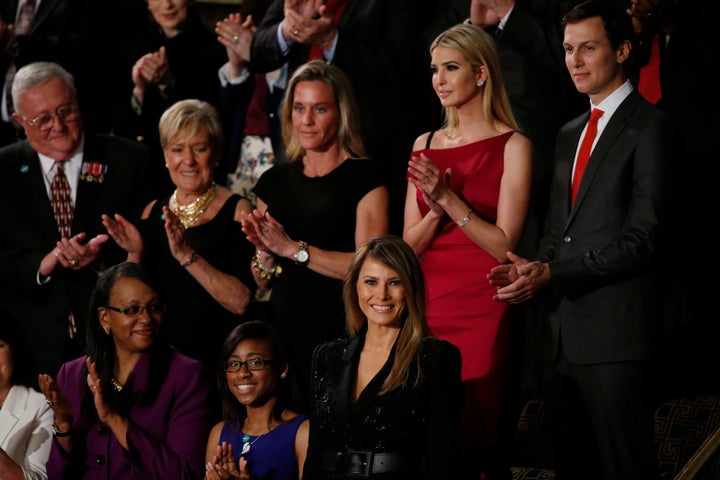 Citing his daughter, Trump said then that he'd like to give women six weeks of paid maternity leave and provide tax credits for parents who pay for child care.
Both policies were widely panned at the time by policy experts who said neither would have its advertised effect. The tax credit would wind up benefiting parents at the higher end of the income scale, who actually get tax refunds. Tax deductions are more valuable to people who make a lot of money (and pay a lot of taxes) than they are to those with low incomes who already pay little income tax.
Plus, a onetime cash infusion for those lower-income families would be hard to budget out over a year to pay the high cost of child care. In some states, day care costs more than college tuition.
"Even with Ivankacare's regressive, flawed structure, it's nice to at least hear an American president take child care seriously as an economic issue — an approach that many other first world countries were on board with a generation ago," Madowitz said.
Trump's paid leave proposal leaves out adoptive parents and fathers ― and runs counter to most state and city policies that now offer paid family leave to caretakers who require time off to look after an infant or a sick relative.
"The words say 'parents' and 'family leave,' but the proposal he has put forward is for maternity leave only," said Ellen Bravo, co-director of Family Values @ Work, "leaving out non-birth parents and all the other reasons people need leave for their own serious illness or that of a family member. The proposal is also for only six weeks and would come from an under-funded source: state unemployment insurance funds. The devil is in the details, and if these are the details, they are devilish indeed, leaving behind those most in need of leave and least likely to have access."
Popular in the Community