In a television appearance touting her father's newly released maternity leave and child care plans, Ivanka Trump said that the Trump Organization provided all of its thousands of employees with paid maternity leave.
If it does, that's news to employees at many of the Trump Organization's hotels.
The Huffington Post on Wednesday morning checked the validity of Ivanka Trump's comments to ABC. Employees at the Trump SoHo, New York and Miami hotels, as well as the Mar-a-Lago Club in Florida, all said that they do not offer workers paid maternity leave. Instead, they said that the company complied with the Family and Medical Leave Act, a federal law that requires companies to give employees up to 12 weeks of unpaid time off for the adoption or birth of a child.
An undated employee handbook for the Trump International Hotel Las Vegas, obtained by HuffPost, states that workers there are entitled to unpaid family leave, in accordance with the FMLA. The manual notes that employees must "substitute their earned and unused vacation days and personal days for any otherwise unpaid FMLA leave." That is, if employees want paid maternity or paternity leave, they have to use other paid time off that they've banked.
Passed in 1993, the FMLA also allows for 12 weeks of unpaid time off to care for sick family members, or if the employee can't work because of a serious health problem. But it does not guarantee workers any paid time off. A company must voluntarily provide it.
Deirdre Rosen, the senior vice president of human resources at The Trump Organization, told HuffPost that the company does offer "an industry leading 8-week paid parental leave policy." But her statement also said that "the policies and practices allowing employees to enjoy a healthy work-life balance vary from property to property."
"The Trump Organization is proud of the family friendly environment it fosters throughout its portfolio," she said. "We take an individualized approach to helping employees manage family and work responsibilities."
Rosen's statement is at odds with Ivanka Trump's insistence that all employees at the Trump Organization receive paid leave. Rosen declined to clarify who at the individual Trump Organization properties decides whether to provide the eight-week paid parental leave. The Trump Organization also did not say when the leave policy was put in place, though an official close to the company told HuffPost that it was only recently, during the campaign.
Most private-sector employers choose not to go above and beyond the legal requirements and pay their workers for family leave. According to recent survey data from the Labor Department, 87 percent of private-sector workers said they do not receive paid family leave.
As Donald Trump now pushes for a six-week national paid maternity leave policy ― one based on reconfiguring unemployment insurance ― the parental leave policies at his own hotels have come under increase scrutiny. In the past, he has been vague about his company's policy, telling Fox Business that "it's something that's being discussed." But the Trump Organization itself had previously declined to comment.
The Clinton Foundation ― which is run by former President Bill Clinton and closely associated with his wife, the current Democratic nominee ― does provide paid maternity leave. A spokesman for the foundation said that new parents are given 12 weeks paid time off and that "women and men have exactly the same benefits as primary or secondary caregivers."
"The Foundation's parental leave policy provides Foundation employees who are primary caregivers with a guaranteed full paid leave benefit of 12 weeks following birth, adoption or foster care placement of a child, and secondary caregivers receive 6 weeks of guaranteed full paid leave at any time within 6 months following the birth or arrival of the child," the spokesman said.
During the campaign, Hillary Clinton has proposed 12 weeks of paid time off for both parents, paid for with higher payroll taxes on top-end earners. Asked to compare that plan with her father's, Ivanka Trump questioned Clinton's commitment to the policy because it hadn't become law during her time in office (she served in the Senate between 2001 and 2009).
"We have not been in public office for the last several decades and she has," said Trump. "So, she could have instituted some of those policies in that role and has not done so."
Ivanka Trump's own 12-employee apparel company, the Ivanka Trump Brand, does offer eight weeks of paid leave to new mothers, Rosen said.
Are you an employee at a Trump Organization property? If so, tell us about your benefits.
Before You Go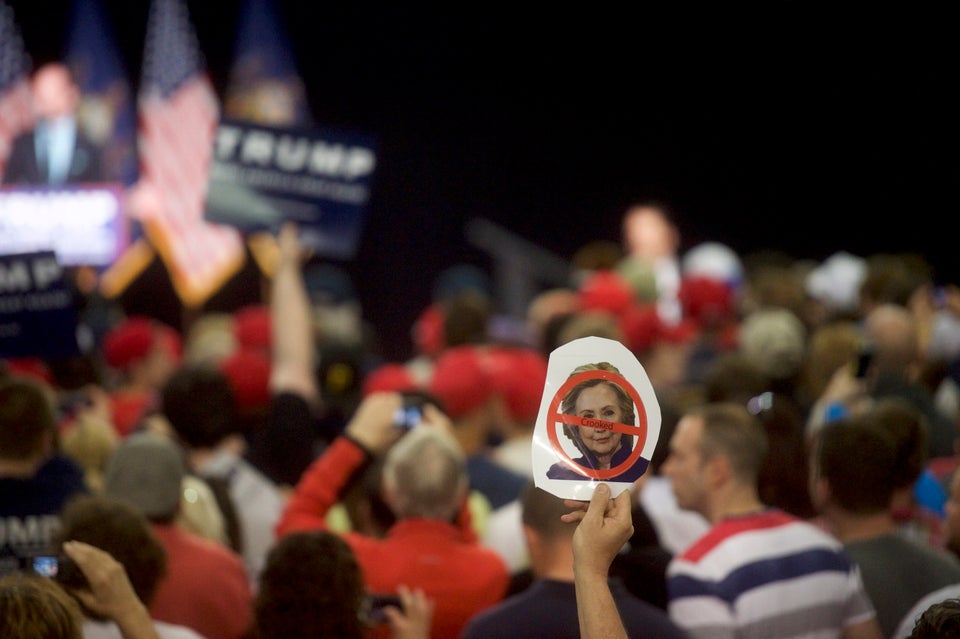 Donald Trump Is Name-Caller In Chief
Popular in the Community