WASHINGTON ― Four days before Richard Nixon resigned in 1974, the Justice Department told the 37th president that he couldn't pardon himself. Three days ago, President Donald Trump tweeted that he knows better.
Because it has the power to impeach the president, Congress might be the final backstop if Trump did pardon himself ― the U.S. Constitution says the president has full power to pardon "except in cases of impeachment."
So after Trump's tweet, HuffPost attempted to get comment from the offices of all 235 Republicans in the House, where the impeachment process would start. We asked a simple question: If the president pardoned himself, would they support impeachment?
We didn't get many yes or no responses to our survey question ― just three, in fact ― so we sought out Republicans in hallways and asked them the question directly. Still, only one Republican said definitively he would support impeachment if the president pardoned himself: the libertarian-minded Rep. Justin Amash of Michigan.
In interviews with more than two dozen Republican members on Capitol Hill, most avoided the question.
"I don't wanna talk about hypotheticals," Rep. Mike Conaway (R-Texas) told HuffPost. Conaway helmed the House Intelligence Committee's investigation into whether the Trump campaign colluded with the Russian government, ultimately asserting that it had not.
"I'm not a constitutional scholar, so I don't know if he's got the authority to do it or not," Conaway said. "That seems to be a red herring to foment unrest, trouble and nonsense."
Rep. Mark Walker (R-N.C.) also hid behind his ignorance. "I don't want to brag, but I'm not a lawyer," he said, noting he couldn't answer whether the president had the power to pardon himself, and therefore couldn't answer whether it was an impeachable offense.
A number of members delivered a variation of this line, saying they hadn't looked into the matter seriously and therefore didn't know if the president had that authority.
Three Republicans — Reps. Leonard Lance (R-N.J.), Brian Fitzpatrick (R-Pa.) and Walter Jones (R-N.C.) — all said they didn't think the president had the authority to pardon himself, but all of them avoided the question of impeachment. Lance and Jones said the issue would go to the Supreme Court relatively quickly, and Fitzpatrick just repeated that "he's not going to pardon himself."
Although almost all 235 Republicans either declined to answer, or said they couldn't answer, only one Republican said the president did have the authority to pardon himself: Rep. Joe Wilson (R-S.C.).
He didn't elaborate on his reasoning. There seems to be little consensus among experts.
Although many Republicans said they couldn't answer the question based on their limited constitutional knowledge, others said they wouldn't answer it because it was a hypothetical question.
There certainly is a hypothetical component to question, in the sense that it's a question about a future event that may or may not happen. But it doesn't seem like the unlikeliest scenario given the president's potential legal peril and his public statements on the matter. And there's a normative element to the question — Should a president who pardons himself be impeached?
But many Republicans have already shown a willingness to go along with Trump's most troubling pronouncements, with some even aiding his efforts to undermine the Russia investigation. Trump has already discussed his frustrations with Attorney General Jeff Sessions, Deputy Attorney General Rod Rosenstein, and special counsel Robert Mueller and raised the possibility of firing them, and few Republican members have come to the defense of those Republican law enforcement officials.
It should be no surprise then, even with Trump's tweet on Monday, that Republicans want to duck the question.
Trump has already eschewed the regular pardon process in order to grant clemency to several political allies, including racist sheriff Joe Arpaio, conservative commentator Dinesh D'Souza and Scooter Libby, a former Dick Cheney aide who'd been convicted of perjury and obstruction of justice in a case that mirrors Trump's own.
Reporters asked House Speaker Paul Ryan (R-Wis.) about Trump pardoning himself at a press conference on Wednesday.
"Uh," Ryan said, feigning a moment of indecision before launching into his prepared answer, "I don't know the technical answer to that question, but I think, obviously, the answer is he shouldn't, and no one is above the law."
Former House Speaker Newt Gingrich said the reaction from Congress would be "devastating" if Trump pardoned himself.
"If a president was dumb enough to pardon himself, that would be such an arrogant statement of power that the House would probably impeach him in a week and the Senate would convict him," Gingrich told CBS.
Rudy Giuliani, the president's personal lawyer, told HuffPost on Thursday that a presidential pardon was "not going to happen," so that it wasn't even worth discussing what members of Congress would do.
"I guarantee it's not going to happen," Giuliani said. "I give you my word, and the president's word."
Trump hasn't been charged with a crime, and it's possible that the special counsel that has already indicted several of his campaign associates won't charge Trump — but the president can issue pre-emptive pardons even before a crime has been formally alleged. That's what President Gerald Ford did for disgraced ex-president Richard Nixon in September 1974.
Nixon had resigned from the presidency in order to dodge impeachment proceedings in the House, but he still faced the threat of prosecution for his involvement in and coverup of the Watergate scandal. Ford's "full, free and absolute" pardon cleared Nixon "for all offenses against the United States which he, Richard Nixon, has committed or may have committed or taken part in."
In an interview, Rep. Kenny Marchant (R-Texas) said he'd want to know what charge the president would be trying to escape with a pardon. He wouldn't support impeachment just for the action of the president pardoning himself.
"I wouldn't support an impeachment vote for that purpose, for that specific action," Marchant said.
Though party leaders have discouraged impeachment talk, dozens of House Democrats have voted in favor of two impeachment resolutions by Rep. Al Green (D-Texas). The resolutions cite Trump's attempt to ban travelers from majority Muslim countries and his praise of white supremacists in Charlottesville, Virginia, among other things.
In an interview, Green suggested Trump is testing the waters with his pardon talk, seeing how Republicans and the public might respond if he tried it.
"It saddens me that the president would float this trial balloon to get a sense of where the public would be if he should pardon himself," Green said. "If he does it, I think he would be impeached."
Green might be right. But he shouldn't count on his Republican colleagues to make it happen.
With reporting by Jen Bendery, Paul Blumenthal, Igor Bobic, S.V. Date, Sarah Ruiz-Grossman, Marina Fang, Elise Foley, Hayley Miller and Nick Wing.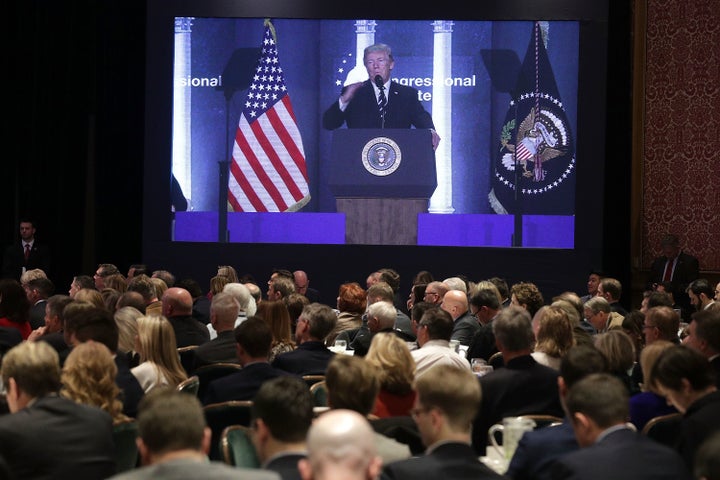 Calling all HuffPost superfans!
Sign up for membership to become a founding member and help shape HuffPost's next chapter