President Donald Trump told reporters Thursday that he is pardoning late heavyweight boxing champion Jack Johnson, who was arrested in 1912 for driving his white girlfriend across state lines.
Trump indicated last month he was considering pardoning the boxer at the urging of actor Sylvester Stallone, who was present at Thursday's announcement at the White House. 
Johnson, the first black man to earn the title of heavyweight boxing champion of the world, died in 1946 after serving time for violating the Mann Act, which banned traveling with a woman across state lines for an "immoral purpose."
"Johnson served 10 months in federal prison for what many view as a racially motivated injustice," Trump said Thursday. "He was treated very rough, very tough."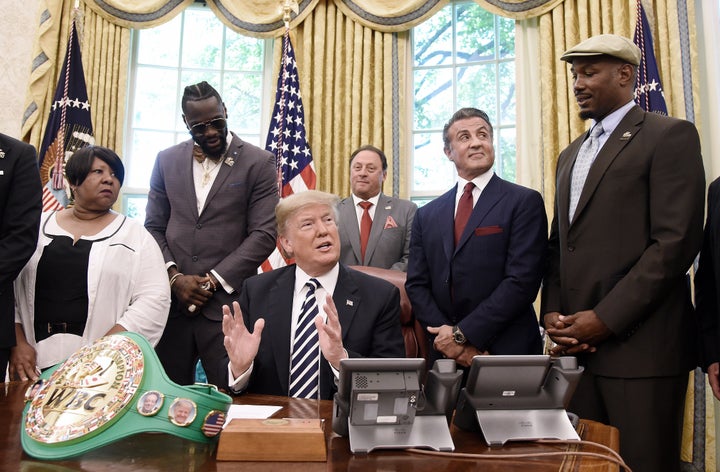 The son of former slaves, Johnson gained fame and wealth through his boxing career despite rampant racism and violence against blacks at the time.
This marks only the third posthumous pardon in U.S. history.
In 2016, Sen. John McCain (R-Ariz.), now-retired Sen. Harry Reid (D-Nev.), Rep. Pete King (R-N.Y.) and Rep. Gregory Meeks (D-N.Y.) wrote a letter to President Barack Obama urging him to pardon Johnson for his "improper and unfair" conviction. 
"While it is unfortunate that this unjust conviction was not corrected during the boxer's lifetime, a posthumous pardon today represents the opportunity to reaffirm Jack Johnson's substantial contributions to our society and right this historical wrong," the lawmakers wrote at the time.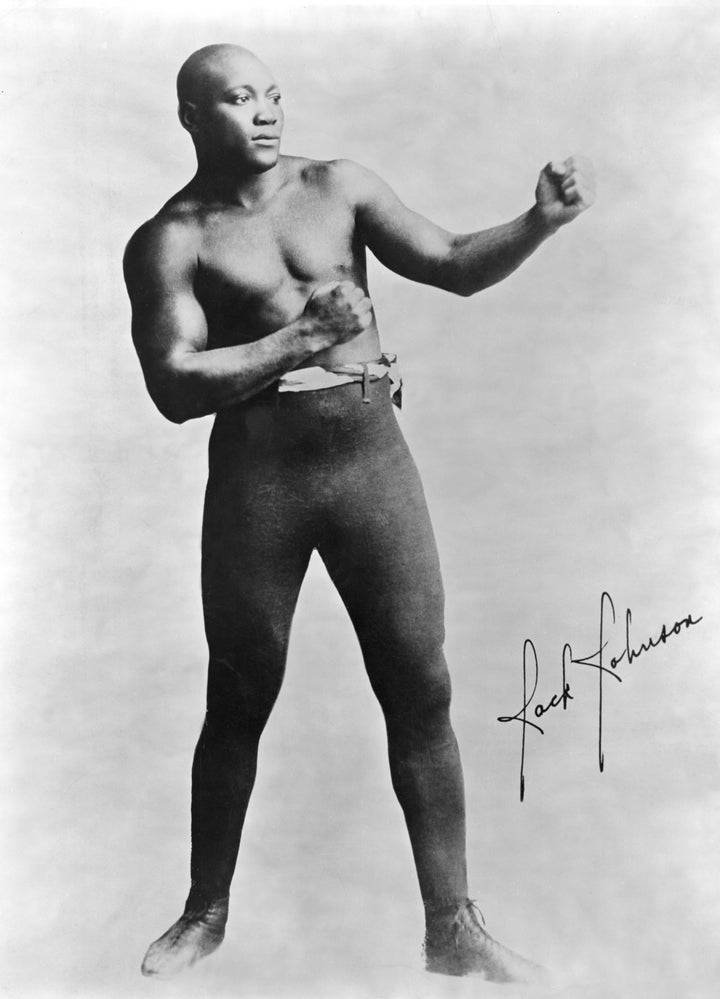 Obama, however, kept to the presidential tradition of almost never granting a posthumous pardon. 
Trump disparaged Obama at Thursday's announcement for not issuing the pardon, but others said issuing clemency for Johnson is merely a symbolic move that falls short of addressing present-day racism in the criminal justice system. 
Though Obama granted clemency to nearly 2,000 people under an initiative aimed largely at commuting sentences of nonviolent drug-law offenders, his administration was unable to address the nearly 8,000 additional petitions that remained at the end of his term, Kevin Blackistone, a professor and sports commentator, wrote in The Washington Post last month. 
Unlike Johnson, "[t]hey are of living, breathing people ... with children, spouses, partners and futures that can be regained and realized with a second chance." 
Those remaining petitions, he noted, "were left behind in a file, as is customary historic practice, for the review of the next president."
The previous presidents to issue posthumous pardons were Bill Clinton in 1999 and George W. Bush in 2008. Clinton pardoned Lt. Henry Ossian Flipper, the first black West Point graduate who years later was convicted of conduct unbecoming an officer. Bush pardoned Charlie Winters, who had been convicted of violating the Neutrality Act by helping Israel obtain bomber planes in 1948.
The pardon of Johnson was the fourth of Trump's term. He previously pardoned former Dick Cheney advisor Scooter Libby, former Arizona Sheriff Joe Arpaio, and a case of Navy sailor whose pardon request was promoted on Fox News. So far, there's been no indication that any of his pardons have gone through the standard procedure through the Justice Department's Office of the Pardon Attorney, which evaluates requests for pardons and clemency and makes recommendations to the president. 
This story has been updated with details of the previous posthumous pardons.
CORRECTION: A previous version of this story indicated President Barack Obama pardoned nearly 2,000 people. In fact, that number reflects the total of both pardons and commutations he granted.
REAL LIFE. REAL NEWS. REAL VOICES.
Help us tell more of the stories that matter from voices that too often remain unheard.