A top-ranking British lawmaker vowed on Monday to block President Donald Trump from speaking before the U.K. Parliament in the historic Westminster Hall, citing that body's opposition to racism and sexism and its support for equality and an independent judiciary.
In a blistering statement before the House of Commons, Speaker John Bercow said he was "strongly opposed" to Trump addressing Parliament during an upcoming state visit to the U.K.
"I would not wish to issue an invitation to President Trump to speak," Bercow said. While British lawmakers value their country's relationship with the United States, he said, "I feel very strongly that our opposition to racism and to sexism and our support for equality before the law and an independent judiciary are hugely important considerations in the House of Commons."
He would not have backed inviting Trump to address Parliament anyway, Bercow said, but the president's recent imposition of an anti-Muslim ban made him "even more strongly opposed" to the idea.
"An address by a foreign leader to both houses of Parliament is not an automatic right. It is an earned honor," Bercow said.
The speech was met with applause from other members of Parliament.
Prime Minister Theresa May invited Trump to visit her country during a trip to the White House last week. The details of the visit have reportedly not yet been worked out:
Only seven U.S. presidents have ever spoken before the full Parliament, beginning with President Harry Truman in 1947. Presidents Dwight Eisenhower, John F. Kennedy, Richard Nixon, Ronald Reagan, Bill Clinton and Barack Obama followed.
As HuffPost UK explained, Bercow is one of just three people who has the final decision on whether guests will be granted the honor of speaking in Westminster Hall. Bercow, along with the speaker of the House of Lords and the great lord chamberlain, are the three "keyholders" who have the power to approve such addresses to members of Parliament and peers.
Bercow noted that he has less say over an invitation to speak in the Royal Gallery in the House of Lords, an alternative venue to Westminster Hall. But he said he would advise against any invitation to any part of Parliament.
Trump's controversial executive order temporarily bans all refugees and indefinitely bars Syrian refugees from entering the U.S. The order also suspends travel to the U.S. by citizens of seven countries: Iraq, Iran, Libya, Sudan, Somalia, Syria and Yemen. The policy, which covers some 200 million people, sparked chaos and protests at many U.S. airports last week as travelers from the targeted countries were detained and lawyers were denied access to the detainees.
The order was soon challenged in court by multiple states. This past Friday, a nationwide restraining order was issued by U.S. District Judge James Robart, who ruled that the order was likely to cause immediate and irreparable harm to education, business, family relations and the freedom to travel. Over the weekend, the Justice Department filed an appeal to immediately restore the ban, but the U.S. Court of Appeals for the 9th Circuit denied that request. The appeals court is now preparing to hear full arguments in the case.
This story has been updated with more explanation of Speaker Bercow's power to deny President Trump a speaking invitation.
Before You Go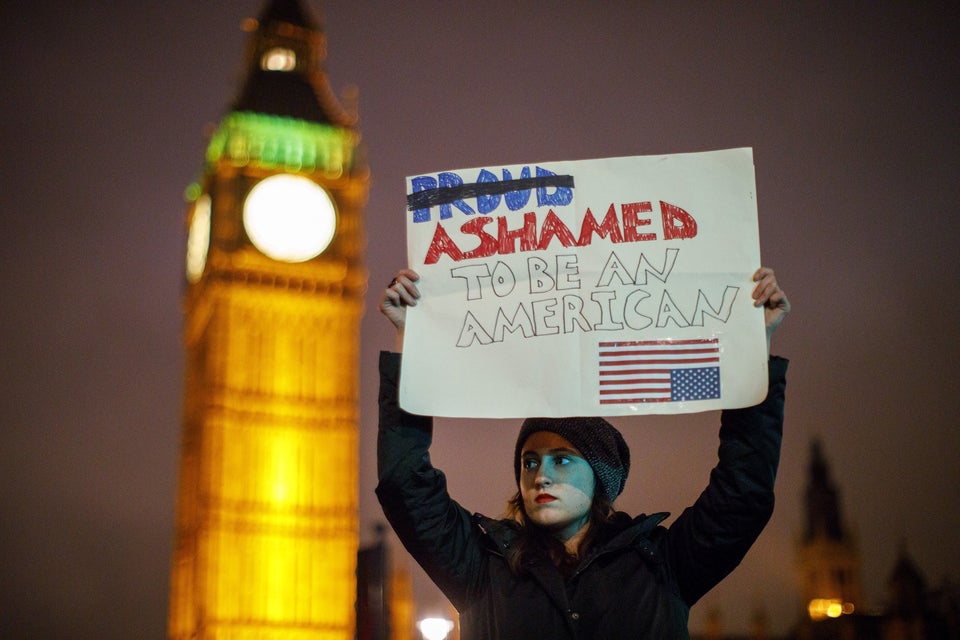 The World Protests President Trump
Popular in the Community