Just before 3 p.m. Friday, conservative radio host Laura Ingraham threw a request out into the Twitter ether: "#PullThe Bill."
Republican lawmakers who defy a Republican president's wishes by opposing his first major piece of legislation might normally fear the wrath of conservative media calling for their heads in the next midterm elections.
But those representatives who resisted Trump's personal appeals to support the American Health Care Act shouldn't fear any broadsides from the right, let alone the type of conservative media backlash that helped topple the House majority leader a few years back. That's because several of the right's most influential voices lined up against the bill, too.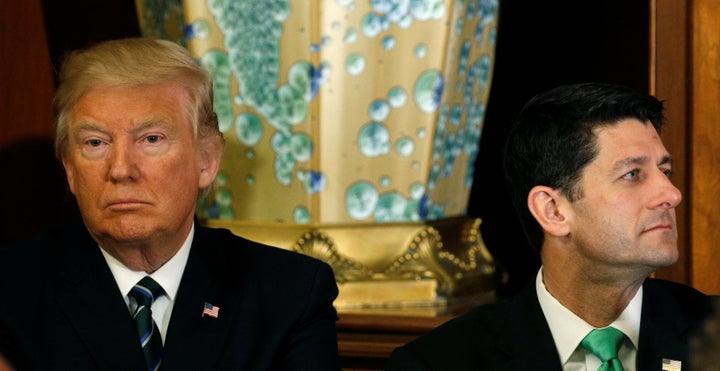 Following Friday's stunning legislative setback, some Republican lawmakers suggested that conservative media and prominent groups opposing the bill, like the Heritage Foundation and Club for Growth, didn't influence their own positions. Still, the decision to go against Trump presumably went down easier knowing that doing so wouldn't antagonize his fiercest defenders. And some lawmakers acknowledged that conservative media played a role in the outcome.
Rep. Morgan Griffith (R-Va.), a House Freedom Caucus member who had planned to vote for the bill, said pushback from conservative media outlets, like Breitbart, "certainly didn't help" the legislative process.
"But I think they've electrified it," Griffith added. "They did point out some legitimate flaws as well, some of which were able to be fixed. But on the other side of the coin, we need to get Obamacare repealed at some point and the question is can we do it now."
Breitbart News led the charge online and served as a key platform for Republican critics of the bill that the site alternately dubbed "Obamacare Lite," "Obamacare 2.0," "RINO-Care," and "RyanCare." There was also a steady negative drumbeat on Breitbart's Sirius radio show, with several lawmakers opposed to the bill making their case there.
"This is worse than Obamacare," Rep. Thomas Massie (R-Ky.) said Wednesday. On Friday morning, Rep. Mo Brooks (R-Ala.) declared that "Obamacare 2.0 is the largest Republican welfare program in the history of the Republican Party."
Much of the conservative opposition to the American Health Care Act ― which was projected to result in 24 million more uninsured Americans ― stemmed from its failure to eliminate an Obamacare provision guaranteeing coverage for "essential health benefits," such as emergency services, prescription drugs, and pregnancy, newborn and maternity care. Republicans have argued that mandating such coverage drives up insurance premiums across the board.
Breitbart and other media voices typically in Trump's corner walked a fine line in opposing the White House's stated goal of passing the health care bill while laying all the blame for the debacle on House Speaker Paul Ryan (R-Wis.).
The influential Drudge Report, which had been largely sitting out the debate, more recently framed the health care fallout around Ryan's missteps. Fox News host Sean Hannity and conservative provocateur Ann Coulter, two of the president's biggest boosters, argued Thursday night on Fox News that the mess on Capitol Hill wasn't the president's fault.
Coulter suggested to Fox News host Tucker Carlson that Trump was putting "Ryan's priorities" ahead of those he had advocated for during the campaign. As a result, she vowed to "not hold the Emperor God Trump responsible for this Obamacare Lite bill." Hannity later said that "President Trump was not served well by his party in the House of Representatives."
Ingraham, who was a candidate to become Trump's White House press secretary, also dubbed the bill "RyanCare" and similarly suggested on Friday that Trump was poorly served by Congress.
Conservative radio host Mark Levin, one Trump critic who eventually supported Trump's candidacy, encouraged his own millions of listeners this week to call their members of Congress and urge them to vote against the bill. After it was pulled, Levin assigned blame to the Republican leadership in a post mentioning Ryan, but not Trump.
Throughout the weeks-long pushback, politics and media watchers had most closely watched Breitbart News, given that the site was previously led by chief Trump strategist Steve Bannon and remains one of the president's favorite news sources.
Breitbart has long targeted Ryan and others considered part of the Republican establishment. During his days as the site's executive chairman, Bannon pushed for coverage to help drive Ryan out of the speaker's office. So Breitbart's recent attacks on the bill, and specifically on Ryan's leadership, fueled suspicions in Washington that the old boss was still influencing its coverage or at a minimum sanctioning it.
The site's lead story on Friday morning suggested that Bannon was privately opposed to the bill and believed it was "written by the insurance industry," according to an anonymous quote originally appearing in New York magazine. Hours later, Breitbart also raised eyebrows by posting a Democratic poll signaling little support for "Ryan's healthcare bill."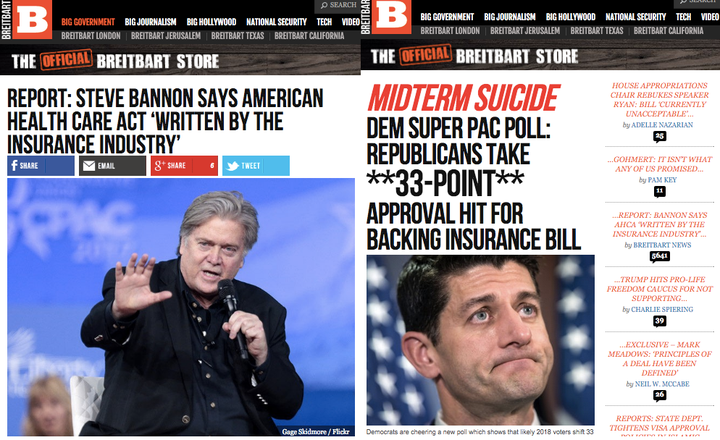 The Breitbart stance most boisterously articulated by its chief Washington correspondent, Matthew Boyle, is that Ryan misled Trump on the health care bill and that the speaker's behavior fits a pattern of not supporting Trump.
On Friday's Sirius show, Boyle said that failure to pass the bill would be "particularly embarrassing for Paul Ryan."
"It proves that he's been misleading the president and doesn't have the president's best interests at heart," Boyle said. If the bill failed, he said the question would be whether another member of the House "could better serve President Trump" as speaker. "I think there's about anywhere from 15 to 20 different guys and gals in the House of Representatives who could be a better-off speaker than Paul Ryan," Boyle said.
Soon after the bill was pulled, Boyle followed up on that question in a story that was filled with anonymous critiques of Ryan and that claimed Republicans in Congress and the White House were "now openly discussing" replacing him as speaker.
Michael McAuliff and Arthur Delaney contributed reporting.
Popular in the Community