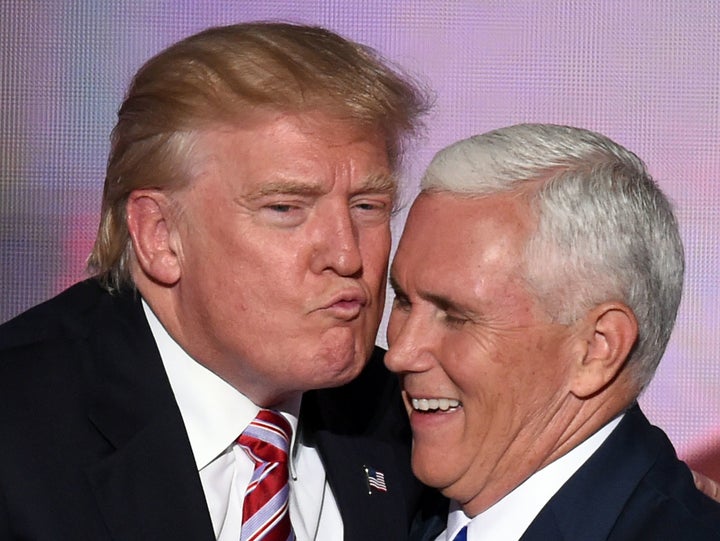 Some thought the T inside the P looked sexually suggestive. Others thought the P looked like a toilet and the T ― well, something that goes in toilets.
The Republican team has since introduced a much cleaner image, but that didn't stop LogoMyWay CEO Joe Daley from challenging his website's community of graphic designers to do better.
Daley founded the online company in 2008 during the recession to provide new business owners and entrepreneurs a cost-effective branding solution. LogoMyWay now has 22,000 clients and facilitated over 4 million logo designs.
He ran the in-house Trump-Pence logo contest to allow the website's 20,000 freelance designers from around the world to showcase their creativity, Daley told The Huffington Post.
Contest participants have submitted 265 designs ― some serious, some humorous and some just plain silly. The winner will earn $200 once voting ends.
A logo by U.S. designer Greg Scott leads the rankings:

"The single most evident thing about Trump to me is his baldness/infamous hairpiece … and then it clicked in: an idea merging America's symbol the bald eagle with Hoover's famous 'chicken in every pot,'" Scott, who has been designing on the site under the username Davebowman for seven years, told HuffPost. 
He's happy his artwork is collecting so many votes from his peers, many of whom are his competitors on the site. 
Scott hopes the entry will be "received with good humor and appreciated for cleverness." 
Another U.S. designer, Bigeasydude, is convinced Trump-Pence is actually a three-person team: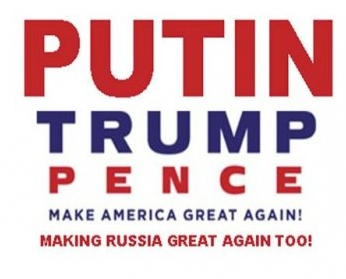 Why not build upon the toilet paper theme? From Ireland-based designer Paully: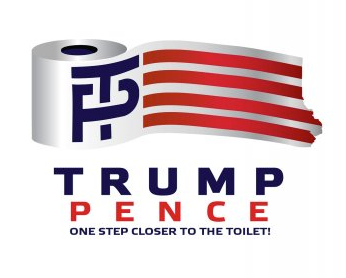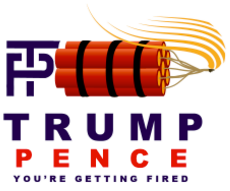 U.S. designer Reyjdesigns incorporates Trump's unique hairstyle: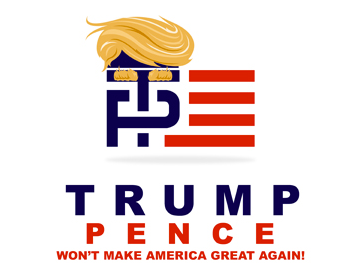 Trshin from Georgia depicts Trump's anti-Mexico rhetoric with a pair of scissors: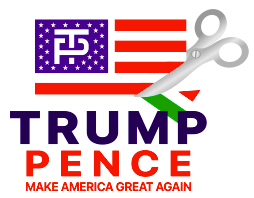 View all 265 entries and cast your vote here. The winning design may just grab the attention of Team Trump-Pence.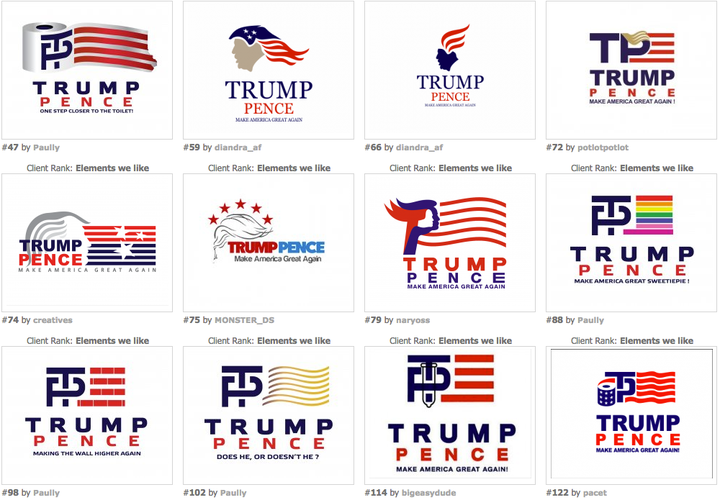 REAL LIFE. REAL NEWS. REAL VOICES.
Help us tell more of the stories that matter from voices that too often remain unheard.
BEFORE YOU GO