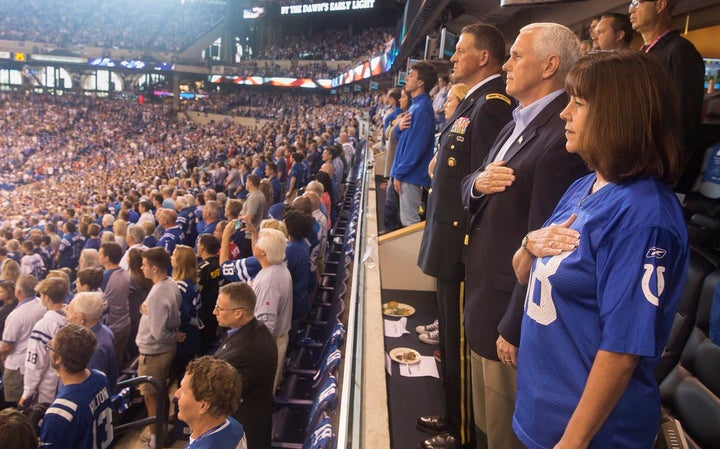 WASHINGTON ― President Donald Trump may have appreciated his second-in-command traveling to a football game this weekend so he could walk out in protest before it began. But the move appears to have cost taxpayers some $90,000 in flight expenses alone.
A HuffPost analysis of flight times, distances and the fees the Air Force charges to fly a modified Boeing 757 that is used as Air Force 2 suggests that Vice President Mike Pence might been able to save taxpayers $89,193, had he flown directly from Las Vegas to Los Angeles rather than to the Indianapolis Colts' home game in between.
Pence's office disputed that and similar analyses. "If the vice president did not go to Indiana for the Colts game, he would have flown back to D.C. for the evening ― which means flying directly over Indiana," one senior Pence aide said on condition of anonymity. "Instead, he made a shorter trip to Indiana for a game that was on his schedule for several weeks."
Pence walked out of Lucas Oil Stadium Sunday after several players on the visiting San Francisco 49ers kneeled during the national anthem ― a gesture of protest against police brutality and racial disparities begun last year by the team's former quarterback Colin Kaepernick.
Within a few minutes, Pence sent a tweet: "I left today's Colts game because @POTUS and I will not dignify any event that disrespects our soldiers, our Flag, or our National Anthem."
That was followed an hour later by a tweet from Trump, who took credit for Pence's walkout.
"I asked @VP Pence to leave stadium if any players kneeled, disrespecting our country. I am proud of him and @SecondLady Karen," Trump wrote.
Democrats labeled the incident a "political stunt," and critics of the Trump administration were quick to point out similarities to the recent revelations about various Cabinet officials using military planes and chartered jets for travel. Health and Human Services Secretary Tom Price wound up resigning his post in one such scandal.
Pence, an Indiana native, is a longtime Colts fan, going back to his days as a talk radio host. He attended games as a congressman, and then as governor of Indiana.
He had planned for weeks to attend Sunday's game ― since long before Trump picked a fight with the NFL over the national anthem last month ― as part of a trip west to California for a mix of political fundraisers and official visits.
Under that original plan, he would have flown from Washington, D.C., to Indianapolis Saturday night to be able to attend some local events the following morning before the game, and then continued out to Los Angeles following a ceremony honoring retired quarterback Peyton Manning at halftime.
The total cost of those two flights would have been $71,948, according to a HuffPost calculation based on the Air Force schedule of "reimbursable rates" for its fleet for the 2018 budget year.
After the Las Vegas shootings took place and Pence's office decided to take part in a Saturday memorial service, the office had him fly to Indianapolis as he had already scheduled to do on Saturday night.
After the San Francisco players kneeled, Pence returned to his hotel room before eventually heading to the airport for a flight to Los Angeles.
That Pence and Trump were so quick to publicize the walkout led critics to wonder if the whole thing had been staged from the start. One of the TV reporters traveling with Pence reported that the traveling press had not been permitted into the stadium and had been told instead to wait in the van because Pence would possibly be leaving early.
Pence's office, though, denied that the stadium visit resulted in additional expenses. The vice president's office argued that if Pence had simply flown out to Las Vegas and returned to Washington that night, the flights would have cost even more. Staying in Las Vegas overnight was out of the question, the argument goes, because of the burden it would have added to already stressed local law enforcement.
But that explanation leaves out the possibility of Pence traveling from Las Vegas directly to Los Angeles, where he was already planning to spend Sunday night. Secret Service agents had already "advanced" that part of the trip, and it might have been possible to arrange for his arrival one day earlier than planned, had that work begun by the middle of last week when the rest of the Las Vegas trip was planned ― and by which point it could have been known with near certainty that 49ers players would kneel during the anthem.
That flight from Las Vegas to Los Angeles would have taken only 45 minutes, at a cost of $11,587. By contrast, the flights from Las Vegas to Indianapolis, and then from Indianapolis to Los Angeles, totaled over six hours at a cost of $100,781, according to HuffPost's estimate.
Calling all HuffPost superfans!
Sign up for membership to become a founding member and help shape HuffPost's next chapter