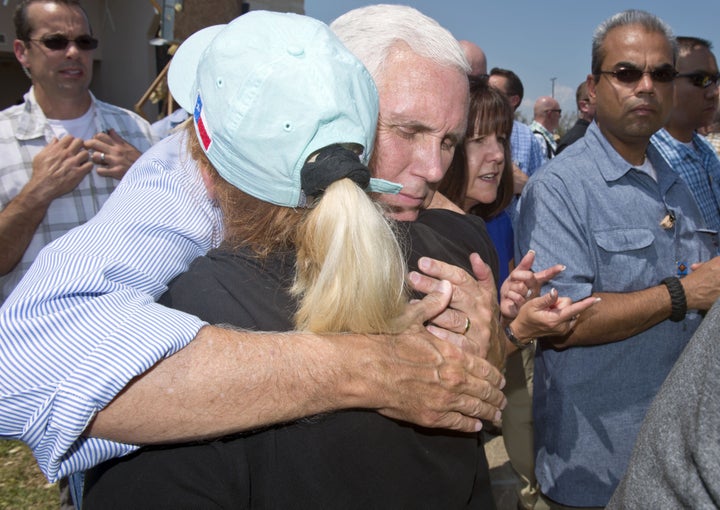 WASHINGTON – What do you do when your boss either doesn't enjoy or isn't capable of some of the demands of the job?
If you're a senior Trump administration official, it increasingly means you simply do it for him.
At the United Nations and around the world, it's been U.N. Ambassador Nikki Haley advocating for human rights and democratic values, not President Donald Trump. On TV screens across the country this week, it was White House homeland security adviser Tom Bossert telling Americans how to contribute to Hurricane Harvey recovery efforts.
And then there was Vice President Mike Pence, providing the language and imagery traditionally reserved for a president following a natural disaster – drawing a contrast that could not have been more stark.
When Trump visited Corpus Christi and Austin on Tuesday, he met exclusively with emergency managers and state and federal political leaders. The only time he addressed everyday residents was when he delivered an impromptu campaign-style speech to supporters who had gathered outside the fire station where he had staged his meeting.
Two days later, Pence spent hours touring actual damage from a helicopter, visiting a damaged church and speaking with and embracing storm victims. He even donned work gloves and helped clear broken tree limbs from a front yard in Rockport under the blazing sun.
"It's almost as if Trump didn't want to get dirty or like he didn't want to catch a virus ― like he didn't want to touch any actual storm victims," said Douglas Brinkley, a presidential historian at storm-damaged Rice University in Houston. "It wasn't Clinton after the Oklahoma City bombing or Obama singing Amazing Grace after Charleston or Reagan after Challenger. There was no Trump moment."
Rick Tyler, a Republican political consultant who supported Texas Sen. Ted Cruz's presidential bid last year, said Trump simply lacks empathy. "He doesn't seem to understand other people's suffering because he has a hard time relating to anything that doesn't affect himself," he said.
White House officials insist that the administration has a coordinated plan, all of it directed by Trump himself. White House press secretary Sarah Sanders at Thursday's press briefing said that Pence was in Texas at Trump's request ― a point reinforced by Pence himself. Speaking to reporters at the Corpus Christi airport following the visit, Pence mentioned Trump 11 times in his brief opening remarks.
And Sanders pointed out Friday that Trump is heading back to Texas on Saturday, to flooding epicenter Houston, followed by a visit to Lake Charles, Louisiana, on the way back to the White House, to "visit with storm survivors and tell them personally that the federal government is here to help in any way that we can."
Kathleen Hall Jamieson, director of the Annenberg Public Policy Center at the University of Pennsylvania, said who went where and when ultimately won't matter much ― so long as the federal government manages the storm competently. "The reality is that Trump being there and Pence being there accomplishes nothing. This is all symbolism," she said.
She added that a far more interesting phenomenon is the pattern of top administration officials presenting messages at variance or even in direct opposition to what Trump has been saying.
In recent weeks, Defense Secretary James Mattis has said the military will let transgender service members remain in place pending a formal review, notwithstanding Trump's wish to ban them entirely. Top economic adviser Gary Cohn publicly criticized Trump's equating neo-Nazi demonstrators chanting anti-Semitic slogans with the counter-protesters opposing them in Charlottesville, Virginia.
Jamieson said previous presidents have given their top officials high-profile responsibilities ― Dwight Eisenhower let Secretary of State John Foster Dulles address the nation. "What's unprecedented is having so many different voices," she said.
Haley, for example, has continued to speak out for human rights as a U.S. priority, even criticizing ally Saudi Arabia, while Trump specifically delivered a speech there downplaying human rights and has cozied up to authoritarian leaders in Turkey and the Philippines.
For the first months of the administration, these divergent messages were accompanied by open, at times over-the-top flattery of Trump himself.
On the Air Force One flight back to Washington following Trump's July European trip, National Security Adviser H.R. McMaster praised Trump's "powerful speech" and leadership before explaining that Trump's "America First" slogan "doesn't mean America alone" – an interpretation that does not necessarily square with statements Trump himself has given before or since.
At a May 27 press briefing at the G-7 meeting in Sicily, Cohn described Trump's earlier visit to Saudi Arabia this way: "The president was able to make some of the most amazing deals that have ever been made by an administration, ever." He then proceeded to describe the negotiations regarding U.S. participation in a climate change agreement as a complicated matter – when Trump had previously called it a bad deal and climate change itself a hoax.
That pattern, though, appears to have been broken with the violence in Charlottesville, where a woman was killed and nearly two dozen injured when a neo-Nazi drove a car into a crowd. Cohn gave an interview in which he admitted he had considered resigning over Trump's subsequent remarks that blamed people "on both sides" for the violence. Secretary of State Rex Tillerson, meanwhile, told Fox News that Trump was not speaking for all Americans with those statements, but only for himself.
REAL LIFE. REAL NEWS. REAL VOICES.
Help us tell more of the stories that matter from voices that too often remain unheard.