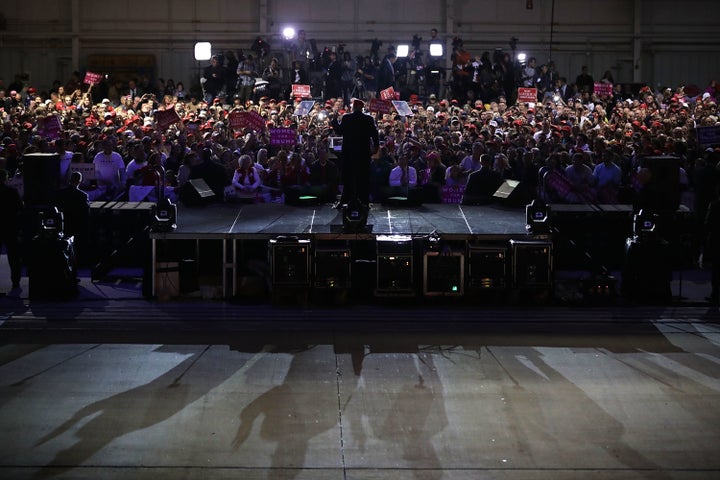 MOON TOWNSHIP, Pa. ― Donald Trump on Sunday promised supporters that "rank-and-file" FBI agents would continue their investigation of his Democratic opponent, even as the agency's chief announced the case was closed.
FBI Director James Comey shook up the presidential race for the second time in nine days with his announcement that a review of the computer belonging to the estranged husband of a top aide to Hillary Clinton had not altered Comey's July decision not to recommend prosecution.
Trump and his campaign had been using Comey's earlier announcement that the FBI would be sifting through former congressman Anthony Weiner's laptop as a closing theme of his campaign: that Clinton would be under investigation for the foreseeable future and shouldn't be elected president.
Trump kept most of that message intact at a hangar rally at Pittsburgh International Airport. "Hillary Clinton is the most corrupt person to seek the presidency of the United States," Trump proclaimed.
"The investigations into her crimes will go on for a long, long time," he said as the crowd of several thousand chanted "lock her up" in approval.
"The rank-and-file agents of the FBI won't let her get away with these terrible crimes," Trump added.
With the start of Election Day voting less than 36 hours away, Trump continued his manic cross-country scavenger hunt looking for electoral votes in Democratic states. Without flipping at least one or two them, he cannot win the presidency, even if he manages to win all the swing states that Mitt Romney lost in 2012.
Trump had started his day with a rally in Sioux City, Iowa. Minneapolis and Detroit came next, followed by the Pittsburgh airport event. He was over two hours late by the time he came down the steps of his personal Boeing 757 that had pulled up just outside the doors. Some of his supporters were irritated by the delay, particularly since a great number had arrived hours in advance of the 8 p.m. scheduled start.
Trump, though, made no apologies.
"Can you believe after this, I go to Virginia where we do it again," he said about his next event in Leesburg, which likely would not start before midnight. "That will be fifth of the day. And then tomorrow I have five or maybe six. We set them up, and then one tweet and everybody comes."
Calling all HuffPost superfans!
Sign up for membership to become a founding member and help shape HuffPost's next chapter