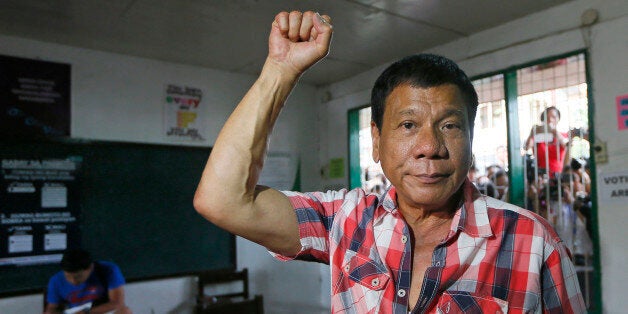 MANILA, Philippines -- On May 9, the Philippines elected its 16th president. With almost 90 percent of the votes unofficially counted, Rodrigo Duterte, Jr., the mayor of the southern town of Davao, won a convincing 38 percent, more than 15 percent over his closest rival.
Duterte will preside over the country's fate for the next six years. With a fragile democracy marked by a weak political party system, the country's political stability has to rely on the strength and popularity of the president. He will be the key policymaker, the chief executive enjoying vast powers and the commander-in-chief of the armed forces in charge of fighting off two existing internal rebellions, a handful of terrorist groups out to undermine the existing democratic order and undertake credible defense of the country's frontiers. He has to ensure continued economic growth and spread wealth to the people, especially among the quarter of the population living below the poverty line.
There are new challenges such as climate change and adaptation, plunging oil prices and the peril to overseas Filipino workers, particularly those working in the Middle East, the continuing global financial crisis and China's incursions into the West Philippine Sea. Duterte will have to deal with them all.
A local tough among conventional candidates
Duterte has been likened to Donald Trump for his loud and fast mouth, crude jokes, sometimes shocking stands on issues and penchant for advocating legal shortcuts. He's a man after Dirty Harry's heart -- a leader who endeared himself to Davaoeños for a no-nonsense approach to peace and order. He reputedly cleansed the city of crime after the mysterious and controversial killing of more than 1,000 criminals. He promised to do the same throughout the land in under six months if he was elected. He thinks that the nation's problems can be reduced to a lack of political will by its leaders and that he will be the one to provide it if elected.
Duterte filed his candidacy after a bit of political drama by substituting for an erstwhile candidate of a party known by the acronym PDP-Laban. He relied on his credentials as the local executive of one of the more progressive cities in the south. Moreover, he brought into the fight his anti-crime reputation and the grievances of resource-rich but poor Mindanao against "imperial" Manila.
He won over a field of candidates as varied as can be assembled.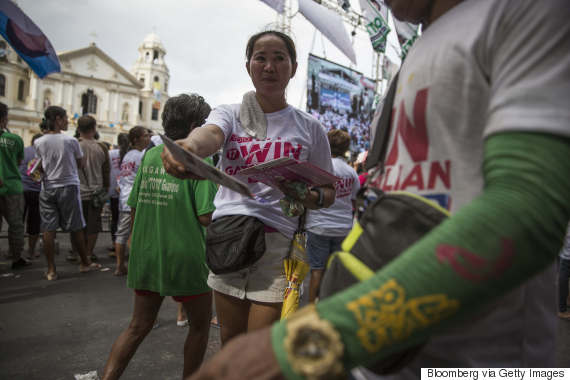 An attendee hands out placards before a campaign rally for Poe in Manila on May 7. (Taylor Weidman/Bloomberg via Getty Images
There is Senator Grace Poe, the adopted daughter of the late Fernando Poe, perhaps the most famous actor in Philippine cinema. The elder Poe died after losing in the controversial 2004 presidential election.
Then, there is former secretary of the interior and local government, Manuel Roxas II, a Wharton grad, investment technocrat and heir to a vast business and property empire. He is the grandson of President Manuel Roxas, the first president of an independent Philippine republic that rose from the ruins of World War II.
The country's political stability has to rely on the strength and popularity of the president.
The next candidate, Vice President Jejomar Binay, has been campaigning for the presidency since 2012. He was the former mayor of Makati. And lastly, Senator Miriam Defensor Santiago was the presidential candidate in 1992 who still thinks that the proclaimed winner that year, President Fidel Ramos, cheated her of the presidency.
The stage was thus set for a campaign marked by fierce and often personal attacks by the candidates on each other.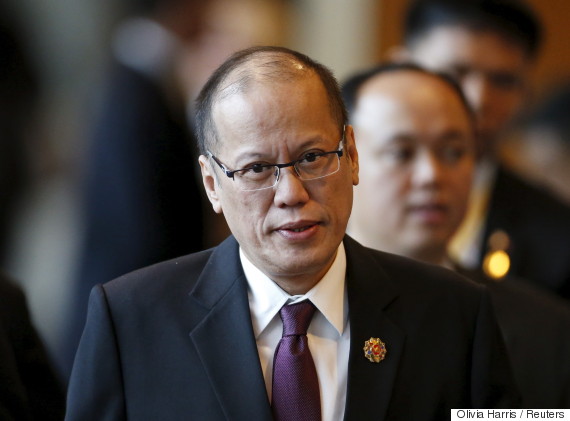 Philippine President Benigno Aquino arrives at an ASEAN summit in Malaysia on November 21, 2015. (REUTERS/Olivia Harris)
Binay was accused of corruption in Makati and now faces an investigation. His family was accused of being a political dynasty.
Poe, an adopted foundling, was accused of being constitutionally unqualified to run because she is not a "natural-born Filipino" but an "American" who adopted American citizenship when she married her husband in the U.S. She is a dual citizen. She was also accused of failing the constitutional 10-year residency requirement. The supreme court came to her rescue and proclaimed her as qualified to run for the presidency. She was also criticized as a political neophyte.
Administration candidate Roxas was accused of bungling his assignments in government. He was blamed for bad airports, failing light railway systems, the horrendous Manila traffic, epic failures in providing car plates and driver licenses and crawling Internet speeds. He was also blamed for poor management of the Zamboanga rebel siege, for failures in handling disasters like the Haiyan super-typhoon relief and rehabilitation efforts and the rising drug and crime rates in urban centers.
Duterte is a man after Dirty Harry's heart.
Defensor Santiago was not paid much attention by other candidates, in deference perhaps to her health, her acerbic sharp tongue and low ratings in the surveys.
Duterte, who is ironically a lawyer by profession, was accused of extra-judicial killings in Davao City, associations with rebels of all varieties, corruption and ill-gotten wealth. The voters, however, loved him for his folksy manner, his rough and earthy jokes, his fierce attitude against crime and drugs and his penchant for quick solutions, often cutting through legal corners and bureaucratic tape.
The Duterte Phenomenon
Duterte garnered the imagination of voters by promising quick fixes for the nation's problems. More than anything else, he became the anti-hero symbol of the people's frustration, disappointment and, to certain extent, desperation over the unconcern, failure and even arrogance towards the daily miseries of life by the nation's political elite, including the Benigno Aquino administration.
There is a perceived lack of political will to deal with problems like crime and drugs, poverty, corruption, high prices and job insecurity, and with failure to deliver on basic services like transportation, communications, health and education. The Aquino administration, in particular, was a disappointment to many for its failure to ensure inclusive growth and pursuing selective anti-corruption initiatives against political enemies only.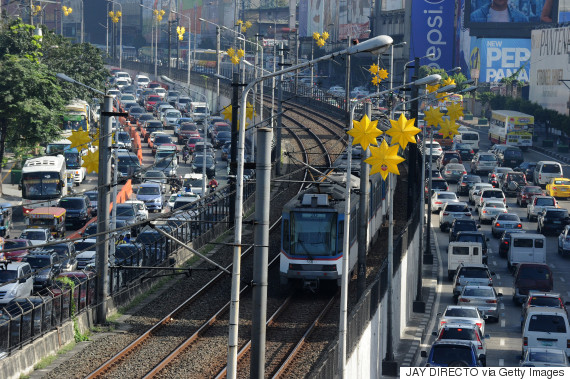 A major thoroughfare clogged with traffic in Manila on Jan. 11. (JAY DIRECTO/AFP/Getty Images)
In the 2016 elections, many of the voters felt that enough was enough. Most of them would cast their votes for change -- the more radical, the better. Duterte and Poe more accurately represented this turn in the mood of the people, replacing each other often at the top of survey ratings.
However, it was Duterte who rode on the crest of this protest vote. He started to run away from the others in the last weeks of April. The media started calling it the Duterte phenomenon.
People voted him into the presidency with undeniable enthusiasm.
His penchant for gutter language coupled with a big mouth nearly derailed his campaign. A video of him telling a "joke" about an Australian who was brutally raped and murdered in 1989 -- "[S]he was so beautiful, the mayor should have been first. What a waste." -- went viral. The ensuing firestorm of condemnation from his opponents, women's groups, human rights activists, the church, the victim's family and the Australian and U.S. ambassadors put him on the defensive. His fitness for the presidency is suddenly in doubt among many voters.
His opponents, sensing his weakness, pounced on him with new allegations of hidden wealth and psychotic behavior. Roxas appealed for the familiar continuity against Duterte's unfamiliar change.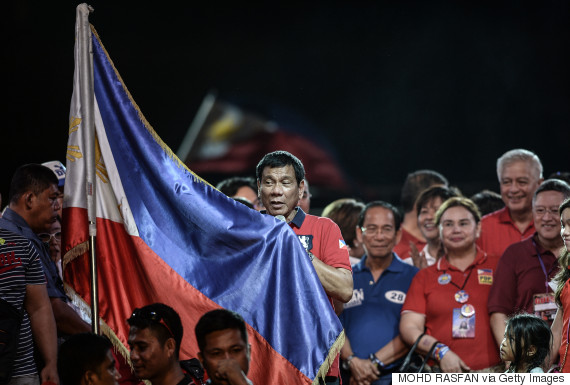 Duterte holds the national flag as he addresses supporters during a rally on May 7. (MOHD RASFAN/AFP/Getty Images)
After a short period of stubbornness -- even denying at one point the apology given by his party -- he personally said sorry. Apparently, the Filipino voters forgave him. They voted him into the presidency with undeniable enthusiasm.
To be sure, the political elite will find it hard to accept an outsider -- and a local anti-hero at that. He will face more challenges from them during his administration. However, for better or for worse, he has been given by the voters the historic task to define a Filipino nation still in transition.
PHOTO GALLERY
Pope Francis In Philippines
Calling all HuffPost superfans!
Sign up for membership to become a founding member and help shape HuffPost's next chapter