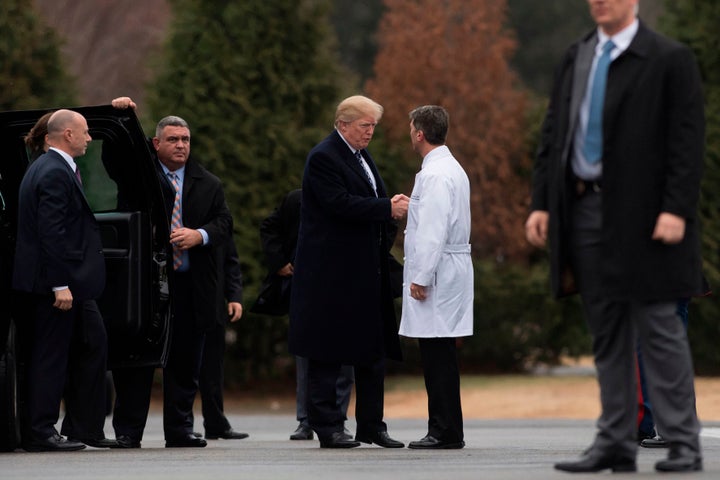 WASHINGTON ― A Navy rear admiral who serves as President Donald Trump's personal physician vouched on Tuesday for his mental fitness, explaining that he gave Trump a dementia screening exam at the president's request, and that Trump aced it.
"Anything above 26 is normal, and certainly if you get a 30 out of 30, I think you can confidently assume that you're done on the cognitive workup for now," said Rear Adm. Dr. Ronny Jackson, who on Friday spent three hours examining Trump with a team of doctors at Walter Reed National Military Medical Center in suburban Maryland.
Trump's mental state, which had been an occasional topic of debate since the start of his presidential campaign, became a focus of national conversation in recent weeks with the publication of Michael Wolff's Fire and Fury. The book depicted a president quick to anger, deeply ignorant of policy matters and unable to focus for any length of time.
Critics wondered aloud about Trump's ability to perform his duties, as some psychiatrists around the country ignored their profession's stricture against making assessments in the absence of a personal exam to suggest that Trump had dementia.
Jackson works in the White House and sees Trump every day. Based on those interactions, Jackson said he personally saw no need to administer a dementia screening. However, he said, Trump was aware of the public discussion of his mental state and asked Jackson to give him one anyway.
"I think he saw the physical as an opportunity to put some of that to rest," Jackson said. "He wasn't the least bit concerned that he had anything to hide. He actively asked me to include that in it, and so we did."
The Montreal Cognitive Assessment is actually more detailed and lengthier than the 10-minute quiz recommended by the National Institute of Aging for people 65 and over. Jackson said Trump scored 30, the highest possible result.
"The president did exceedingly well on it," he said.
The results were something the White House ― which had refused to say beforehand whether Trump would take a cognitive assessment ― was pleased to discuss, and Jackson spent nearly a full hour taking questions about Trump's physical exam at Tuesday's daily briefing.
Jackson also declared Trump, who is 71, to be in "excellent" health for a man his age, and said his cardiovascular system in particular is in good shape. He did say that Trump would benefit from losing 10 to 15 pounds from a combination of improving his diet and starting an exercise regimen.
Jackson gave Trump's height as 6 feet 3 inches, and his weight as 239 pounds. Those figures put him just barely under the obesity threshold in the body mass index calculation.
Trump has claimed that exercise is bad because people are born with a finite amount of energy and that exercise needlessly wastes it.
But Jackson said he will be figuring out a low-impact aerobic exercise machine in the White House gym for Trump, as well as bringing in a nutritionist to work with the kitchen staff to lower his intake of carbohydrates and fats. He said that as far as he knows, Trump is not currently engaging in any specific exercise at all.
"The good part is that we can build on that pretty easily," Jackson said.
Calling all HuffPost superfans!
Sign up for membership to become a founding member and help shape HuffPost's next chapter