President Donald Trump brushed what he said was dandruff from the shoulder of French President Emmanuel Macron on Tuesday in the White House Oval Office.
"We have a very special relationship, in fact I'll get that little piece of dandruff off," Trump declared to reporters as the two leaders posed for photos before a meeting. "We have to make him perfect. He is perfect," added Trump, flicking his fingers across Macron's dark-suited shoulder.
It's unclear whether anything actually was on Macron's shoulder.
Macron chuckled awkwardly during the exchange, taking the moment in stride.
People on Twitter were incredulous:
The French president came to the White House as part of the first state visit of the Trump presidency, marking he second time the two leaders have met one-on-one.
"It is together that we shall build a new form of prosperity for all people, which means innovation, free and fair trade, and the protection of our middle classes," said Macron.
"It is together that we will be able to act effectively for our planet."
Before You Go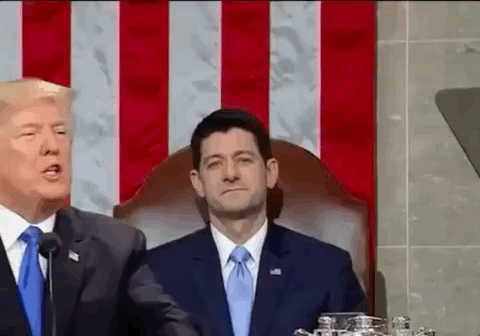 The Best (Literal) Reactions To Trump's State Of The Union
Popular in the Community