WASHINGTON — The infrastructure plan unveiled Monday by President Donald Trump would give Interior Secretary Ryan Zinke the unilateral power to greenlight construction of pipelines through national parks — one of the many proposals in the document that has environmentalists seething.
Currently, building an oil or gas pipeline on land administered by the National Park Service requires an act of Congress. The administration sees that as a burden to economic growth and is looking to make the process as simple as installing electric lines, communication facilities or water infrastructure.
"Obtaining congressional approval for each pipeline crossing and facilities necessary for the production of energy is time consuming and delays construction," the infrastructure plan stated.
The White House says that granting the secretary of the Interior Department the power to approve rights of way for pipelines and other energy production infrastructure on Park Service land "would reduce the delays and uncertainties caused by requiring congressional approval."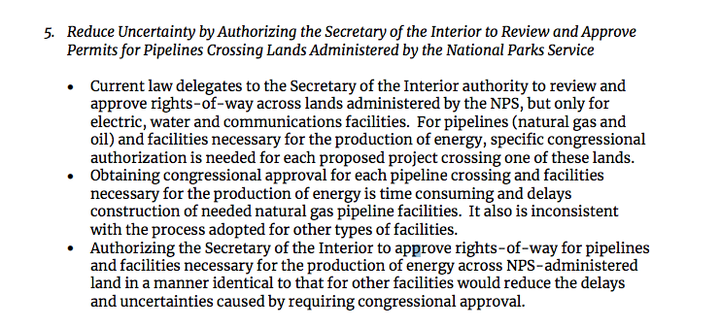 Trump's new infrastructure plan also proposes to fix roads, bridges and buildings at America's national parks and refuges using revenues from new oil, gas and mining operations on federal land. Zinke has repeatedly promised to address the ballooning $11.3 billion maintenance backlog at national parks.
Meanwhile, Trump's 2019 budget proposal, also released Monday, calls for slashing NPS funding by 7 percent.
John Garder, senior director of budget and appropriations at the National Parks Conservation Association, blasted the proposals in a statement Monday.
"Repairing our national parks is long overdue but should not rely on revenue from increased energy development, which only further threatens the well-being of parks, clear air and water and public health," he said.
Raúl Grijalva (D-Ariz.), the ranking member of the House Natural Resources Committee, called the infrastructure plan "a cynical attempt to push for vastly expanded oil and gas drilling by essentially holding the parks hostage."
Popular in the Community