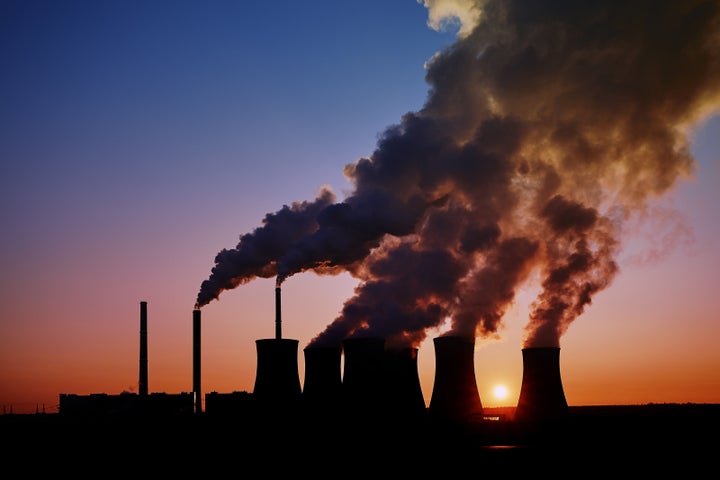 Donald Trump is poised to pull the U.S. out of the Paris climate change pact backed by over 190 nations, putting him at complete odds with the rest of the G7 who stand committed in their fight against global warming.
The move threatens to cast America as a climate pariah as it joins Syria and Nicaragua on the tiny list of nations refusing to endorse the 2015 accord:
"From a foreign policy perspective, it's a colossal mistake — an abdication of American leadership" says R. Nicholas Burns, under secretary of state for President George W. Bush. "The success of our foreign policy — in trade, military, any other kind of negotiation — depends on our credibility. I can't think of anything more destructive to our credibility than this."
The move follows a heated debate within the White House over whether the president should honor his campaign pledge to scrap the agreement, or whether he should stand united with the rest of the global community, and spare future generations from a life of sweltering purgatory.
According to Trevor Houser, a former climate negotiator for the Obama administration, if Trump reneges on the accord, it would be "a craven, symbolic political move... a decision made for domestic political purposes which puts the livelihood and lives of millions of people in developing countries at risk."
According to the United Nations, unless concerted global action is taken, world temperatures will race past the four degrees celsius well before the turn of this century. And, whilst that may not sound like much, it's enough to usher in changes not seen since the last Ice Age, triggering a mass extinction event. In the words of one climate scientist: "We are all polar bears now."
The news comes a few days after Trump came under intense pressure to honor the agreement during his first overseas trip since taking office. Both the Pope, during his time at the Vatican, and world leaders at the G7 summit in Italy urged the president to think very carefully about his decision.
After all, with the mere stroke of his pen, the tycoon tweeter has the power to fracture a hard-won treaty which is the end product of nearly twenty years of torturous climate talks. In the past, rich and poor nations clashed over who should bear the bulk of cuts. But, as the science grew ever more frightening, nearly 200 nations shrugged off their differences in 2015 to strike a deal to save humanity.
[W]ith the mere stroke of his pen, the tycoon tweeter has the power to fracture a hard-won treaty which is the end product of nearly 20 years of torturous climate talks.
Spearheaded by China, and the US during the Obama era, the accord was hailed as a historic victory for mankind. But, what a difference a year and one US presidential race can make.
The consequences of Trump defaulting on the deal are both profound and far-reaching. As the U.S. accounts for nearly one-fifth of global carbon emissions, without its participation, it will be much harder for the treaty to reach its goal of limiting global warming to 2C. Temperatures have already risen 1C since the dawn of the Industrial Age.
"The actions of the United States are bound to have a ripple effect in other emerging economies that are just getting serious about climate change such as India and Indonesia" says Michael Oppenheimer, a professor of geosciences at Princeton: "It is now far more likely that we will breach the danger limit of 2C degrees. And that's not the kind of world we want to live in."
There are also fears that if the U.S. pulls out of the accord, other nations may water down their commitments, or worse yet, follow America's lead as it heads towards the exit. After all, if the world's largest economy won't commit, then why should they?
Russia's commitment to the cause already appears to be faltering. It is yet to ratify the treaty along with 48 other nations. And, any poor nation battling against poverty could easily cave into domestic pressure to back out should the U.S. walk first.
Nevertheless, some climate experts argue that it is better for Washington to withdraw from the accord completely as opposed to wreaking havoc from within: "A rogue U.S. can cause more damage inside rather than outside of the agreement," says Luke Kemp from the Australian National University.
[I]f the U.S. pulls out of the accord, other nations may water down their commitments, or worse yet, follow America's lead...
After all, if the U.S. stays and back peddles out of all of its climate commitments, it may inspire other nations to follow suit. Also, it could create deadlock within the consensus-driven UN decision process, paralyzing important choices that need to made by end of next year.
Nevertheless, other countries have vowed to fulfill their Paris commitments even without the U.S. Chinese President Xi Jinping has promised that his country will move ahead with its green ambitions, and the EU and China have already pledged to fill in the vacuum left by the U.S. with plans to forge a new green alliance.
And, on the home front, mayors across the U.S. have sworn to affirm their city's commitment to the accord.
New York City mayor Bill de Blasio described the decision to leave the accord as a "dagger aimed straight at the heart" of Trump's native New York: "The Paris Accord was the biggest step forward we've taken in many years. It's unconscionable for the president to step away from it. But we'll take matters into our own hands."
Ironically, although the tycoon tweeter wants to put 'America First' and 'Make America Great Again', pulling out of the accord will only weaken the country's position in the clean energy race, and make its companies less competitive. According to a Citigroup report, the U.S. economy could suffer at least $44 trillion in cumulative "lost" GDP over the next 50 years owing to climate change.
"This would be yet another example of President Trump's 'Putting America Last' agenda — last in innovation, last in science, and last in international leadership," says Senator Michael Bennet.
However controversial Trump's decision may be, his actions are far from surprising. At the start of his presidency, he elected a notorious climate change skeptic to head the EPA, the country's leading environmental agency. And, two months ago, he signed an executive order overturning Barack Obama's signature Clean Power Plan which sought to rein in pollution from the country's vast fleet of coal-fired power stations.
But, nothing is ever certain with Trump until he makes his final announcement as he has been known to change his mind at the last minute. Last night, the tweeter-in-chief revealed that he will unveil his ultimate decision on Thursday at 3 p.m.
Nevertheless, whatever the president decides, he has exposed a key vulnerability in the Paris treaty: there are no legal consequences if a country reneges or waters down its targets. And, whilst this was supposed to make it easier for all nations to join, as Trump's upcoming decision reveals, it also makes it too simple for any nation, even one as important and as big as the U.S., to pull out. Much like a fragile house of cards, the accord is simply too vulnerable to collapse.
REAL LIFE. REAL NEWS. REAL VOICES.
Help us tell more of the stories that matter from voices that too often remain unheard.
BEFORE YOU GO