WASHINGTON ― President Donald Trump received applause on Friday when he endorsed police brutality while delivering a speech to law enforcement officers on Long Island, New York.
The president suggested that officers should hit suspects' heads on the doors of their police cars.
"When you see these towns and when you see these thugs being thrown into the back of a paddy wagon, you just see them thrown in, rough, and I said, 'Please don't be too nice,'" Trump said.
"Like when you guys put somebody in the car and you're protecting their head, you know, the way you put their hand over, like, don't hit their head and they've just killed somebody, don't hit their head, I said, 'You can take the hand away, OK?'" he added.
His remarks received significant applause.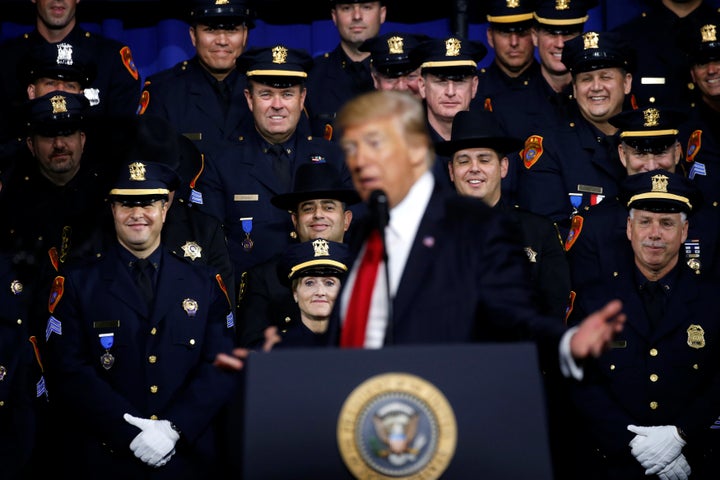 Trump also made the dubious claim that laws were "horrendously stacked" against police officers and said he wants to change those laws.
"For years and years, [laws have] been made to protect the criminal," Trump said. "Totally protect the criminal, not the officers. You do something wrong, you're in more jeopardy than they are. These laws are stacked against you. We're changing those laws."
In his speech, Trump also said that police officers in many parts of the country couldn't do their jobs because they had a "pathetic mayor" or a mayor "who doesn't know what's going on." Those comments also received a lengthy applause.
"It's sad, it's sad. You look at what's happening, and it's sad," Trump said. "We're going to support you like you've never been supported before."
Trump also spoke about violence in Chicago, which was a consistent theme of his speeches throughout the campaign and is a topic he has continued to reference during his presidency. Trump recalled speaking to an "impressive" and "rough cookie" police officer from Chicago, and said the officer had told him he could straighten out the city's violence problem in a "couple of days" if he was given the authority.
"Police cannot treat every community like an invading army, and encouraging violence by police is irresponsible and reprehensible."
Attorney General Jeff Sessions and Trump may not be getting along these days, but the two are on the same page when it comes to policing. Sessions has had the Justice Department pull back from "pattern or practice" investigations that look into widespread constitutional abuses in police departments.
Zeke Johnson, senior director of programs at Amnesty International USA, said Trump's "inflammatory and hateful speech will only escalate tensions between police and communities," putting both officers and civilians at risk.
"Police cannot treat every community like an invading army, and encouraging violence by police is irresponsible and reprehensible," he said.
Vanita Gupta, who headed the Justice Department's Civil Rights Division under former President Barack Obama, said Trump's remarks were "unconscionable" and undermined the positive efforts of local law enforcement to build up community trust.
"The president of the United States, standing before an audience of law enforcement officials, actively encouraged police violence," Gupta said. "We call on the president to immediately and unequivocally condemn police brutality. We can all respect our law enforcement officers without sanctioning unjust and illegal behavior."
Robert Driscoll, a former Justice Department Civil Rights Division official under the President George W. Bush administration, was also critical.
Popular in the Community