WASHINGTON ― President Donald Trump used an event that honored fallen law enforcement officers on Tuesday to rail against sanctuary cities and the MS-13 gang as he called for the death penalty for those who kill police officers.
"We're calling on Congress to secure our borders, support our border agents, stop sanctuary cities and shutdown policies that release violent criminals back into our communities," Trump said during a speech in conjunction with National Police Week, an annual event that convenes in the nation's capital.
"We are the ones who are taking back the streets. We are getting them out of our country by the thousands. Every week we're setting new records," Trump said, referring to immigrant members of MS-13. "We're getting them out or we're putting them in prison."
Trump also took aim at criticism of law enforcement and called for respect for police officers.
"We must stand up for our police, we must confront and condemn dangerous anti-police prejudice. Can you believe this prejudice with respect to our police?" Trump said. "We're not going to let bad things happen to our police."
"We believe criminals who kill our police should get the death penalty, bring it forth," he added.
Amid remarks recognizing fallen officers and their families, Trump also touted his administration's decision to reverse Obama-era limits that prevented police departments from acquiring particular types of military equipment. Now, Trump said, police were grabbing up free surplus military equipment "at a record clip."
Chuck Canterbury, the president of the national Fraternal Order of Police, introduced Trump to the audience. He called on Congress to pass a law that would create new federal penalties for those who killed officers. Civil rights groups have opposed the legislation, saying the "superfluous" legislation promotes the "untrue... unhelpful and dangerous" narrative that there's a "war on police" and "will have a negative impact on the relationship between law enforcement and the communities they serve."
"We are targeted by scorn, by disrespect, and by all too often violence. We have come to learn that we cannot always count on elected leadership in our country to have our back," Canterbury said before praising Trump.
In a speech to the National Association of Police Organizations on Monday night, Attorney General Jeff Sessions also highlighted the Justice Department's retreat from broader investigations of police departments that were conducted more routinely during the Obama administration.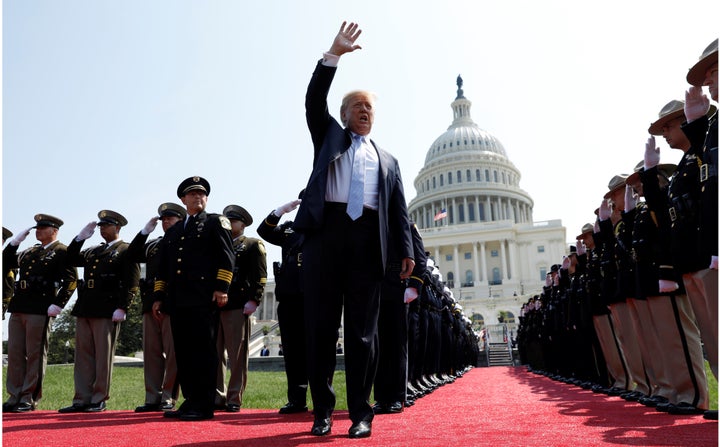 "By the end of the previous administration many of you came to believe that some of the political leadership of this country had abandoned you," Sessions said, blaming "radicals and politicians" who are critical of policing as the problem.
"This is the Trump era. We support law enforcement," Sessions said. "Of course, we will continue to hold accountable any officer who violates the law and undermines the good work of our police. But we will not malign entire police departments. We will not try to micromanage their daily work all the way from Washington, D.C. We will not enter into agreements or court decrees that outsource policymaking to political activists."

Sherrilyn Ifill, the head of the NAACP Legal Defense and Educational Fund, called on Congress to step up oversight efforts in response to Sessions' comments.
"Eschewing legal requirements and permitting systemic constitutional violations to go unaddressed is the opposite of what our communities need from the nation's top cop," she said. "The Justice Department has a unique responsibility to enforce the law enforcement misconduct statute, and our elected officials should stop the Department from shirking its obligations. If the Attorney General and Congress are serious about increasing officer safety, they should double down on policing reform efforts, not abandon them."
Ryan Reilly is HuffPost's senior justice reporter, covering the Justice Department, federal law enforcement, criminal justice and legal affairs. Have a tip? Reach him at ryan.reilly@huffpost.com or on Signal at 202-527-9261.
Popular in the Community