More than 2,700 people have registered so far to serve as volunteer poll watchers for Stop the Steal, a pro-Donald Trump group run by noted dirty trickster Roger Stone. The longtime Trump ally said last month that those volunteers would be sent to polling places in nine cities with high minority populations on Election Day.
And that constitutes illegal voter intimidation, according to at least four federal lawsuits against the Trump campaign, Stop the Steal, Stone and state Republican parties.
Stone told HuffPost via email that the lawsuits are "without merit" and that his group would conduct only "neutral, scientifically based EXIT POLL [sic] in order to compare the actual machine results with the exit poll results in 7,000 key precincts."
But as of Wednesday, that "scientific" exit poll was just a webpage with an icon for each of the four presidential candidates, ostensibly designed for the volunteer exit pollers to click on when they get an answer from a voter.
There were no requirements to gather basic demographic information on the voters, like gender and race, or to indicate where the voters had voted. There were no guidelines on how to interact with voters.
Indeed, any registered volunteer could sit at home and start entering false information today. HuffPost entered five votes Wednesday for Green Party nominee Jill Stein, a vote each for Democratic nominee Hillary Clinton and Libertarian nominee Gary Johnson, and two votes for GOP nominee Trump. This is what it looked like: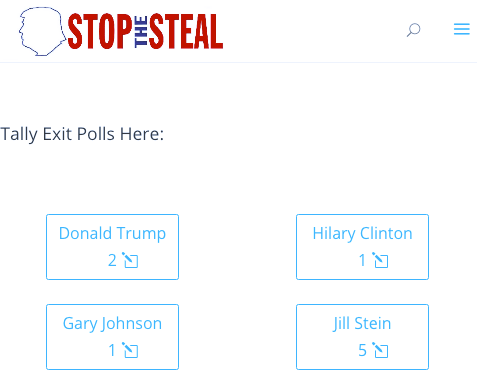 This type of survey is "plainly not designed to achieve the accepted purpose of an exit poll," wrote veteran Democratic pollster Mark Mellman in a report submitted Tuesday to the Arizona federal court handling one of the voter intimidation cases.
"Given Mr. Stone's stated political biases and the methodology he has employed — i.e., targeting Democratic and minority precincts — his exit polling strategy appears only designed to intimidate voters in an attempt to influence the election and suppress the vote," Mellman wrote.
Trump's poll monitoring army has grown significantly since the existence of the "Vote Protectors" volunteer site was first reported last week.
On Oct. 26, the Arizona state page of Stop the Steal had just five registered volunteers. One week later, there were 114 volunteers, more than 100 percent of Stop the Steal's goal in the state. There were also 23 new "votes" logged for Trump, giving him 92 percent of the vote so far in the internal tally.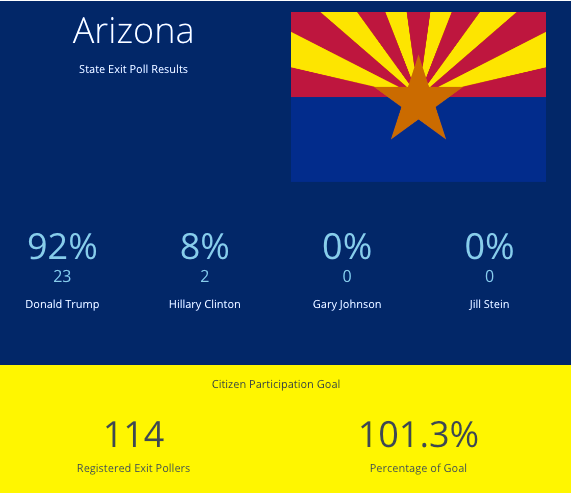 Stop the Steal's website also offers a platform where newly registered members can link up with others in the same state. Below is a conversation between volunteers in Ohio about meeting up on Election Day: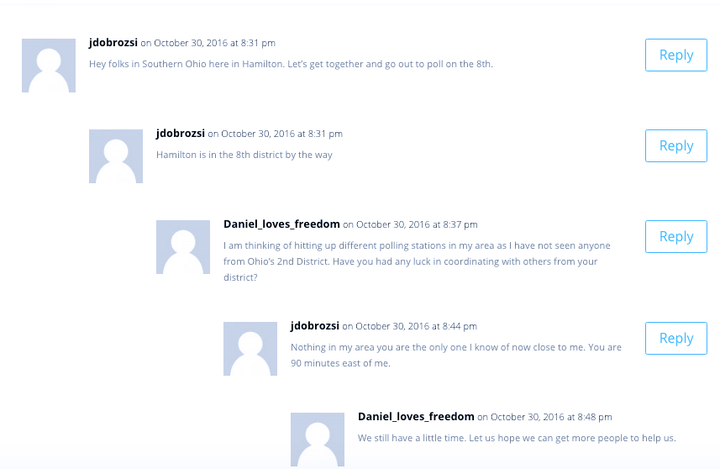 The Huffington Post tried to reach a number of those who posted on the members-only site, but did not receive any replies.
But soon after HuffPost asked Stone about the instructions for livestream video and the fake I.D. badges, both were pulled down from the website. Here's what the badges looked like before they were nixed: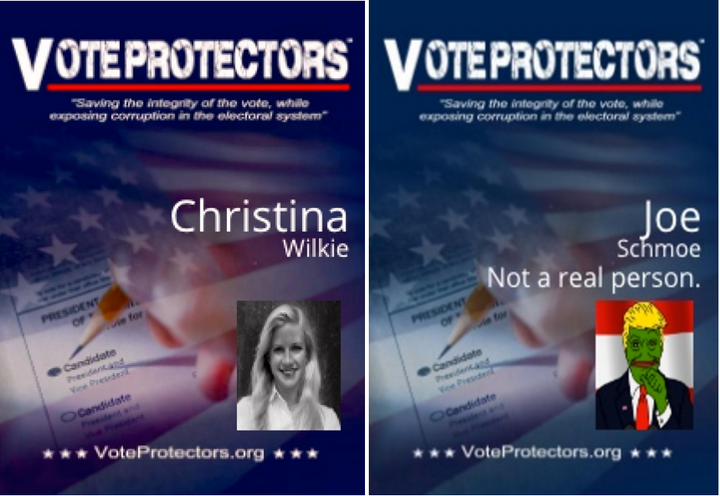 This week, Stone said his goal is merely to conduct exit polls to confirm that the voting machines' results reflect the actual number of votes cast for each candidate.
"We will ask each [Stop the Steal volunteer] poll worker to sign a sworn affidavit that the information they turn in for tabulation is true based on interviews," Stone told HuffPost.
And if his group concludes that the election was not conducted fairly, Stone said the amateur polls will "provide an evidentiary basis for a challenge to the election."
Here, Stone is wrong, and he appears to be misleading his fellow Trump supporters as well. Even well-designed, scientific exit polls do not capture exact vote totals ― they survey only a small percentage of voters, after all ― and they cannot be used to challenge an election, according to legal experts.
"Exit polls have nothing to do with verifying the integrity of an election," said Danielle Lang, deputy director of voting rights at the Campaign Legal Center, a nonprofit public interest group.
As for the kind of partisan "exit polls" that Stop the Steal aims to conduct, Lang suggested that Stone's volunteers were less likely to obtain good data than politically neutral polltakers would be.
"The more a pollster seems to have a political point of view, the less likely people are to tell them the truth," Lang said.
Hearings in the four lawsuits ― filed by the state Democratic parties in Nevada, Ohio, Pennsylvania and Arizona ― are scheduled to take place throughout the day on Wednesday. They seek emergency measures to prevent these Trump supporters from deploying to polling stations in minority neighborhoods on Election Day.
A fifth lawsuit in New Jersey seeks to hold the Republican National Committee accountable for Trump's statements to his supporters that they should "watch other communities" on Election Day "because we don't want this election stolen from us." Oral arguments in that case are scheduled for 10 a.m. on Friday.
HUFFPOST READERS: What's happening in your state or district? The Huffington Post wants to know about all the campaign ads, mailers, robocalls, candidate appearances and other interesting campaign news happening by you. Email any tips, videos, audio files or photos to scoops@huffingtonpost.com.
Popular in the Community