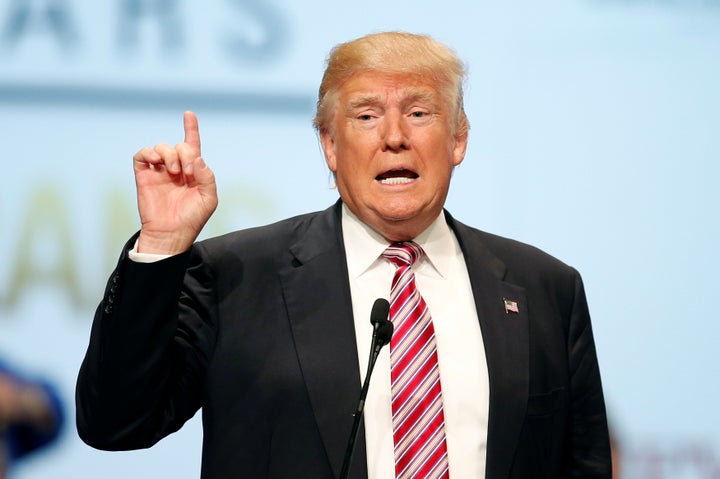 Donald Trump has placed a big bet in his quest for the presidency: that his appeal to white working-class voters can make him competitive in Rust Belt states that traditionally vote Democratic. Increasingly, it looks like he's going to lose that bet.
A new set of battleground polls released on Tuesday show Trump trailing Hillary Clinton in the most critical states he's hoping to flip.
The Republican nominee sits 11 percentage points behind Clinton in Pennsylvania, taking just 37 percent of the vote to Clinton's 48 percent, according to a NBC News/Wall Street Journal/Marist poll of registered voters. Similarly, a Quinnipiac University poll of likely voters conducted over the same week shows Trump 10 points behind, at 42 percent to Clinton's 52 percent.
Two other Pennsylvania polls released this week show Trump trailing by 10 points and 11 points.
The HuffPost Pollster Pennsylvania chart, which aggregates publicly available polls, also shows a widening gap for Trump in the Keystone State.
For Trump, being behind Clinton by double digits in multiple recent polls of Pennsylvania voters is bad enough. But Tuesday's poll results in other key battleground states also portend a tough election night for the Republican nominee.
In Ohio, Trump is trailing Clinton by 5 points, 38 to 43 percent, in the NBC/WSJ/Marist poll and by 4 points in the Quinnipiac poll, which has the race at 45 percent to 49 percent.
The HuffPost Pollster chart also shows the race tied in Ohio, however.
Trump is behind by 1 point in Florida, pulling 45 percent of the vote to Clinton's 46 percent, according to Quinnipiac.
The HuffPost Pollster Florida chart shows about a 2-point gap between the two candidates.
Trump trails by 4 points in Iowa, where he's polling at 37 percent to Clinton's 41 percent, according to the NBC/WSJ/Marist poll. The HuffPost Pollster Iowa chart shows Trump about 3 points behind Clinton.
The addition of third-party candidates Gary Johnson and Jill Stein causes the race to tighten in both the NBC/WSJ/Marist and Quinnipiac polls. Clinton maintains an edge over Trump in Ohio and Pennsylvania, but ties with him in Florida and Iowa when third party candidates are added to the ticket.
Florida, Ohio and Pennsylvania are critical to winning the presidency. Since 1960, no candidate has ever prevailed without winning two of these three states. 
Not only do recent polls show Trump struggling in battleground states, they also show that he could be in deep trouble in others like Arizona and Virginia, which have historically been considered red states. Clinton has noticed, increasing her presence in states like Arizona and even Georgia in hopes of turning them blue.
NBC/WSJ/Marist surveyed 834 Pennsylvania registered voters, 889 Ohio registered voters and 899 registered Iowa voters on Aug. 3-7.
Quinnipiac surveyed 815 Pennsylvania likely voters, 812 Ohio likely voters, and 1,056 Florida likely voters on July 30-Aug. 7.
Both polls were conducted using live interviewers who made calls to landlines and cellphones. 
Calling all HuffPost superfans!
Sign up for membership to become a founding member and help shape HuffPost's next chapter