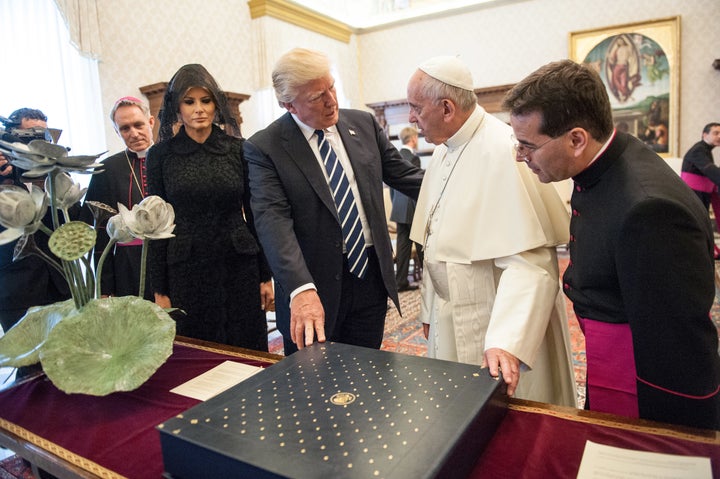 President Donald Trump met with Pope Francis for the first time on Wednesday, and, as customary for visits between dignitaries, the two men exchanged gifts.
As his offering, Trump saw fit to present the pontiff with a first-edition set of writings by Martin Luther King Jr.
In some ways, the gesture was fitting. Francis spoke about King's civil rights legacy during his address to Congress in 2015, and he frequently preaches on topics like nonviolence and the perils of capitalism, which were also close to King's heart.
But Trump's gift was filled with irony. The White House claimed the gift "honors Dr. King's hope, vision, and inspiration for generations to come." Whether Trump, himself, honors King's message is a question many have pondered.
"I have a great relationship with the blacks," he said in April 2011. "I've always had a great relationship with the blacks."
In his years as a casino mogul, Trump allegedly disparaged his black employees as "lazy" in vividly bigoted terms, according to a 1991 book by John O'Donnell, a former president of Trump Plaza Hotel and Casino.
"I think the guy is lazy," Trump said of a black employee, according to O'Donnell. "And it's probably not his fault because laziness is a trait in blacks. It really is, I believe that. It's not anything they can control."
Trump was also a leading proponent of "birtherism," the racist conspiracy theory that President Barack Obama was not born in the United States and was thus an illegitimate president. Trump claimed in 2011 to have sent people to Hawaii to investigate whether Obama was really born there. He insisted at the time that the researchers "cannot believe what they are finding."
Two months before the election, Trump finally acknowledged that Obama was indeed born in the United States.
After his presidential win, Trump also consistently sidestepped opportunities to renounce white nationalist and former KKK leader David Duke, who told his radio audience that voting for any candidate other than Trump would be "treason to your heritage."
When asked by CNN's Jake Tapper if he would condemn Duke and say he didn't want a vote from him or any other white supremacists, Trump claimed that he didn't know anything about white supremacists or about Duke. When Tapper pressed him twice more, Trump said he couldn't condemn a group he hadn't yet researched.
The president has also surrounded himself with a number of advisors and cabinet picks who have a history of prejudice. He replaced former Attorney General Loretta Lynch, the first African-American woman to hold the position, with Sen. Jeff Sessions (R-Ala.), a conservative, white, Republican senator from Alabama with a history of racially insensitive comments.
To kick off Black History Month in February, Trump hosted a "conversation" at the White House and managed to make part of the discussion mostly about himself.
In his remarks, the president also seemed a little shaky on his history when he referred to Frederick Douglass ― a man who escaped slavery to become an acclaimed author, abolitionist and civil rights activist ― as "an example of somebody who has done an amazing job and is being recognized more and more, I notice."
Whether Trump fully grasps the struggles and achievements of black Americans like King enough to bestow his writings on the pope is a question many Twitter users were pondering on Wednesday:
Before You Go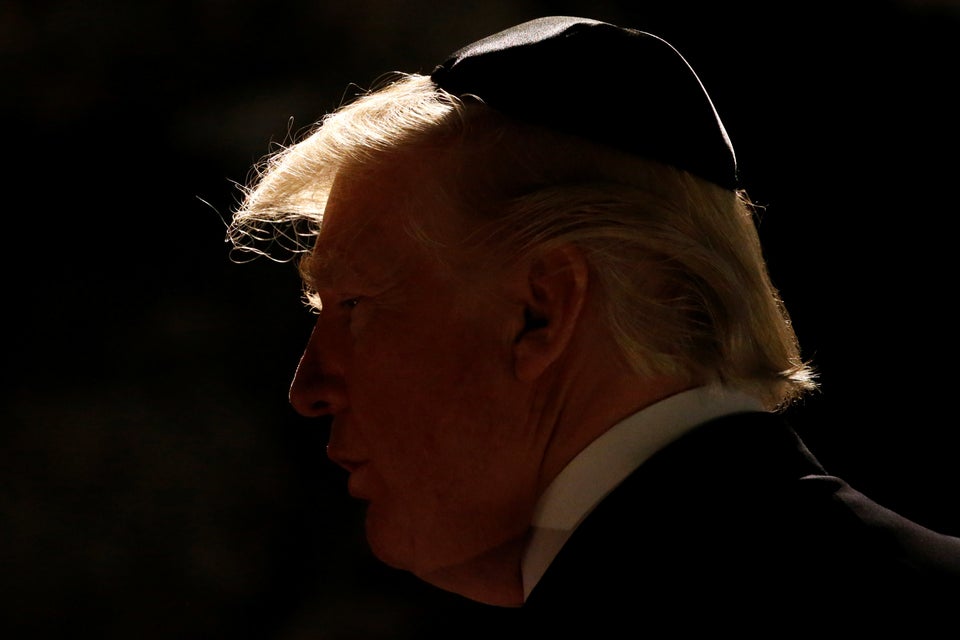 President Donald Trump's First Trip Abroad