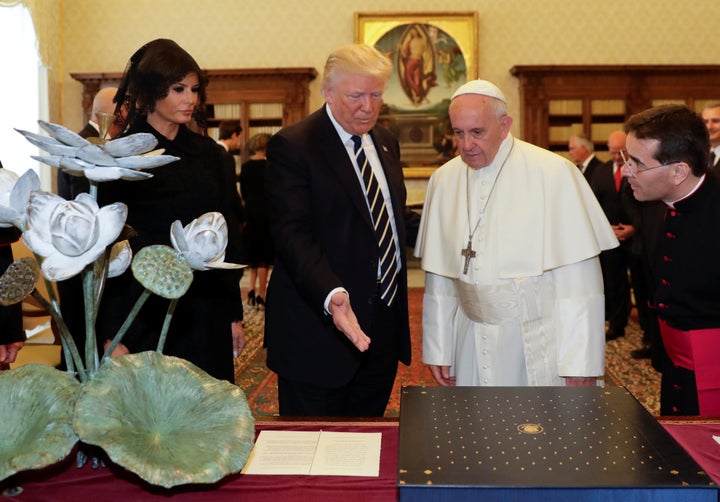 Turns out President Donald Trump's taste in art is just about as refined as his taste in suits.
During Wednesday's visit to the Vatican, 45 exchanged gifts with a dour looking Pope Francis. His holiness' awesomely unsubtle gifts to our president included the pontiff's 2015 treatise on climate change along with a large medallion reading, "I give this to you so that you can be an instrument of peace."
Trump, in return, gifted the Pope with a bronze sculpture of lotus flowers that just screams dentist waiting room. Seriously, the seafoam green figure makes Dale Chihuly seem like Auguste Rodin.
The piece, called "Rising Above," is the work of Florida-based artist Geoffrey C. Smith, whose sculptures often depict various species of plants and wildlife. "Art is important. It was man's first form of communication and still one of the most powerful forms today," Smith quotes himself as saying on his website.
It's hard to gauge exactly what Pope Francis is thinking in the photo below, though we wouldn't be surprised if a good friend of the Holy Father's winds up with something very similar to the lotus sculpture come Christmas time.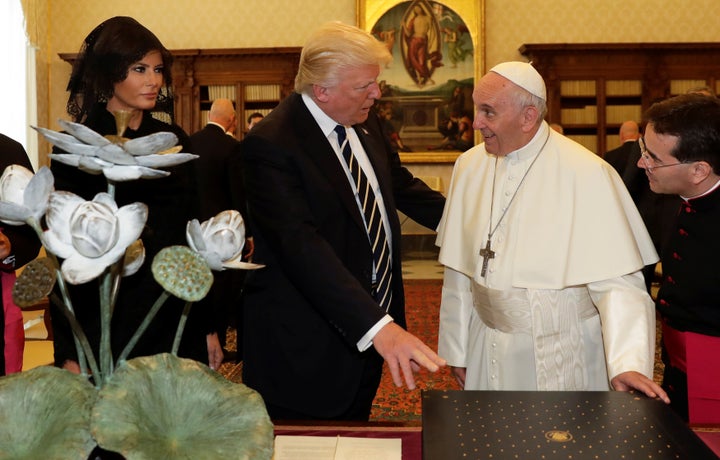 Popular in the Community