The chairman of the Republican Party says that Donald Trump is "pivoting" ― in other words, that he is re-inventing himself as a thoughtful, responsible political leader Americans would feel comfortable putting in the Oval Office.
It's not clear whether such a transformation is underway ― or why, if it is, voters should give Trump another chance.
Appearing on television shows Sunday, a day before the official start of the Republican convention in Cleveland, GOP Chairman Reince Priebus vowed that Trump was changing his ways. On ABC's "This Week," Priebus told host George Stephanopoulos that he'd already detected a shift in the substance and tone in Trump's rhetoric. "He knows the pivot is important," Priebus said. "He has been better and I think he's going to be great moving forward." It was one of four times in the show that Priebus used the word "pivot."
On CNN's "State of the Union," Priebus made the same point to host Jake Tapper and cited, as an example, Trump's decision to modify what's arguably been his most controversial proposal of this campaign cycle: A ban on all Muslims from entering the U.S. According to Priebus, Trump has abandoned that position and would now target only those countries with records of sponsoring or training terrorists.
"He has pivoted to this position," Priebus said, again invoking the "p-word." He went on to explain that Trump's position "is not a religious test. It is a ban on immigration from countries that harbor or train terrorists "
Is this wishful thinking? Quite possibly. At times, Trump has talked about Muslim immigration in ways that suggested he was tweaking his position. But his spokespeople have always denied that that's the case and, as of Sunday afternoon, his campaign website still carried the original policy statement from last fall proposing an all-out ban.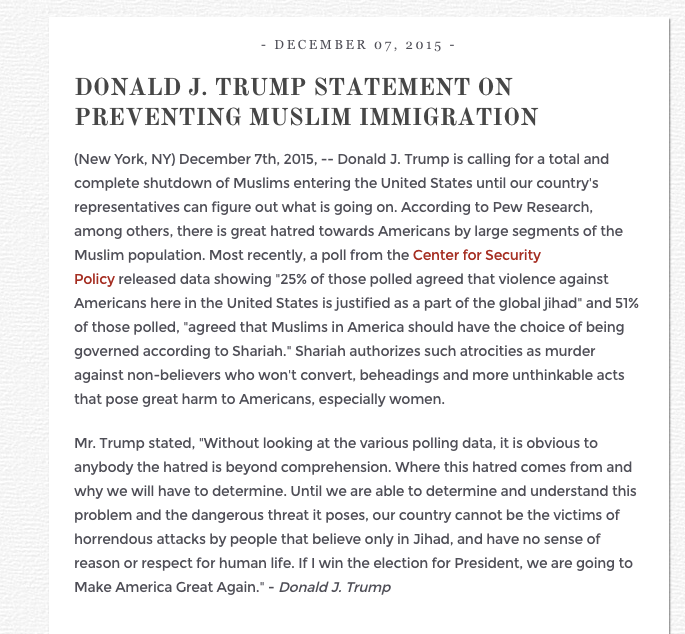 It's true that Trump has flashed a less bombastic, more serious persona on a few recent occasions. His initial reaction to the killings in Dallas, for example, were relatively measured. But within the last 36 hours he has given a rambling and weirdly self-centered speech to announce Indiana Gov. Mike Pence as his running mate and then, during an interview on CBS "60 Minutes," criticized "Crooked Hillary" (Clinton) right after Pence, seated next to him, had explained why campaigns need to be less negative than they are.
In short, he's still the same old Trump. The guy can't seem to help himself.
Of course, pivoting isn't an all-or-nothing thing. Trump could execute what the political pros might describe as a "half-pivot" ― showing just a little more discipline, and being just a little less nasty, while continuing to run a campaign based on personal attacks and divisive rhetoric. Trump will have an opportunity to show that ability on Thursday night, when he addresses the full Republican convention. As Priebus noted in his interviews, Ronald Reagan seemed to win over skeptical voters in 1980 with a strong convention speech (and, later, strong debate performances).
"I think Thursday night, Donald Trump on the stage delivering a great speech is going to go a long way for Donald Trump in pivoting to the general," Priebus said.
Maybe so. But even if Trump decides to act in a way that voters would interpret as more presidential, he still has to answer for his behavior and rhetoric of the last 13 months, while he was running for president ― and for quite a few things he said and did before that.
"Whatever he says or does going forward, Trump must answer for his conduct over the last 13 months."
Imagine Trump never said another derogatory thing about women. He'd still be the guy who lashed out at Fox News host Megyn Kelly by suggesting she asked tough questions because of her menstrual cycle. And he'd still be the guy who has at various points called individual women "pig," "dog" and "fat slob."
Imagine that Trump never uttered an unkind words about Latinos. He'd still be the guy who claimed that Mexico was sending rapists across the border, who thought he could court Hispanic voters by eating a taco salad on Cinco de Mayo and who questioned the integrity of a judge presiding over an anti-Trump lawsuit because of the judge's Mexican heritage.
Or think about the Muslim ban, about which Trump may or may not be having some second thoughts. Whatever nuances Trump decides to introduce to the proposal, and whatever retractions he decides to issue, he would still be the guy who said he would support a registry of Muslims, who claimed to see thousands of Arab immigrants celebrating after the Sept. 11 attacks and who repeated a fable about an American general dipping bullets in pig's blood before executing Muslim prisoners.
Trump would also be the guy who spent a year standing by the Muslim ban despite fellow Republicans' statements saying such a proposal would be both "offensive and unconstitutional," as Pence once put it. And Trump would still be the guy who was calling for a Muslim ban despite reports that it might be spawning hate crimes against Muslim Americans ― and despite warnings, from a bipartisan chorus of national security experts, that a ban would give ISIS and other Islamic extremists precisely the kind of Islam-versus-the-West war they desire and desperately need as a recruiting tool.
For more than a year, Trump thought this kind of rhetoric and behavior was appropriate. That ought to tell voters everything they need to know about his qualifications to be president ― no matter what they see on Thursday and through the rest of the campaign.
Popular in the Community