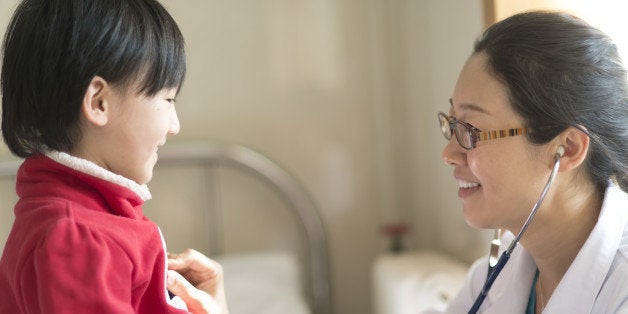 By Kathy Ko Chin, Ben D'Avanzo
While the details of President-elect Donald Trump's policy plans have been vague, he campaigned that "repealing and replacing" the Affordable Care Act (ACA) would be one of his top priorities. This campaign pledge echoed legislative proposals introduced by Congressional Republicans since the bill's passage, and who now have majority control over both the House of Representatives and Senate. Repealing the ACA would have a disastrous impact on the millions of Americans who have benefited from its expansion of access to health care, especially for Asian Americans, Native Hawaiians, and Pacific Islanders who benefited the most from the law and have much at risk in the incoming Trump presidency.
For example, under the ACA, Kay Bounkeua was able to join her parent's health insurance. Anton Saleh was able to switch to an insurer who covered his medications. And Tot 'Sy' Tran was better able to access Vietnamese-speaking health care interpreters. Without the ACA, neither Kay, Anton, nor Sy would be able to get the care they need to live healthy lives.
In 2010, before the ACA was implemented, over 2.3 million Asian Americans did not have health insurance -- 15.7 percent of the Asian American population. Last year, the number of uninsured in our communities had decreased to 1.3 million, or 7.8 percent. This change was the greatest among any other race or ethnicity. Accounting for the rapid Asian American population growth in the past five years, as many as 2.7 million Asian Americans would be at risk for losing access to health care if the ACA was repealed. Native Hawaiians and Pacific Islander are also at risk. More than 85,000 Native Hawaiians and Pacific Islanders were uninsured in 2010, 17.4 percent of the population. In 2015, that rate fell to 9.9 percent, fewer than 55,000. If the rate returned to pre-ACA levels, over 94,000 would be at risk of losing their access to health care.
Fortunately, since the election, President-elect Trump has begun to back-track on his campaign pledge of a blanket repeal of the ACA. For example, he has stated that he favors allowing young people under age 26 to stay on their parents' health insurance plans and continuing the prohibition against denial of health insurance coverage because of pre-existing health conditions.
Both of these parts of the ACA are vitally important to our Asian American, Native Hawaiian, and Pacific Islander communities. Asian Americans are one of the younger race groups in the U.S., with 37 percent of the population under the age of 26, compared to 35 percent for the U.S. population as a whole. The 2.2 million Asian Americans who are between the age of 18 and 26 are at risk of losing health care if the ACA is repealed. The Native Hawaiian and Pacific Islander population is even younger, with 48 percent under age 26. Nearly 180,000 are between 18 and 26, and would be jeopardy of losing their health care if this part of the ACA were repealed.
Prior to the ACA, insurance companies could deny coverage, or charge unconscionable and unaffordable rates, for consumers who have pre-existing conditions. Asian Americans are at high risk for certain diseases, such as being 4.5 times as likely to be infected with Hepatitis B. Asian Americans are 10 percent more likely to be diagnosed with diabetes than Whites, while Native Hawaiians and Pacific Islanders 2.4 times more likely. Returning to a time when there were few health insurance options for populations with pre-existing conditions would result in many Asian Americans, Native Hawaiians, and Pacific Islanders with chronic health conditions becoming uninsured and at greater risk for deteriorating health.
It remains unclear how President-elect Trump and the 115th Congress will be able to pick and choose what parts of the ACA they end up preserving. The law is based on a complex, inter-dependent framework of employer-based coverage, individual obligations to purchase health insurance, and federal subsidies to help low-income individuals and families afford coverage. Without the entire framework, the entire system can easily unravel, sending the number of uninsured Americans sky-rocketing.
Repealing the ACA would be a huge step back for everyone in the United States, but especially for our Asian American, Native Hawaiian, and Pacific Islander communities. The Asian & Pacific Islander American Health Forum joined many other organizations to pass, defend, and help implement this historic law that has expanded access to health care for so many in our communities. We will re-commit to organizing our communities and our allies to continue to defend the ACA, and to urge the incoming President and Congress to preserve these important gains for all Americans.
Kathy Ko Chin is the President & CEO and Ben D'Avanzo is a Policy Analyst at the Asian & Pacific Islander American Health Forum.
Popular in the Community