Donald Trump was elected president of the United States on Nov. 8 and placed his hand on the Bible and swore to defend the Constitution on Jan. 20.
But it was on the night of Feb. 28, following Trump's address to a joint session of Congress, that prominent media figures finally declared him president.
"I feel like tonight, Donald Trump became the president of the United States," Fox News anchor Chris Wallace said.
"He became president of the United States," liberal CNN commentator Van Jones said after the speech. Specifically, Jones praised Trump's honoring of Carryn Owens, the wife of slain Navy SEAL William "Ryan" Owens, as "one of the most extraordinary moments you have ever seen in American politics."
On NBC, veteran anchor Tom Brokaw said the media had been waiting for Trump to "pivot to being presidential." Trump's address, he said, "is easily the most presidential he's been."
Journalists also highlighted Trump's newfound "presidential" tone on Twitter.
Members of the news media have long sought a moment when Trump, a 70-year-old politician and entertainer seemingly set in his ways ― ever quick to insult, boast and exaggerate ― would suddenly "pivot" into a more subdued statesman.
The speech to Congress on Tuesday night was similar to a State of the Union address in its delivery, and carried with it the ceremonial pomp and circumstance that comes with the job. Trump read his prepared speech off a teleprompter without veering off script to lob attacks on opponents and air grievances with "enemies" in the media.
But the hour-long shift in style doesn't change the substance of his remarks.
Trump again promised to build a wall on the southern border of the United States and stoked fears of out-of-control immigrant crime, as he did when he launched his presidential campaign 21 months ago by saying Mexican "rapists" and drug dealers were streaming into the country.
He again promised to replace the Affordable Care Act, also known as Obamacare, while offering no specifics on how to do it. Trump also called for a $1 trillion infrastructure plan without providing details on how to implement it. He again spoke of the United States fighting "radical Islamic terrorism," a phrase his national security adviser reportedly urged him to leave out.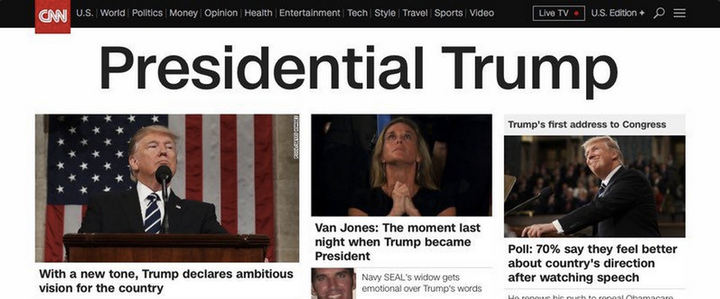 Though Brokaw dubbed Trump's speech his "most presidential," the veteran news anchor also highlighted its divisive claims about immigrants.
"There's a lot of crime in America that doesn't involve immigrants, including shooting crimes," Brokaw said. "We have had mass murders that don't involve immigrants, don't involve Islamic terrorists as well. No one is condemning gun violence in the country; only when it involves an immigrant of some kind. So he's saying, 'I want to be inclusive,' but he singles them out."
Trump's rhetoric, at times, butted heads with reality. For instance, he claimed his administration would promote "clear water" just hours after he signed an executive order to dismantle the Obama-era Clean Water Rule. Trump also called for an end to "trivial fights," despite his years of spats on Twitter over matters such as "Saturday Night Live" skits.
Some journalists, like Mother Jones' David Corn, expressed concerns about the press' reaction to Trump's address.
On Wednesday morning, Jose Antonio Vargas, an undocumented journalist and founder of the organization Define American, called out English-language media in the U.S. for its "sheer ineptitude" in covering immigration.
"It's been incredibly frustrating and angering to hear reporters who should know better, who should be operating in facts, who should be wanting context, just be willing to buy what Donald Trump was selling as a candidate and now as president," Vargas said.
But it's not only critics of Trump's policies who suggest his nationalistic policies and vision for America hasn't changed despite his "softer" or more "moderate" delivery on Tuesday night.
Bloomberg Businessweek's Joshua Green, who profiled Trump's chief strategist Steve Bannon in 2015 and senior policy adviser Stephen Miller this week, tweeted that an unnamed senior White House official described the speech to him as "nationalism with an indoor voice."
And the Washington Post's Robert Costa, another reporter plugged into the Trump White House, tweeted that sources there "are frankly surprised at how pundits are warming to the speech."
These White House sources, Costa noted, "say Trump has not changed" and that there is "no big shift in policy coming."
Elise Foley contributed reporting.
Related
Popular in the Community