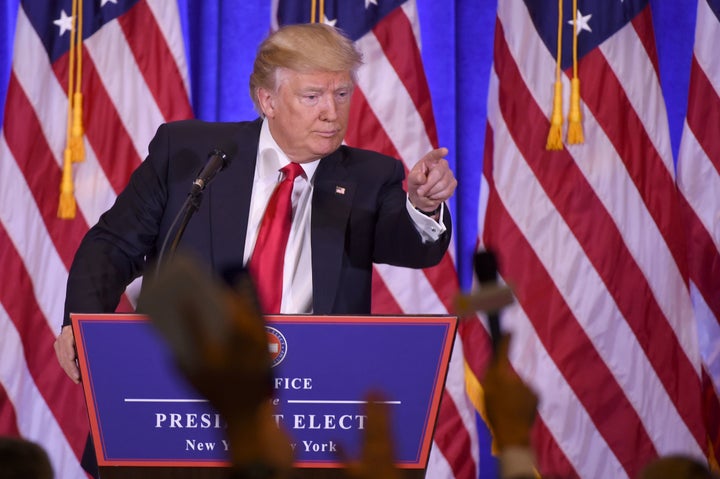 President Donald Trump on Friday floated an alternative to his press secretary's traditional daily press briefings: Himself.
During an interview with Fox News host Jeanine Pirro, to air on Saturday, Trump suggested he moves too quickly for his communications staff. One solution, he said, is "we don't have press conferences."
"You don't mean that," Pirro responded.
"Well, just don't have them," Trump said. "Unless I have them every two weeks and I do them myself, we don't have them. I think it's a good idea."
Trump has reportedly been frustrated with how White House press secretary Sean Spicer has handled Trump's firing of FBI Director James Comey amid the bureau's investigation into whether Trump's campaign colluded with Russia to influence the election.
The president also is apparently angry with the news media for covering the fact that he contradicted claims by his own White House about the rationale and timing of the Comey firing.
Journalists have described a "crisis of credibility" at the White House, with lies from the briefing room podium diminishing its stature.
"The podium used to really mean something," NBC News White House correspondent Peter Alexander said on air Friday. "It used to be the message not just of the White House, but of America. Now, so much of what we've heard from there is at odds with the facts."
Trump tweeted Friday that his staff can't be expected to be "perfectly accurate" in the briefing room, and mused about canceling press briefings altogether. During Friday's briefing, Spicer didn't rule out that briefings could be canceled.
Despite the misinformation that's come from the podium, reporters see value in having the opportunity to question the White House on a daily basis.
White House Correspondents' Association President Jeff Mason said Friday that "doing away with briefings would reduce accountability, transparency, and the opportunity for Americans to see that, in the U.S. system, no political figure is above being questioned."
Mason said the association "would object to any move that would threaten those constitutionally protected principles."
Support HuffPost
The Stakes Have Never Been Higher
Related
Popular in the Community