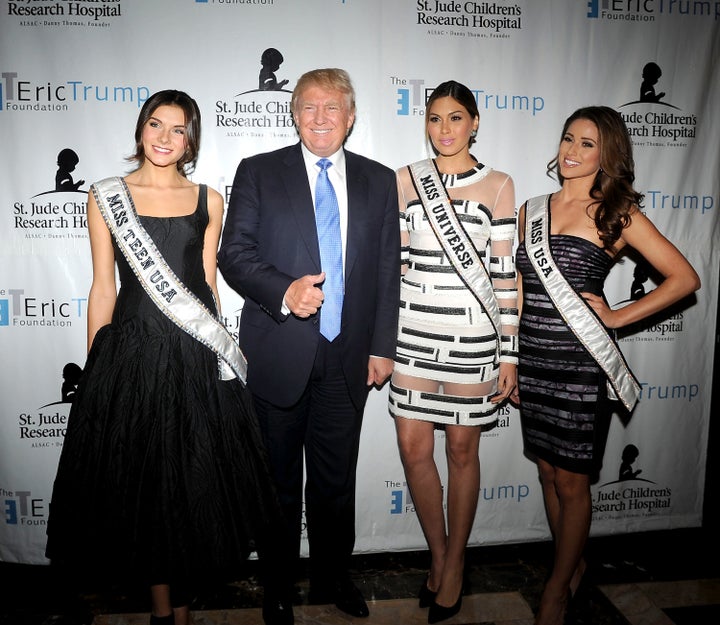 This column originally appeared in Emily Peck's newsletter, a weekly email that looks at the convergence of women, economics, business and politics. /news.huffingtonpost.com/h/t/E78AB6DF86C0CEAC","lnid":"Sign up here"}}">Sign up here. 
Another man is headed up to the White House today to talk about gender equality with the president, who is apparently committed to pretending he cares about this stuff.
The chief executive of the software company Salesforce, Marc Benioff, tweeted that he's talking to President Donald Trump and German Chancellor Angela Merkel about gender equality on Friday.
I'm sure it'll be a very serious discussion. They will obviously agonize over the gender pay gap, the lack of women in leadership positions in business and in politics. They'll ponder the double bind we face in the business world: How to be a strong boss but also exhibit the expected stereotypical feminine traits (you know, Ivanka Trump-style stuff). 
No offense meant to Benioff, who has been actively working on women's issues at his company and spent millions giving women raises to fix pay equity at Salesforce a few years ago. But it's impossible to take Trump seriously.
Since he took office, Trump's sort of semi-regularly trotted out his eldest daughter or called in some doughy white men (and also Canadian heartthrob Justin Trudeau) to talk about how he cares about women. He tweeted of his "respect" for women.
In February, the CEO of consulting firm EY, named Mark, and the CEO of Walmart, Doug, led a talk about women in the workplace at a White House business conference that the president attended.
"Any woman who wants a career, she's got two problems ― one, her career; two, this baby thing. I don't care who she is, what she says ― there isn't a broad alive who doesn't feel unfulfilled if she doesn't have a baby." That's how we imagine it went (but it's really just a quote from a Saturday Night Live sketch from the 1970s).
At the same time, the Trump administration works diligently to screw us over. The GOP is desperately trying to defund Planned Parenthood. When Trump took office, one of the first things he did was restrict women's health around the world. He's brought a historically low number of women into his administration.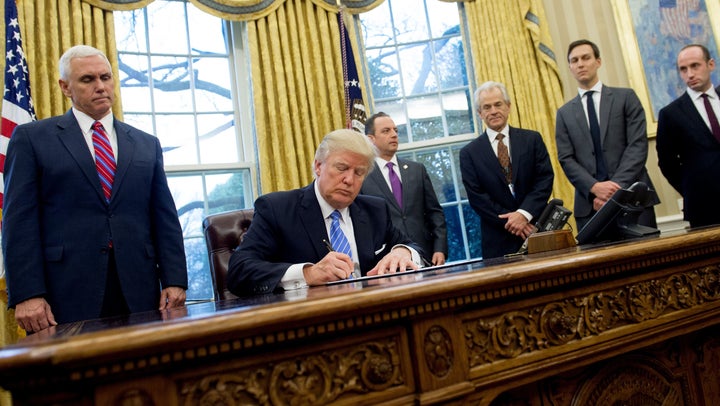 Of course, I don't ever plan on forgetting that time he said, "You know, I'm automatically attracted to beautiful — I just start kissing them. It's like a magnet. Just kiss. I don't even wait. And when you're a star, they let you do it. You can do anything." 
Last month, Trump told Congress he wanted to work on parental leave and making child care more affordable and accessible. These are things that would help advance gender equality. 
Then, on Thursday, he sent a budget proposal over to Congress that makes his real priorities clear: He wants to cut money for programs that help the poor, the elderly, women and working parents. 
Part of the budget proposal includes eliminating a program that provides before-school and after-school care to poor kids. It's the kind of program that makes a huge difference to working parents. If you know your kid has somewhere to go when school is out ― and it's not going to cost you anything ― you can take a full-time job. 
That's life-changing on a personal level, and nationwide, it gets more women into the workforce.
No president who cares about gender equality, having women in the workforce, or making childcare accessible would CUT such a program.
Which Brings Us Back To Ivanka 
Saturday Night Live, of course, nailed the whole thing with Ivanka Trump in a spoof commercial last week.
The money quote: Ivanka is "a feminist, an advocate, a champion for women ... but, like, how?"
Watch:
The 1 Skill Women In Tech Need
The Atlantic published a deep dive into what's become a seemingly intractable problem: The crap way women get treated in Silicon Valley. 
The article related how one woman, now an investor there, described figuring out what it takes to succeed in this world: 
"In a land of grand ideas and grander funding proposals, she found that the ability to neatly reject a man's advances without injuring his ego is 'a pretty important skill.'"
Feminism Isn't A Selling Tool. Period.
The term period panties used to refer to ratty old underwear you put on for a few days each month. But an entrepreneur named Miki Agrawal convinced women to spend upwards of $30 on new underpants instead.
Her Thinx brand panties ― made of a material that is supposed to prevent leaks or stains ― were a big hit, thanks to slick marketing. Ads featuring vagina-esque fruits and images of runny eggs sparked instant controversy in New York City after Thinx put them in the subway system. The company was part of a new feminist openness about menstruation.
The only problem: Agrawal maybe didn't take that gender equality thing all that seriously. She's just the latest example of a high-profile woman using feminist rhetoric to sell us stuff. HuffPost Women's editor, Emma Gray, and I have the story.
REAL LIFE. REAL NEWS. REAL VOICES.
Help us tell more of the stories that matter from voices that too often remain unheard.