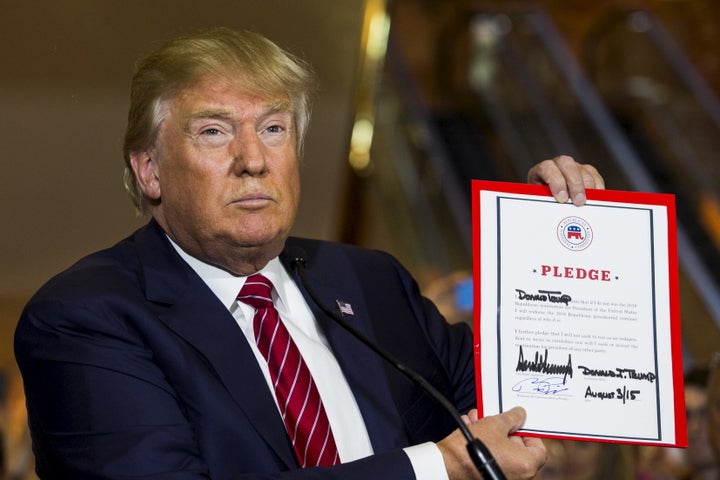 CLEVELAND ― For Republicans still in shock that Donald Trump is actually their presidential nominee, and wondering which single moment in time they should return to in order to fix things, here is the start to at least one alternative timeline:
Thursday, Sept. 3, 2015, 1 p.m: Republican National Committee Chairman Reince Priebus announces at a Washington news conference that Trump's refusal to support the eventual nominee meant he could not participate in the coming presidential debate at the Reagan Library in California. Priebus suggested that the reality TV star instead seek the Democratic nomination, whose front-runner he has contributed to in the past.
Of course, it did not happen that way at all.
In reality, Priebus sought a meeting with Trump, traveled to Trump Tower in Manhattan, and persuaded him to sign a pledge promising to support whoever was the eventual GOP nominee ― which Trump immediately showed off at his own news conference.
"That was the most significant misread that I have ever seen in my career," said Florida consultant Rick Wilson, who has emerged as one of Trump's harshest Republican critics. "How he thought, 'I will go to this raving narcissistic maniac and kiss his ring and then he'll respect me,' just blows me away."
Priebus declined several Huffington Post interview requests, but on Wednesday defended his decision to win Trump's signature on the pledge. "It was a great idea," he said as he left one Republican convention event on his way to another.
Even at the time, when most of the GOP candidates and nearly all political observers believed Trump's popularity would fade in the coming months, some Republicans worried that having Priebus travel to Trump's home base, and not the other way around, created a troubling impression.
"Trump is in control," Peter Wehner, an aide to former President George W. Bush, told The Washington Post. "It looks like the RNC is going hat in hand to Trump. It doesn't help the RNC. It simply helps Trump."
Wilson said he sees Priebus' Trump Tower visit as the inflection point that forever changed the race, starting the process of "normalizing" Trump in the minds of Republican primary voters ― and all because party leaders believed that Trump was actually worth the billions he claimed.
"That fear of Trump's resources sent Reince Priebus scurrying like a terrified hobbit to the Barad-dûr of the Trump empire to beg the Orange Lord to sign a pledge," Wilson wrote in a scorching May essay on the website Heatstreet. "The thought that Trump could easily fund a third-party bid was a cheap form of political blackmail against the RNC, and it worked. It was a classic Trump con."
Numerous publications have placed Trump's actual net worth at a mere fraction of the $10 billion he boasts. National Journal found he had no more than $232 million in liquid assets, based on his financial disclosure report, and actually would be far wealthier had he just invested his inherited share of his father's empire in an index fund tracking the S&P 500 back in 1974.
But the RNC, despite a well-staffed research office, didn't bother checking into Trump's financial wherewithal. One official said privately that vetting its own candidates is not generally something the RNC does. In any case, with 17 presidential candidates, the party had its hands full just handling primary season logistics, the official said.
"That fear of Trump's resources sent Reince Priebus scurrying like a terrified hobbit to the Barad-dûr of the Trump empire to beg the Orange Lord to sign a pledge."
One top RNC member, who also spoke on the condition of anonymity to discuss internal party business, said doing anything to help or hurt any candidate was not the party's role. "The party has done everything it can. We cannot control the candidate. That's not our job," the member said. "We had a great process. It was fair and open and transparent. That's our job."
That a pledge was even necessary was because Trump, at the first debate in August 2015 ― at the very arena where Trump will deliver his acceptance speech Thursday ― was the sole candidate on stage to raise his hand when moderator Brett Baier asked who could not promise to back the ultimate Republican nominee and not run as an independent.
"If I'm the nominee, I will pledge I will not run as an independent," Trump said. But he was unwilling to say what he would do if he didn't win the nomination. He then suggested he could use the offer of his support as a bargaining chip. "I'm, you know, talking about a lot of leverage."
Trump subsequently reneged on the pledge. He told CNN at a March 29 town hall in Wisconsin: "I have been treated very unfairly ... by basically the RNC, the Republican Party, the establishment."
Weeks later, after essentially clinching the nomination with his May 3 victory in Wisconsin and then near daily since then, he has been demanding that his vanquished rivals endorse him.
"They signed a pledge saying they will abide, saying they will back the candidate of the party," Trump said at a June 29 rally in Bangor, Maine. "They broke their word. In my opinion, they should never be allowed to run for public office again because what they did is disgraceful."
Trump's shifting views on the pledge and his weaknesses as a general election candidate notwithstanding, at least one anti-Trump Republican is willing to cut Priebus and the RNC some slack. The concern last autumn was that even a modestly funded third-party run, he said, also on the condition of anonymity, would peel off enough Republican votes to guarantee a Democratic win.
"Once Trump entered this race, Reince was having trouble just getting out of bed each day," the Republican strategist said, adding that persuading Trump to agree to the pledge made sense at the time. "It was about extinguishing that fire. The threat of his running third-party was a threat that was taken very seriously at that time."
Popular in the Community