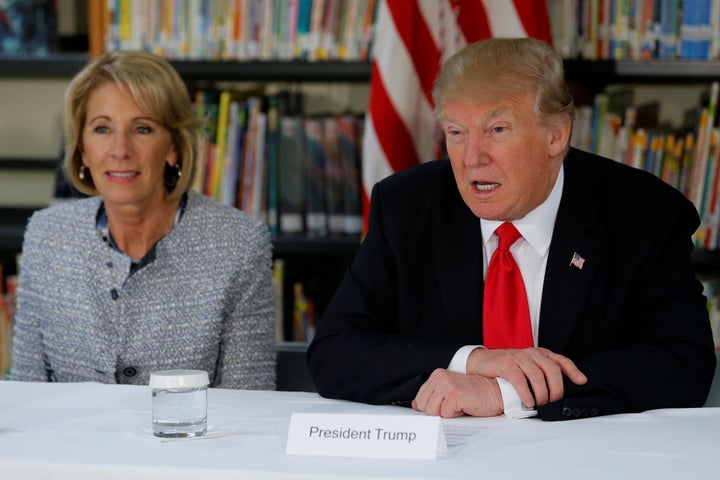 President Trump made his first visit to a school as president on Friday, amid reports that he is planning an expensive and widespread federal school choice program.
He did not visit one of the traditional public schools that 90 percent of American students attend. Instead, he spent the afternoon in a private Catholic school that participates in Florida's tax credit scholarship program. That program gives tax breaks to corporations and individuals who donate money to a scholarship granting group. This group, in turn, helps low-income kids attend private schools.
Trump's visit has been seen as a show of support for programs like Florida's, which make it easier for students to attend private schools. He has signaled his support for such programs before, although it is unclear what a school choice initiative from his administration would look like.
Trump visited the school with an entourage, including U.S. Secretary of Education Betsy DeVos, Sen. Marco Rubio (R-Fla.), daughter Ivanka Trump and son-in-law Jared Kushner. He visited a fourth-grade classroom and participated in a roundtable discussion with school leaders.
St. Andrew Catholic School in Orlando serves students from pre-kindergarten to eighth grade. The school's website says: "our goals are simple: College and Heaven."
While at the school, Trump highlighted Denisha Merriweather, a young woman who enrolled in a private school through Florida's school choice program. Earlier in the week, Merriweather was one of his guests to his address to Congress.
He said he hopes to see "millions more to achieve the same success" as Merriweather during the visit.
After one child told him she wants to start a business, he joked that she's "gonna make a lot of money. But don't run for politics," he said, according to the Associated Press.
Public education leaders strongly criticized Trump's trip to the school, citing evidence that school voucher programs ― a close cousin of tax credit scholarship programs ― are ineffective and drain resources from public schools.
"To borrow a word from President Trump, it's so 'sad' that the president and his secretary of education have demonstrated such an antipathy toward public schools," said president of the American Federation of Teachers Randi Weingarten in a statement. "He has taken a page right out of the extremist playbook by criticizing, undermining and proposing the defunding of public schools and instead trumpeting private alternatives."
Similar to tax credit programs, voucher programs also use taxpayer money to pay for children to go to private schools. President of the National Education Association Lily Eskelsen García noted that unlike public schools, private schools do not have to accept every student and are not held accountable for their performance.
"A child's success should not depend on a gamble, and yet today's visit by President Trump and Education Secretary Betsy DeVos shows they're doubling down on failed policies like voucher schemes that steal taxpayer dollars from public schools to fund private and for-profit schools, all at the expense of students," said García's statement.
In recent days, groups like The Century Foundation have also released reports criticizing Trump's education agenda and emphasis on private schools.
Richard Kahlenberg, report author and a senior fellow at the left-leaning foundation, says that if Trump follows through on his proposed education plans, it could help lead to the privatization of the American public school system.
"I think public education is under a bigger threat than any time in my memory," Kahlenberg told The Huffington Post.
Kahlenberg noted that tax credit programs essentially have the same result as voucher programs, in "diverting public money from public schools to private schools."
DeVos, Trump's controversial secretary of education, has long been a supporter of these types of programs. She has said she sees tax credit and voucher programs as a way to provide the same opportunities to poor families as rich families.
Rebecca Klein covers the challenges faced in school discipline, school segregation and the achievement gap in K-12 education. Tips? Email: Rebecca.Klein@huffingtonpost.com.
Popular in the Community