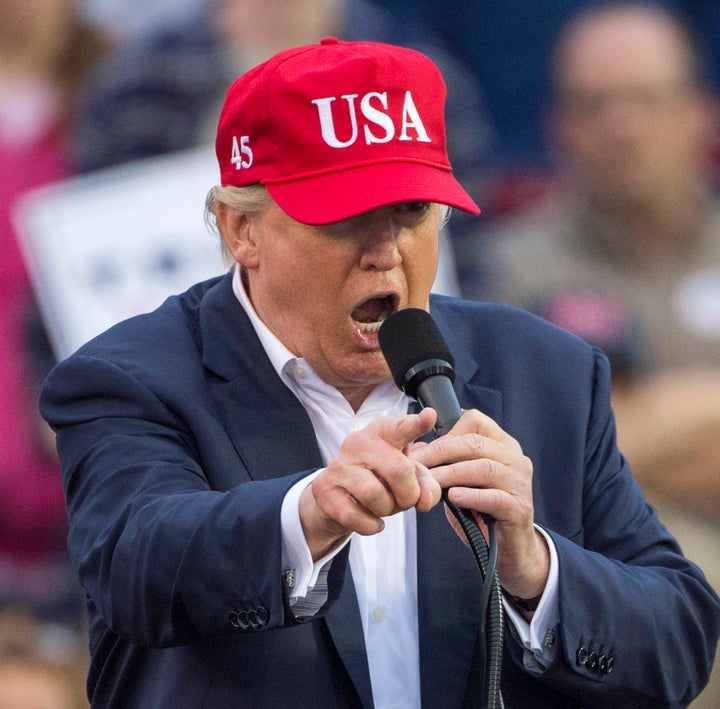 President-elect Donald Trump reportedly plans to stick with members of his aggressive private security crew of loyal retired ex-cops and former FBI agents, and won't rely solely on the Secret Service in the White House, according to Politico.
That would be a major break with tradition and raises fears that the future president could be surrounded by a cadre of strong-arm bodyguards who take an extremely hard line on protesters. The private pack has accompanied Trump on his tour of "thank you" rallies, where the bodyguards have roughly ejected protesters from venues.
The private security team is led by Trump supporter and registered Republican Keith Schiller, a retired New York cop, who was videotaped during the presidential campaign apparently punching a protester who was trying to retrieve protest signs Schiller had ripped from his hands. That incident sparked a lawsuit by five protesters against Schiller, other members of the security team and Trump.
In a conference call with reporters on Monday, Trump spokesman Jason Miller called the Politico story "complete nonsense," and said it was "blowing [the issue] out of proportion." But he also said Trump would continue to be surrounded by longtime supporters like Schiller, "who has been an absolute fantastic ally."
The Trump camp did not immediately return a request for clarification on whether that meant Schiller's team would provide security for Trump after the inauguration.
Schiller, who had headed security for the Trump Organization since 2004, is a deeply partisan Trump promoter who frequently posts retweets praising his boss and denigrating Trump's political rivals, including one tweet calling President Barack Obama a "criminal president."
Some security experts told Politico that Trump's decision may not only endanger law-abiding protesters, but Trump as well if the private bodyguards and Secret Service clash and the line of command is muddied.
Combining private security with the Secret Service "increases the Service's liability, it creates greater confusion and it creates greater risk," former Secret Service agent Jonathan Wackrow told the outlet.
Presidential candidates sometimes use private security, but it's unprecedented for a president to use any security other than that provided by the Secret Service or police departments for local events. But Trump actually increased payment for his private security force after the election, and spent more than $1 million of campaign funds on his bodyguards, according to Politico.
The Secret Service is also guarding Trump and will continue to do so. The Secret Service will likely continue to pay rent for an entire floor in Trump Tower in Manhattan where the president-elect is still living and may maintain a residence even after he becomes president. Rent could be as high as $1.5 million a year.
It's still unclear how much New York City will end up paying for its share of the policing bill. Mayor Bill DeBlasio has demanded federal reimbursement for some $35 million in security costs.
A New York Police Department official called it "unfair" that Congress appears to be dragging its feet on the issue.
So far only $7 million of the requested funds have been approved, according to Deputy Commissioner John Miller. The city was "obviously disappointed," Miller told AM 970 in New York.
Popular in the Community