More U.S. citizens have lost faith in President Donald Trump's ability to keep his promises, a new survey finds.
In a Gallup poll released on Monday, only 45 percent of adults polled say they believe Trump keeps his promises. That's down 17 points since early February, when 62 percent of respondents held that position.
Since February, perceptions of Trump's other attributes have also become more negative. About half of respondents still believe the president is a strong and decisive leader and that he "can bring about changes this country needs" ― but those ratings have gone down 7 points since February. The percentage of people who say Trump is "honest and trustworthy" has dropped by 6 points.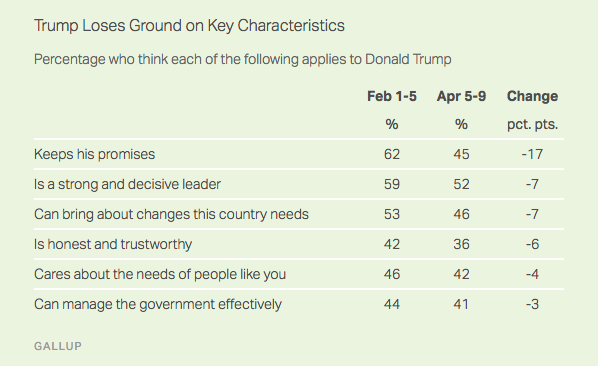 While Trump's approval rating ― never especially strong to begin with ― has not decreased very significantly in Gallup's tracking since February, positive views of his personal traits clearly have.
This is especially true for members of groups that didn't overwhelmingly vote for Trump. In February, 65 percent of women thought Trump kept his promises. However, that is now down to 40 percent, a 25-point drop. Other groups with significantly worsening perceptions of Trump include Democrats, liberals and adults under age 35.
At the beginning of Trump's presidency, 92 percent of Republicans said they believed Trump kept his promises. That's now dropped 11 points to 81 percent. While Republicans' approval ratings for Trump have remained fairly stagnant, their attitudes about him appear to be changing.
Gallup surveyed 1,019 adults between April 5 and April 9, using live interviewers to reach both cell phones and landlines.