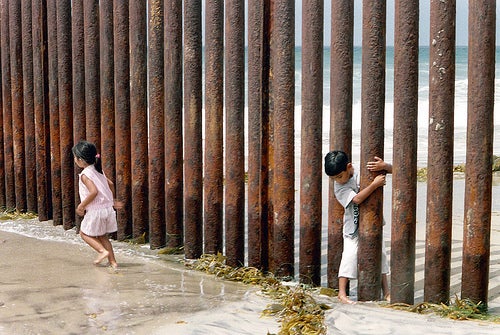 President Donald J. Trump Wednesday announced a number of executive orders that impose punitive restrictions on immigrants, including refugees and asylum-seekers seeking shelter from persecution and war. The executive orders are expected to increase the policing, detention, and criminalization of undocumented immigrants, and strip federal funding from local governments that are welcoming to undocumented immigrants, referred to as sanctuary cities.
Trump argued that Mexico would "reimburse" America later for the wall.
Trump signed the executive orders during a visit to the Department of Homeland Security (DHS).
"This is a law enforcement agency, but for too long, your offices and agents haven't been allowed to properly do their jobs," Trump said. "From here on out, I'm asking all of you to enforce the laws of the United States of America. They will be enforced and enforced strongly. A nation without borders is not a nation. Beginning today, the United States of America gets back control of its borders."
National Center for Lesbian Rights Executive Director Kate Kendell, Esq. said in response, "Today's executive orders on immigration confirm our worst fears that the Trump Administration will pursue inhumane, costly and ineffective policies that will do nothing to make our nation more safe. Members of the LGBTQ community are in every community and are targets of violence and harassment throughout the world. The orders issued today will only make these individuals more likely to suffer and be tortured or murdered. These fear-based policies will not make any American more safe, nor will they improve the lives of any citizen. Rather, these proposals will cost millions of dollars in taxpayer funds and terrorize already vulnerable communities. We must all fight back, resist and engage to stop these reckless measures. We are a better nation than one that exacts intentional harm on those seeking to improve their lives."
Lambda Legal CEO Rachel B. Tiven called Trump's executive orders targeting immigrants and sanctuary cities "un-American."
"Donald Trump's latest executive orders are simply un-American," Tiven said. "We are not a country that discriminates against people based on religion or nationality. We are not a country that builds walls between ourselves and the rest of the world. As a Jew whose grandparents watched in frustration while President Roosevelt refused to admit refugees from Nazi Germany, I am embarrassed for my country today."
Tiven stressed, "America is a beacon for LGBT people around the world, and restricting rather than expanding access to our shores harms us all. Donald Trump's actions may score him points with his political base, but those points will come at the expense of lives lost, families broken apart, and billions of taxpayer dollars wasted."
"Let's be clear: with today's actions and the actions he has promised tomorrow and going forward, President Trump is ordering the deaths of thousands, if not millions, of people who sacrificed everything for a chance of safety and freedom for their families," said Transgender Law Center Executive Director Kris Hayashi. "With the coded language of 'increasing enforcement,' he is ordering local police to target immigrants and tear parents away from their children, never to see them again. With 'building a wall,' he is ordering state officials at the borders to stop and detain transgender women fleeing murder, rape and torture, and then march them back at gunpoint to the violence and death they narrowly escaped. With talk of refugee bans and restrictions, he would be ordering that, as Muslim refugees of persecution, war, and genocide seek safety in our shores, we turn them back and deny them their last chance at life simply because of their religious beliefs."
For attorneys with legal expertise to offer, Transgender Law Center has launched the Trans Immigrant Defense Effort (TIDE), where volunteers are able to offer their legal services to defend communities most at risk of attack. Organizations and groups that serve or want to support the LGBT community have an immediate step they can take to oppose the expansion of transgender pods in immigration detention facilities and are being asked to reach out to Transgender Law Center to learn more.
"President Donald Trump's action is an egregious attack on immigrants and their families, including LGBTQ immigrants," said Rea Carey, National LGBTQ Task Force Executive Director. "Instead of taking steps to fix our broken immigration system, President Donald Trump is adding fuel to a fire that continues to tear families apart, deny undocumented immigrants of their human dignity, and vilify Muslims. The President and Vice President are circumventing Congress by fulfilling campaign promises built on fear mongering, racism, bigotry, xenophobia, and violence. Their agenda of hate is contrary to the core American values of freedom, justice and equality; and downright dangerous to the lives of millions of black and brown people, LGBTQ people, and allies in this country."
Carey added, "This week alone, we've seen executive actions attacking women's access to reproductive health at home and abroad; a decision to move forward with environmentally dangerous pipeline projects that disrespect indigenous people of this nation; directly attack and criminalize immigrants and Muslims; and a direct attack on voting rights that is designed to strengthen arguments for voter ID and other barriers to exercising our constitutional rights."
Carey called Trump's acts "deplorable" and vowed her organization to fight him every step of the way.
"We will continue to fight back and resist President Trump's deplorable attacks on the lives and well-being of the nation's most vulnerable," she said. "We urge everyone to join us as we organize, train and push Congress to protect everyone against the devastating harm caused by President Trump and Vice President Pence administration's agenda."
"America has long been a beacon of hope for LGBTQ and HIV-positive asylum seekers and refugees," said Immigration Equality Action Fund Executive Director Aaron C. Morris. "From all parts of the world, individuals and families in our community have sought to start a new life here, free from subjugation and oppression. We see it every day at Immigration Equality. Today, President Trump signed an Executive Order that substantially eviscerates that promise and undermines the most basic tenants of our democracy. His order is not only unconstitutional, but also antithetical to the American Dream. We cannot allow it to stand."
A vigil is planned at the White House Wednesday night at 5 p.m. ET where local demonstrations are anticipated.
Popular in the Community