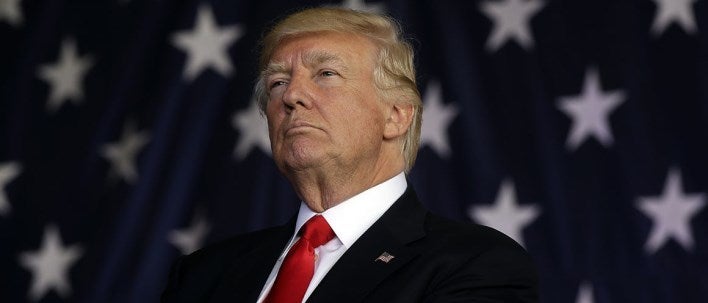 The Trump administration just proposed the most sweeping offshore drilling plan in history, a proposal that calls for opening up the Arctic, Atlantic and Pacific Oceans for drilling, while also opening up parts of the Gulf of Mexico that have been off limits.
Experts say the proposal is unprecedented in regards to the geographical extent and in the number of lease sales. The five-year drilling plan from the Department of Interior for 2019-2022, which would replace the 2017-2022 plan from the Obama administration, calls for 47 lease sales.
The acreage on offer would consist of more than 90 percent of the entire U.S. outer continental shelf, including areas that have either never seen drilling or haven't experience drilling in decades. The only area that would remain off limits would be the North Aleutian Planning Area in Alaska.
In other words, Trump is trying to open up essentially the entire U.S. coast to oil and gas drilling. The administration believes the proposed territory holds some 90 billion barrels of oil and 319 trillion cubic feet of natural gas, or reserves that are about 80 percent larger than is currently available. "Under President Trump, we are going to become the strongest energy superpower this world has ever known," Interior Secretary Ryan Zinke told reporters.
Needless to say, the proposal is being met with some pushback. Opposition from environmental groups is expected – a joint letter from 64 environmental groups blasted the decision, arguing it will inflict "severe and unacceptable harm" to U.S. publicly-owned oceans, coastal economies and marine life. "This radical offshore drilling free-for-all is a clear example of politics over people, ignoring widespread local and state opposition," Diane Hoskins, a campaign director Oceana, said in a statement.
Argus Media points out that the Interior Department typically includes very large swaths of territory in the draft proposals because new territories cannot be added at a later date without starting the lengthy process all over again. So, the inclusion of so much territory is, in part, intended to simply keep options open. The likelihood of drilling in all of these regions is pretty low.
The oil and gas industry praised the move. "To kick off a national discussion, you need a national plan — something that has been lacking the past several years," said Randall Luthi, president of the National Ocean Industries Association.
But the move is so aggressive that it has even been met with opposition from Republican politicians, including Florida Senator Marco Rubio (R), and Republican governors in Florida and Maryland. In fact, condemnation was nearly universal from coastal states. Only Maine's Governor Paul LePage (R) supports the move, which isn't all that significant since there is little prospect of a large drilling presence off the coast of Maine.
Despite the aggressive proposal from Interior, the prospects are uncertain. The process could take at least 18 months to finalize, it would be subjected to legal challenges, and it could be reversed by a future administration. Meanwhile, it is also deeply unpopular in many coastal states, including from politicians from both parties.
Perhaps more importantly, interest from the oil and gas industry is unclear – while they support opening up more areas for exploration, it remains to be seen if companies will gamble large sums of money on unknown areas. Probably the most attractive is the eastern Gulf of Mexico near Florida, where acreage is located not too far from current drilling areas off the coast of Louisiana. An existing moratorium on the eastern Gulf of Mexico keeps the area off limits until it expires in 2022, after which the area would be opened up under the administration's plan.
Elsewhere, interest from the industry is more suspect. The resource potential in the Atlantic and Pacific Ocean is far from clear, and the economics are equally uncertain. The last surveys of the Atlantic were conducted in the 1980s.
Even in the most aggressive scenario, it would be years before any companies start plying the waters of the Atlantic and Pacific. But low oil prices would likely deter any bold moves into unknown areas.
Odds are that little to no oil is produced in most of the proposed areas of the Atlantic and Pacific for a very long time, if ever.
By Nick Cunningham, Oilprice.com
More Top Reads From Oilprice.com:
REAL LIFE. REAL NEWS. REAL VOICES.
Help us tell more of the stories that matter from voices that too often remain unheard.
This post was published on the now-closed HuffPost Contributor platform. Contributors control their own work and posted freely to our site. If you need to flag this entry as abusive,
send us an email
.