CIT4DT, short for "Choppa In The Trunk For Donald Trump," is a tongue-in-cheek song that went viral after a group of Baltimore teenagers uploaded it to Soundcloud and YouTube on Sunday. (A "choppa" is an AK-47 or other fully automatic machine gun.)
"How you gon' let someone like this run for president, you know? He trying to separate people," the 19-year-old told The Huffington Post.
"You cannot blame one person for everybody's actions. What has my father done? He ain't done nothing," Dooley said. "You cannot blame people's actions on the religion. The religion is perfect but the people are not."
"What about the Christians who are shooting up schools? Why you not talking about that? You cannot come at a certain race," he added.
The song's lyrics make the group's disdain for the bigoted Republican very clear, not least the line, "Fuck Donald Trump." "Boy, ain't even white. You yellow! You say you'd date your own daughter, you a sicko," spits Dooley in another line, about the very sun-tanned reality TV personality, who's made inappropriate comments about his daughter Ivanka's appearance.
TLow predicts that if Trump visits Baltimore, he would likely be pushed out of the city like he was in Chicago. One lyric urges Trump to stay away, lest he get "hit in the head with Moose's shovel," a reference to local rapper Young Moose's "True Bill" video, a diss track where he totes a shovel.
"Donald Trump is a racist. He a bigot. He incites violence. So I don't support anything that he does. I don't want him to come to my city," TLow said.
The trio also calls Trump "a bitch and a half," a hat tip to rapper Lil' Boosie's "Fuck The Police," which was chanted during the protests that rocked the city following the death of 25-year-old Freddie Gray in April.
"The way that he just goes up and says racist remarks like, to me, that's some bitch-ass shit," the 17-year-old said. "America was founded on religious freedom and he trying to say he gonna make America great again but he lying to everybody."
"It started off as a comedy video. All the threats are in no way serious."
CIT4DT, which started out as a few friends goofing around, fits into a growing disgust aimed at the GOP frontrunner.
Rappers Nipsey Hussle and YG released a new song on Wednesday where they take turns rapping "Fuck Donald Trump," before digging deeper into their objections to him becoming president. Singer Marc Anthony shouted "Fuck Donald Trump" to an arena full of fans in February. And the entire staff of "The Nightly Show" with Larry Wilmore walked off set in honor of the "Fuck Trump" movement in December.
Elsewhere, while on a reporting trip in Atlanta with rapper Killer Mike, HuffPost's Zach Young watched as the DJ in the city's Chit Chat Lounge called upon the crowd to chant "Fuck Trump!"
Dooley said he had encouraged some friends who rap to make a video about Trump, but they declined.
"So I said, 'I'll do it.' One day, we was just geekin' around and said, 'We got a choppa in the trunk for Donald Trump' -- and it was catchy," he said. "We set a beat to it and made a video in the car. We did it for fun."
They didn't plan to actually turn it into a song, but the clip was retweeted over 11,000 times once they uploaded it to Twitter. Dooley asked his followers about making it into a full song -- and people said they would buy and download it.
TLow said he knew the song was going to get some recognition, but he had no idea it would blow up like it did. "I didn't know it was gonna get this far," he added.
And, in typical Trump supporter fashion, the backlash aimed at the teens has been racially charged. They've been called "thugs," "uneducated," "dumb," "baboons" and, of course, "niggas." One Twitter user even suggested the teens be charged for their lyrics.
But protest music is a form of civil disobedience, so the lyrics shouldn't be taken literally. The trio are not actually going to attack Trump -- they are simply revolting against the ideals he upholds.
"It started off as a comedy video. All the threats are in no way serious," said TLow.
Dooley added that such language is a part of hip-hop culture and that the main issue isn't the language, but the race of the video's target.
"If we made a video like this -- and it went viral -- and we talkin' 'bout we gon kill another nigga, nobody would care," he said. "But as soon as we mention a white person, it's a problem."
"I ain't even got no choppa! I did that because it was catchy," he added.
Before You Go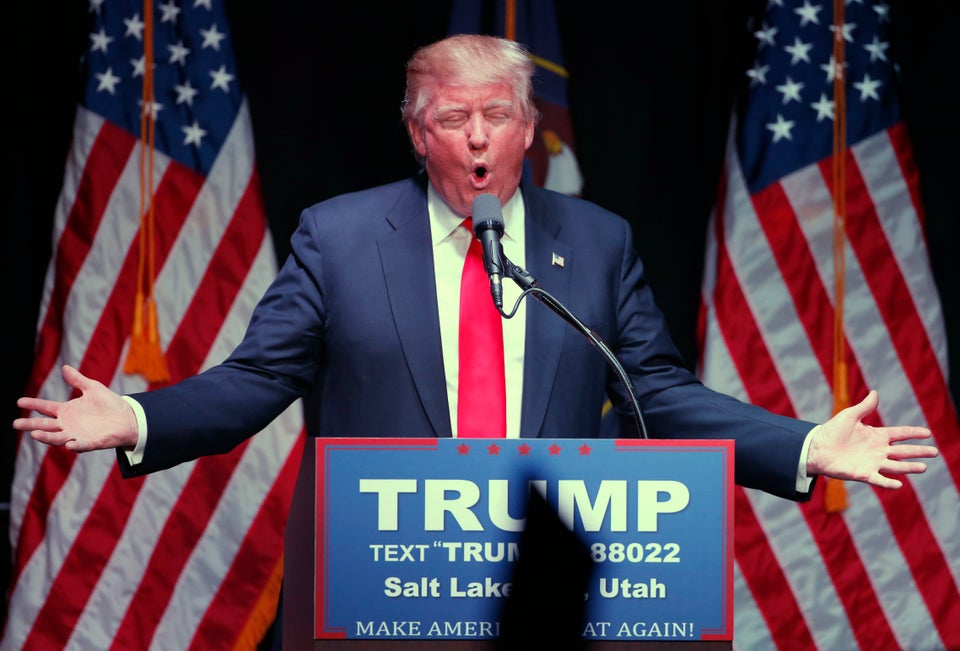 Scenes Of Hate At Donald Trump Rallies
Popular in the Community