Violence erupted at yet another Donald Trump rally Saturday when a protester was hit and kicked by a Trump supporter and Trump's campaign manager was seen yanking the collar of a demonstrator on video.
Video posted by NBC News' Frank Thorp V and another witness shows security personnel escorting a protester out of the Tucson Convention Center, after which a black man is seen grabbing the person and unleashing a series of punches and kicks that send the protester to the ground.
Police then intervened, handcuffing the man who dealt the blows and escorting both him and the protester out of the building.
Bryan Sanders, the man who was punched, told the Arizona Daily Star he was protesting Trump's "fascism, his racism, his lies and his woman hating."
"I had a sign that said 'Trump is bad for America,' and a guy grabbed the sign as I was being escorted out of the building and sucker punched me."
"I was also here at the Bernie Sanders rally last night, and nobody got punched," Sanders said.
At the start of his speech, Trump appeared to heed the advice of Senate Majority Leader Mitch McConnell (R-Ky.), who asked him to condemn violence at his rallies after a string of violent incidents raised GOP concerns about Trump's viability in the general election.
"We love our protesters, don't we?" Trump said after the first protester spoke out off camera.
But 10 minutes into Trump's speech, two protesters, one wearing a Ku Klux Klan mask, were escorted out, and Trump changed his tone.
"That is a disgusting guy, really disgusting," he continued. "Get him out of here, get him out," he said, prompting loud cheers.
"They're troublemakers, they're no good, and we have to be careful," Trump said. "We've gotta take our country back, folks. We gotta take our country back, very simple."
Trump also brought out his familiar rhetoric of "making America great again," and his lament that the U.S. "doesn't win anymore." He also restated his intention to build a wall on the U.S.-Mexico border at Mexico's expense. Later, he brought onstage a woman holding a "Latinos Support Trump" sign.
Trump's campaign later said the man was not pulled by Lewandowski, but by a man to his left.
At least 55 people have been arrested or cited in connection with Trump events from Feb. 29 to March 19, according to a HuffPost survey of police departments. And there is a long way yet to go in the 2016 presidential campaign.
This article has been updated with Pettway's charges.
Before You Go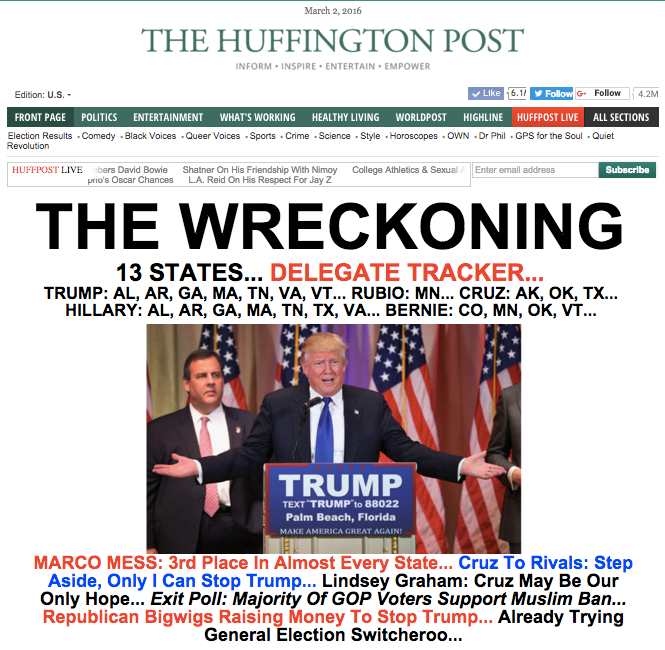 Trump On HuffPost Front Pages
Popular in the Community