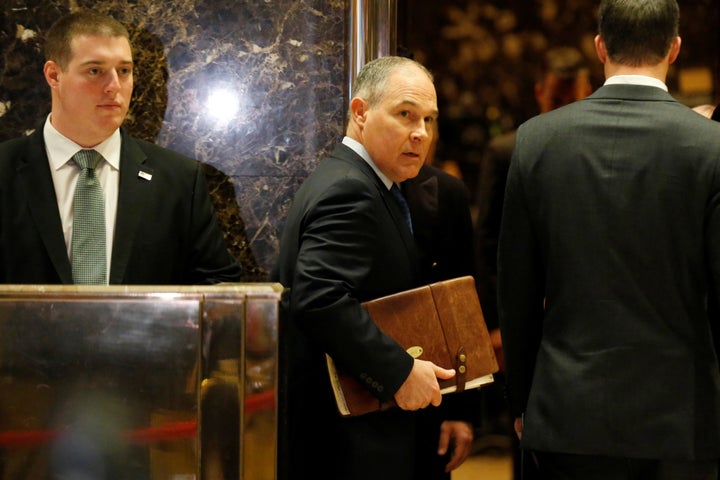 Pruitt has been a vocal critic of EPA regulations and defender of fossil fuel interests. Lawyers for Devon Energy, one of his state's biggest oil and gas companies, authored a letter Pruitt sent to the EPA criticizing estimates on emissions from natural gas drilling sites, The New York Times reported in 2014.
The Times published 84 pages of correspondence between Pruitt and Devon, which it described as evidence of an "unprecedented, secretive alliance that Mr. Pruitt and other Republican attorneys general have formed with some of the nation's top energy producers to push back against the Obama regulatory agenda."
Pruitt was first elected attorney general in 2010. His online biography describes him as "a leading advocate against the EPA's activist agenda," and says he "established Oklahoma's first federalism unit to combat unwarranted regulation and overreach by the federal government."
Under Pruitt's lead, Oklahoma was one of two dozen states to file suit against the EPA over the Clean Power Plan, the Obama administration's regulatory effort to curb emissions from power plants. Pruitt said he would ensure that the power plant rules, and other regulatory efforts from the current administration, "will ... not survive his presidency."
"I will say to you today that the historical purpose EPA has served is not what is occurring," he said, according to Tulsa World.
(The fact that Pruitt thinks the EPA should exist might be seen as some small consolation, since Trump once said on the campaign trail that he might eliminate the "Department of Environmental," which is not a real thing.)
Sen. Jim Inhofe (R-Okla.), the Senate's most vocal critic of the idea that human activity is causing climate change, called Pruitt "one of [his] closest personal friends" and said he is well-suited for the job.
"He's very familiar with all the issues," Inhofe told reporters Wednesday afternoon. "He's been involved in every issue having to to do with the EPA that I have been involved with. He would be very exciting."
Environmentalists swiftly bashed Pruitt's selection.
"It's often said that personnel is policy, and President-elect Trump's decision to nominate someone who has spent his career catering to Big Polluters speaks volumes," League of Conservation Voters President Gene Karpinski said in a statement. "All people in this country have a right to breathe clean air, drink clean water, and enjoy the economic and health benefits of the clean energy revolution, and it's vitally important that we have an EPA administrator who respects those rights."
Hawaii Sen. Brian Schatz (D) told reporters that Pruitt's selection is "the worst-case scenario when it comes to clean air, clean water." He pledged that he and other senators who care about climate change would "pursue every procedure we can" to block his nomination ― although they would need the support of at least some Republicans to do so.
Sen. Chuck Schumer (D-N.Y.), the incoming minority leader, said in a statement that Pruitt has shown a "reluctance to accept the facts or science on climate change" and "has a troubling history of advocating on behalf of big oil at the expense of public health."
"I expect he will have to answer many tough questions throughout the nomination process to address these significant concerns," Schumer said.
Sen. Heidi Heitkamp, a moderate Democrat from North Dakota who has been more sympathetic to industry concerns than others in her party, said she doesn't really know Pruitt but will give him a "fair evaluation."
Laura Barron-Lopez contributed reporting.
Before You Go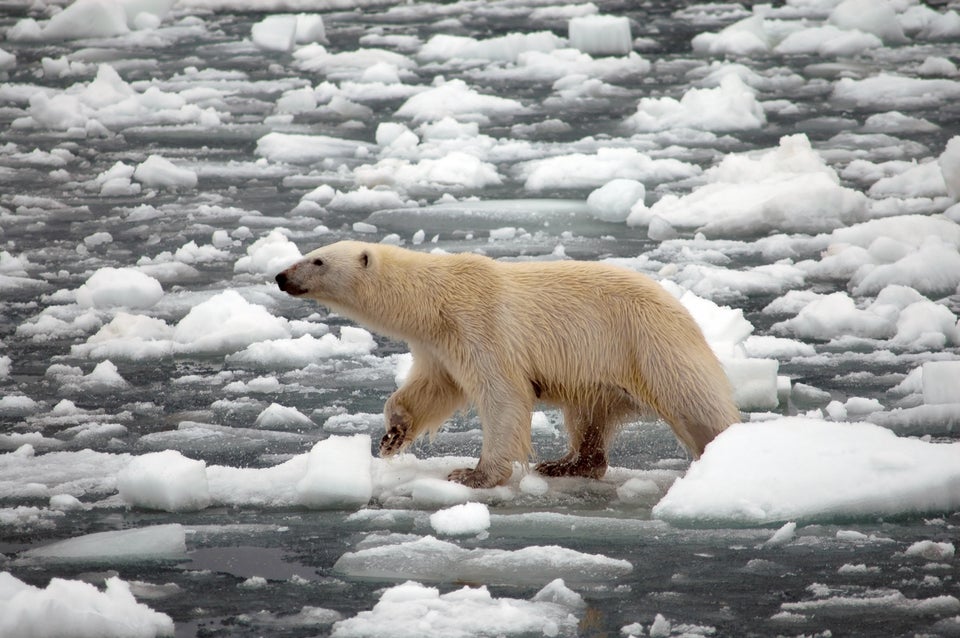 Donald Trump's Environment Guy Doesn't Believe In Climate Change
Popular in the Community