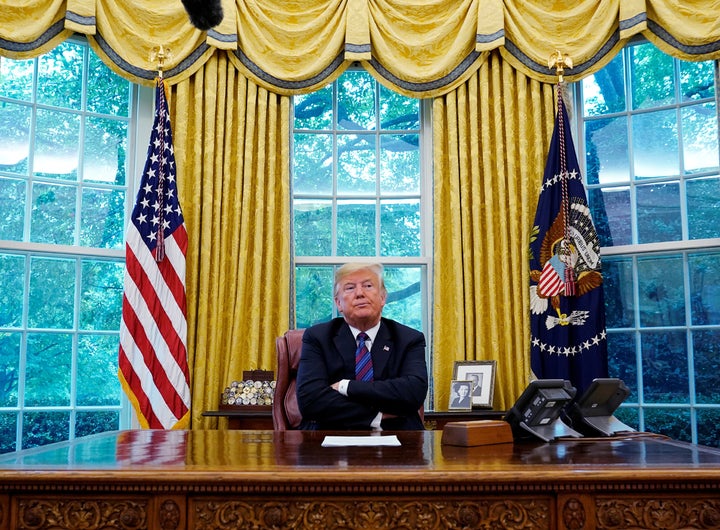 Asked what his administration learned from Maria, which devastated Puerto Rico and other islands last fall, Trump demurred.
"I think that Puerto Rico was an incredible unsung success," the president said, once again commending emergency responders while shifting blame to local government.
Trump went so far to say that out of all the major storms to hit the U.S. last year, his administration did "the best job" directing response efforts on the U.S. island territory.
"I think the hardest one that we've had so far is Puerto Rico, because of the island nature," Trump said after noting that supplies could not be driven there on trucks.
While the Trump administration's response to storms that hit Texas and the Southern U.S. coastline earned the president some good marks, Hurricane Maria was different.
After Maria, Trump blamed Puerto Ricans for the island's financial crisis. On Tuesday, he exaggerated the state of the island's deteriorating power grid, saying Puerto Ricans "had no electricity before the storm" so that "when the storm hit, that took it out entirely."
Trump's comments came during a FEMA briefing in the Oval Office on the approaching Hurricane Florence. The president told reporters that his administration is "sparing no expense" for the upcoming storm and that public safety is his "highest priority."
Carmen Yulín Cruz ― the San Juan mayor who repeatedly slammed Trump in the wake of Maria ― criticized the president again on Tuesday.
"Unfortunately, it seems he will never get it," she tweeted.
North Carolina and Virginia will likely face the brunt of Hurricane Florence when it makes landfall later this week.
"We're as ready as anybody has ever been," Trump said, adding that "unlike Puerto Rico," the states in the path of Florence "have very strong power companies."
Expect it to be "tremendously big and tremendously wet," the president advised.
Popular in the Community