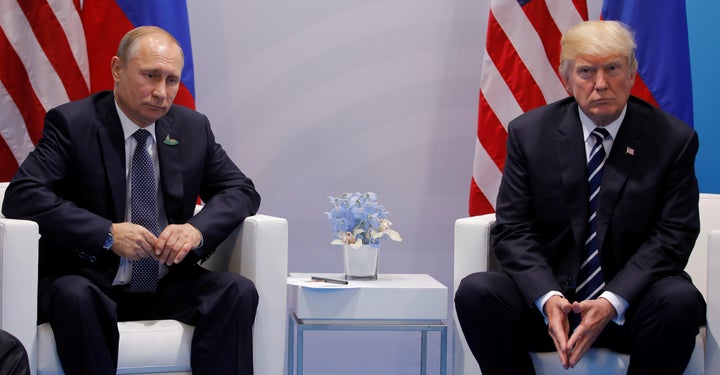 President Donald Trump told Russia's Vladimir Putin that if the two countries wanted to have a nuclear arms race, the U.S. would win, according to a report Thursday by NBC News.
Trump reportedly made the comments during his congratulatory call with Putin last week after the Russian won an unsurprising re-election as president. But Putin's unveiling of a new arsenal of nuclear weapons earlier this month apparently "got under the president's skin," an unnamed official told NBC, and he brought up such frustrations.
"If you want to have an arms race, we can do that, but I'll win," Trump reportedly told his counterpart.
Thursday's report echoes another explosive threat made by the president after he tweeted in January that his "nuclear button" was "much bigger & more powerful" than North Korean leader Kim Jong Un's.
The official White House readout of the Putin call didn't mention such tensions, simply saying the pair "discussed the state of bilateral relations," and Trump himself described the encounter as "very good." The president reportedly ignored explicit, all-caps instructions from his aides to not congratulate Putin on his re-election, and he declined to discuss Russian meddling in the 2016 presidential election or criticize the nerve agent attack on a former Russian spy in England.
But the call reflects growing tensions between the two countries. The White House said Monday it would expel 60 Russian diplomats in retaliation for the poisoning of the spy, joining more than a dozen European countries that have pledged to do the same. In turn, Russia on Thursday said 60 Americans would have to leave the country and that the U.S. consulate in St. Petersburg would close.
Russian Foreign Minister Sergey Lavrov said other countries would also be affected, and the number would "mirror" that of the Russians expelled in recent weeks.
"With its regrettable, unwarranted decision today, it is clear that Russia is not interested in dialogue about issues that matter to our two countries," Heather Nauert, the State Department's spokeswoman, said on Twitter Thursday of the expulsions.
Trump has long taken a soft stance on Russia, and he told reporters last week he would "probably" meet with Putin in the coming weeks, a move that caught advisers by surprise. He's also told aides to minimize publicity around Russian policy moves, worried that the news might antagonize his counterpart, NBC reported.
"He doesn't want us to bring it up," an official told NBC.
But Trump himself has also long touted American military might and said during his State of the Union address that Congress must "modernize and rebuild our nuclear arsenal" to keep up with Russia.
Calling all HuffPost superfans!
Sign up for membership to become a founding member and help shape HuffPost's next chapter