When asked for his response on NBC's "Meet the Press," Sen. Lindsey Graham (R-S.C.) chuckled.
"It's not the dumbest idea I've ever heard, but it's pretty close," he said of the cybersecurity proposal.
Sen. John McCain (R-Ariz.) similarly scoffed at the suggestion.
"I am sure that Vladimir Putin could be of enormous assistance in that effort ― since he's doing the hacking," he said on CBS' "Face the Nation."
Sen. Marco Rubio (R-Fla.) said that Trump and Putin collaborating on cybersecurity would be like working with Syrian President Bashar Assad on reducing the use of chemical weapons. Assad has ordered deadly chemical attacks against civilians as part of his country's civil war.
Rep. Adam Kinzinger (R-Ill.), a member of the House Foreign Affairs Committee, equated Putin's involvement in a joint cybersecurity venture to "letting the fox guard the henhouse." He tweeted a clip of a fox from a Discovery Channel documentary.
Trump has regularly downplayed U.S. intelligence officials' conclusion that Russia interfered in the 2016 election to help elect him, and has proposed friendlier relations with Putin, praising the leader for being tough.
Meanwhile, his campaign faces several investigations into whether it colluded with Russia last year.
Rep. Adam Schiff (D-Calif.), ranking member of the House Intelligence Committee, which is conducting one of the probes, called the cybersecurity proposal floated by Trump "dangerously naive" in a Sunday interview on CNN. He later tweeted that Americans "might as well just mail our ballots to Moscow."
Even members of Trump's administration have sought to correct his repeated doubts about the Russian meddling in last year's campaign.
United Nations Ambassador Nikki Haley, who has previously contradicted her boss' views, was much more firm on the issue.
"Everybody knows that Russia meddled in our elections," Haley said in a CNN interview that aired Sunday. She also affirmed that "we can't trust Russia, and we won't ever trust Russia."
Still, Haley seemed somewhat amenable to the idea of cyber-cooperation with the Russians, saying, "You keep those that you don't trust closer, so that you can always keep an eye on them and keep them in check."
This article has been updated with an additional comment from Haley.
Before You Go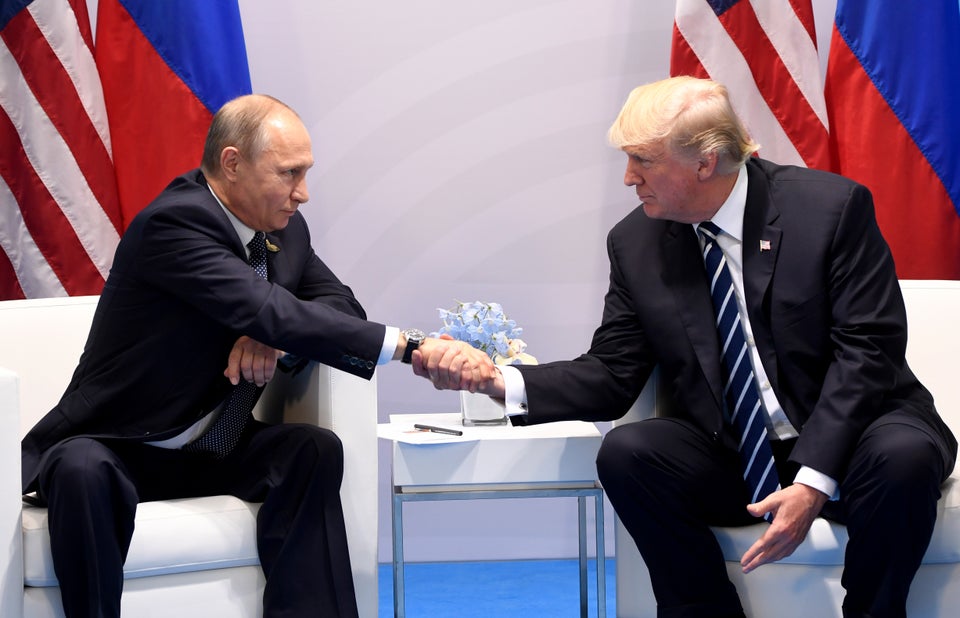 Trump Meets Putin During G-20 Summit
Popular in the Community