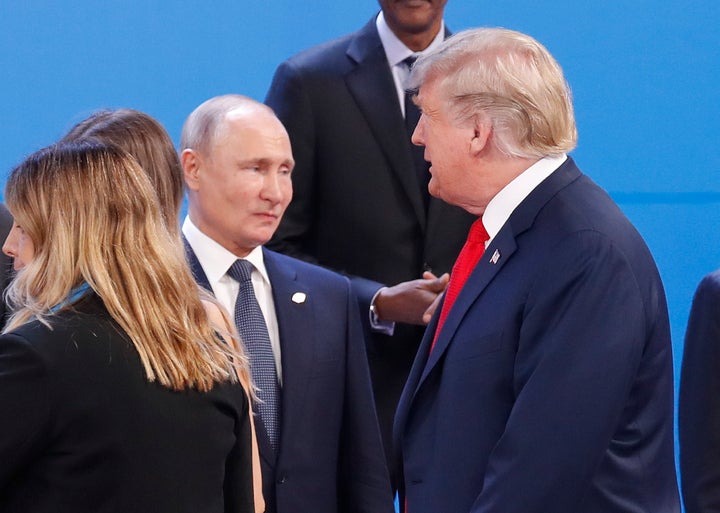 It's not yet clear whether the shady-sounding plan of President Donald Trump's company to give Russian President Vladimir Putin a $50 million penthouse during the 2016 election cycle meets the legal definition of a bribe ― or is even illegal ― experts tell HuffPost.
The Trump Organization's proposal to give Putin property in the planned Moscow Trump Tower ― an idea Trump's personal lawyer Michael Cohen discussed with a Russian official, BuzzFeed reported ― has elements that appear to be problematic under a U.S. federal anti-bribery law called the Foreign Corrupt Practices Act. Under the FCPA, it is a crime to promise or provide foreign officials something of value in exchange for influence or to secure any improper advantage.
With the proposal, Trump's company at first glance appeared to be considering giving an item of great value to a top foreign official in a notoriously corrupt country while the company was developing a major real estate project there. The FCPA also holds that a bribe doesn't actually have to be carried out to be a violation, only offered.
"That a payment never occurred does not necessarily get Trump or his organization off the hook," said Andy Spalding, a law professor at the University of Richmond and expert on the FCPA.
But the news reports on Trump's Moscow projects are unclear on several key facts that would help determine whether the proposal definitely constituted an FCPA violation, experts say.
It's not clear the Trump Organization's plan involved offering Putin the penthouse in exchange for anything illegal or that it wouldn't already be entitled to by law, Spalding said. The notion behind the proposal, former Trump associate Felix Sater told BuzzFeed, was to lure other oligarchs to buy property in the tower so they could be near Putin.
If the only reason to give Putin the penthouse was as a marketing maneuver to drum up business from other wealthy Russians, it wouldn't be an FCPA violation, according to Richard Bistrong, CEO of the Front-Line Anti-Bribery consultancy, who was himself previously convicted on FCPA charges. There would need to be some improper benefit from the gift — such as tax relief, avoiding permits or skirting building codes — for it to break the law.
It's also unclear whether Trump's company actually made the offer. Law enforcement officials told BuzzFeed that Cohen spoke with a Russian official about the idea of giving Putin the property, but it's unclear whether any promise or offer was ever made. If this never progressed past the point of talk, Spalding says, it would be difficult to prosecute the company for violating the FCPA.
"If it was discussed with Russian officials, there is certainly an investigation that needs to occur," Spalding said. But, giving a gift to an official without corrupt intent is not in and of itself a crime, he explained.
Although the presence of both an actual offer and corrupt intent are necessary to constitute an FCPA violation, there are some aspects of the Trump Organization's plan that are not a factor for the FCPA.
That Trump was a presidential candidate while this was going on is actually irrelevant as far as the FCPA is concerned, even if it involves broader political and ethical concerns. Reports from BuzzFeed and Bloomberg also state that it's unclear whether Trump knew about the penthouse plan, but Spalding says that wouldn't automatically relieve Trump from any liability even if it were the case. The FCPA can also target companies that fail to investigate whether intermediaries are paying bribes when there would be a high probability that's the case, something the law calls "deliberate ignorance" or "willful blindness."
As we learn more about the Trump Organization's activities in Russia, it's possible new FCPA concerns may arise. But given the vague nature of the penthouse plan and uncertainty over how far the talks progressed, what we know now doesn't offer a strong case that it violated the anti-bribery law. It's possible special counsel Robert Mueller has more information.
Popular in the Community