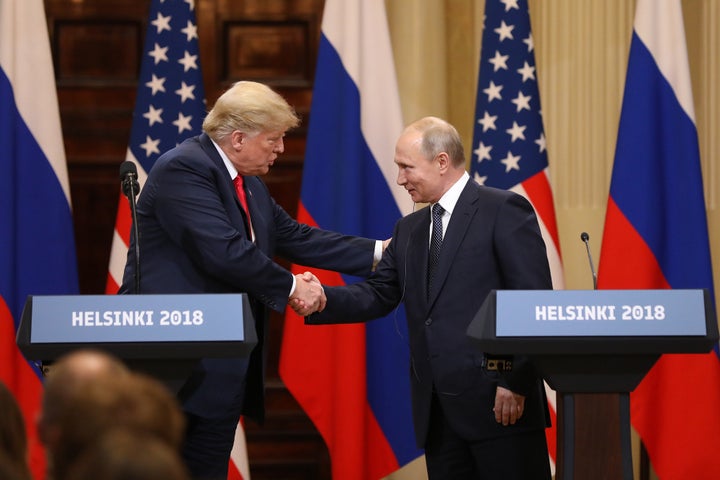 Since the months leading up to the 2016 presidential election, LGBTQ people have been confronted with a curiously offensive idea that we've been told to accept as humor: that the strange relationship between President Donald Trump and Vladimir Putin could in some way be romantic or sexual.
Yet on Monday, queer people were once again forced to digest a depiction of Trump and Putin engaging in weirdly sexual and romantic acts when The New York Times tweeted out a particularly heinous animated comic, originally published last month, from their "Trump Bites" series.
What is so remarkable about this short animation is that it relies entirely upon the premise of homophobia in order to make an impact. There is no larger message, no big-picture takeaway. Just the supposed humor embedded within the idea that tenderness between two men is in some way mockable.
When I wrote on this topic in February 2017 in response to "protest art" of a naked Putin fondling a pregnant Trump, I was met with a barrage of tweets and emails telling me that I couldn't take a joke ― including some from LGBTQ people. A handful of readers went out of their way to let me know that I was being a "special snowflake" and that my millennial sensitivity is what is ruining this country.
But these reductive depictions of Trump and Putin are all built upon an underlying and insidious foundation of homophobia ― an idea that men who love or have sex with other men are in some way weak, more effeminate and inherently contemptible than those identifying as straight.
The "joke" within these sexualized depictions of Trump and Putin we've seen over the last several years is an anxiety about the fragility of masculinity and those who fail our cultural expectations of what masculinity looks like.
LGBTQ people, and queer men in particular, have had to contend with and fight against how masculinity has shaped and affected their lives throughout the course of human history. Countless queer men have been murdered over the decades for not conforming to heteronormative ideas of what masculinity should look like. Horrific acts of violence have been committed because queer men dared to display affection with one another in a public space.
And effeminate men, myself included, have to think every single day about the way that their "failure" of masculinity could potentially impact their safety as they navigate the world. As a result, it's pretty difficult to not read joking same-sex affection between Trump and Putin as a "fuck you" to queer people ― especially when it's given space in as influential of a publication as the Times.
We all deal with periods of political turmoil and uncertainty in different ways. But queer men ― and all LGBTQ people ― deserve better than weaponizing sex and romance between men as a way to criticize and ridicule our president.
Please, New York Times, do better.
Popular in the Community