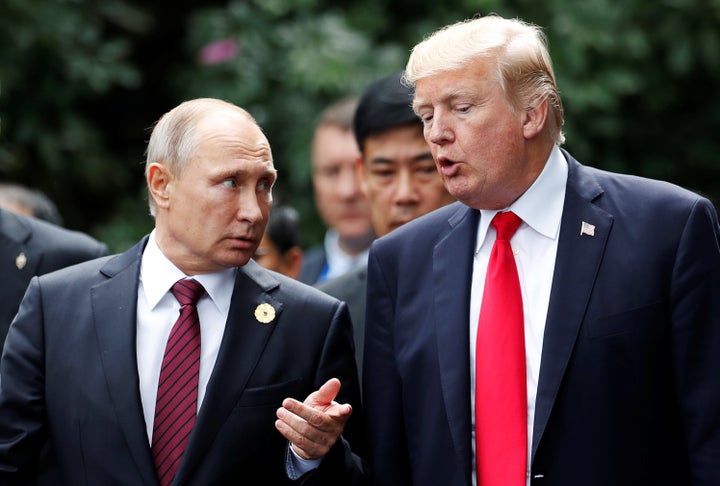 Asked in an interview with British journalist Piers Morgan whether he considered Putin a "ruthless" person, Trump said the Russian president "probably is"— but that plenty of other people are ruthless, too.
"I can't tell you that, I assume he probably is," Trump told Morgan during the wide-ranging interview, conducted aboard Air Force One in Essex, England, on Friday and published on Sunday in The Daily Mail.
"But I could name others also," Trump said.
Trump, in Britain over the weekend for a state visit, went on to say he anticipates getting along with Putin, who he has met with before.
"I think we could probably get along very well," Trump said. "Somebody said, 'Are you friends or enemies [with Putin]'? I said, well, it's too early to say but right now I say we're competitors ― but for the United States, and frankly the U.K. and other places, to get along with Russia and China and all of these other places... that's a good thing, that's not a bad thing. That's a really good thing."
Morgan asked Trump about "ruthless" North Korean leader Kim Jong Un, who the president had lavishly praised after the pair held a summit in Singapore last month.
"Sure he is, he's ruthless, but so are others," Trump said of Kim. "I mean, plenty of the people that I deal with are pretty ruthless people."
Trump told Morgan that he got along "great" with the dictator during their summit. He said Kim is "very smart, great personality, he's funny and tough, good negotiator."
The president's laudatory remarks about Putin and Kim come on the heels of a fractious visit to Europe, during which Trump further alienated NATO allies during meetings in Brussels and, during his stop in the U.K, exacerbated the political difficulties facing British Prime Minister Theresa May.
Before Trump left the U.S. for Europe, Trump had predicted that his summit with Putin, scheduled for Monday in Helsinki, would be the "easiest" of all the meetings planned during his packed few days on the continent.
"I have NATO. I have the U.K., which is in somewhat turmoil. And I have Putin. Frankly, Putin may be the easiest of them all," Trump told reporters on Tuesday.
Popular in the Community