UPDATE: Jan. 27 ― According to new transition information obtained by Politico on Thursday, the staffer's name has disappeared from a list of new employees.
PREVIOUSLY:
PHILADELPHIA ― A staffer on Donald Trump's campaign who posted racist material on social media during the election cycle will now be joining the Department of Education, according to an internal email obtained by The Huffington Post.
The email was sent to career Education Department employees by Phil Rosenfelt, who will serve as acting secretary of the department, and Jason Botel, new White House adviser for education. It lists members of Trump's "new administration team" and notes their "varied backgrounds in policy, communications, and finance."
Teresa UnRue, who worked as a graphic designer and field organizer for Trump's South Carolina advance team, is one of them.
In the video, the man asks why fellow African-Americans are mad about slavery and says, "Y'all weren't no damn slaves." When she shared the clip, UnRue wrote, "Had me crack'n up!! Thank you! Please share this with people."
According to the AP, UnRue also posted a link to a website that alleged Supreme Court Justice Antonin Scalia was assassinated by the government. Scalia died last year of a heart attack.
HuffPost conducted a search of UnRue's Facebook posts, which consist primarily of videos and pro-Trump posts. Some called then-President Barack Obama a "terrorist" or charged that he should be arrested for "murder and treason."
The email to Education Department employees does not describe what role UnRue will play at the department.
Neither the White House nor UnRue immediately responded to requests for comment.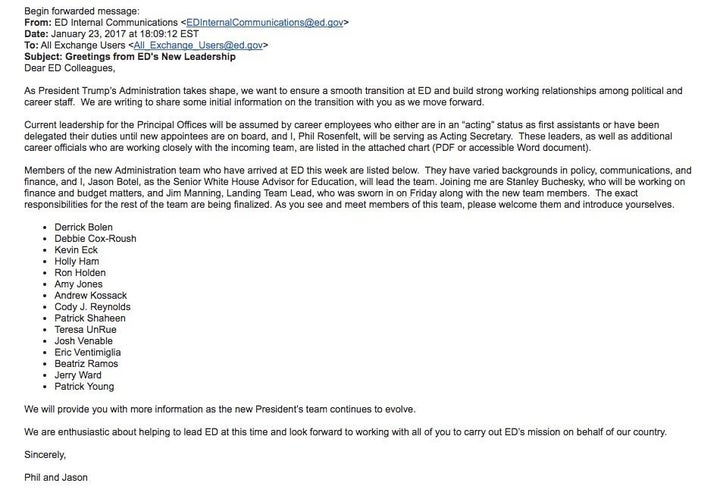 This is a developing story and will be updated.
How will Trump's first 100 days impact you? Sign up for our weekly newsletter and get breaking updates on Trump's presidency by messaging us here.
Sign up for the HuffPost Must Reads newsletter. Each Sunday, we will bring you the best original reporting, longform writing and breaking news from The Huffington Post and around the web, plus behind-the-scenes looks at how it's all made. Click here to sign up!
Popular in the Community