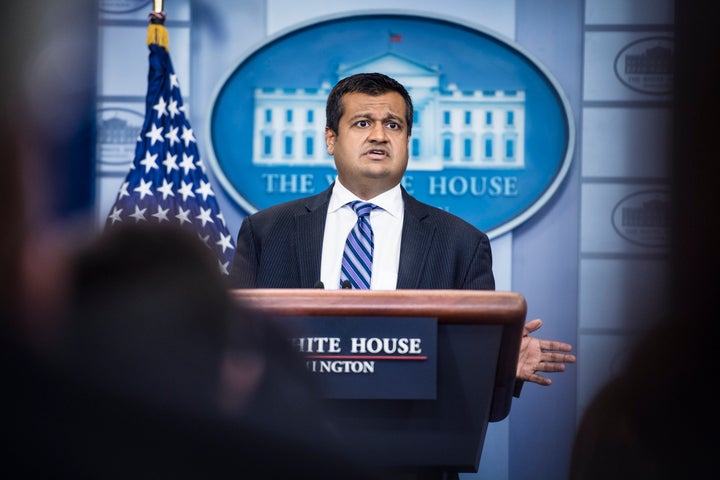 Veteran reporter Bob Woodward spent months trying to speak with President Donald Trump for his upcoming book about the current administration, reaching out to half a dozen senior aides and lawmakers close to the Oval Office.
But even the president's deputy press secretary wouldn't have been able to make that interview happen, because Trump says he never talks to the man.
"I don't speak to Raj," Trump said of Raj Shah, the White House deputy press secretary, in a phone call with Woodward last month. Shah reports directly to White House press secretary Sarah Huckabee Sanders and regularly addresses reporters on the president's behalf.
The Washington Post published an annotated transcript of the 11-minute call between the two on Tuesday, just hours after the paper released excerpts from Woodward's upcoming book Fear: Trump in the White House. During the call, made in early August after the manuscript was completed, Trump says several times that he wished Woodward would have made more of an effort to interview him, saying he was never informed of the journalist's repeated attempts to reach out.
"I never got a call. I never got a message. Who did you ask about speaking to me?" Trump asks in the call.
"Well, about six people," Woodward said.
"They don't tell me," Trump replied.
"Well, a lot of them are afraid to come and talk, or — you know, they are busy. I'm busy," Trump said. "But I don't mind talking to you. I would've spoken to you. I spoke to you 20 years [ago] and I spoke to you a year and a half or two years ago."
At one point during the call, Trump put Conway on the phone, who admits that she "put in" Woodward's request but it was rejected.
"I guess I can bring it right to the president next time," Conway said.
"Madeleine is the key," Trump said or his executive assistant and gatekeeper. "She's the secret."
He later said that he did hear about Woodward's attempts from Graham, but noted that because Woodward didn't speak with him the reporter's upcoming tome would be "very inaccurate," and "that's too bad."
The reporter, who said the book was based on hundreds of hours of interviews, had a brief retort: "It's going to be accurate, I promise."
Popular in the Community