"As part of a larger national effort to bridge our divides and bring people together, the media also has a responsibility to set a civil tone and to stop the endless hostility and constant negative and oftentimes false attacks and stories," Trump said at a rally in Mosinee, Wisconsin. "They've got to stop, bring people together."
He also spoke out against Democratic politics.
"You know, I'm trying to say that very nicely," Trump said. "Normally I'd scream, 'They want a socialist takeover!'"
Despite his call for unity Wednesday night, here are just a few times Trump stoked voters' fears during his rallies in the past week:
He urged his supporters to see Democrats as extremists.
Trump has portrayed Democrats as extremists who are trying to take over the government. During a rally in Arizona on Friday, he said Democratic elected officials were "unhinged" when it came to immigration policy and dismissed people who voted for them.
"Anybody that votes for a Democrat now is crazy, when you look at what's coming up, crazy," he told the crowd. "The Democrats don't care about what their extremist immigration agendas will do to your communities, your hospitals…"
He made similar remarks at the height of the controversy over the sexual assault allegations against Supreme Court Justice Brett Kavanaugh and the protests that followed.
"You don't hand matches to an arsonist and you don't give power to an angry left-wing mob, and that's what they've become," Trump said at a rally in early October. "The Democrats have become too extreme and too dangerous to govern. Republicans believe in the rule of law, not the rule of the mob."
Trump furthered his attack on the so-called 'fake news media.'
At nearly every rally, Trump makes sure to point out ― and ridicule ― the news cameras.
He referred to cameras at a rally in Nevada last weekend as belonging to "fake news folks" and accused the media of calling his supporters "laggards." The crowd booed loudly.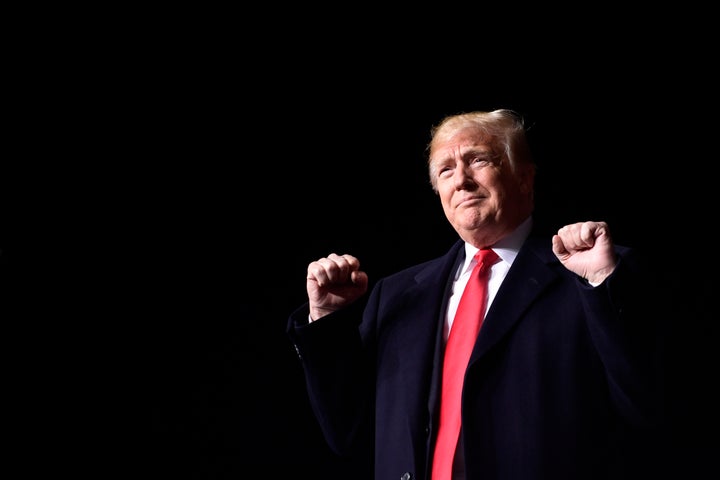 And in Montana last week, Trump appeared to encourage violence against journalists by praising Rep. Greg Gianforte (R-Mont.) for assaulting Guardian reporter Ben Jacobs last year. Trump described the congressman as a "tough cookie" and "my kind of guy."
He promoted fear-mongering around the caravan of migrants making its way to the U.S. border.
Trump has continued to peddle misinformation in an effort to play upon voters' fears of undocumented immigrants.
"That is an assault on our country, and in that caravan you have some very bad people and we can't let that happen to our country," the president told supporters in Houston.
In several rallies over the past week, the president has painted the more than 7,000 migrants traveling through South America toward the U.S. as "criminals" and claimed "unknown Middle Easterners" were part of the group.
Those claims are baseless, and Trump admitted Tuesday at the White House that he had "no proof" that people from the Middle East were part of the group. Still, he said evidence didn't matter because "they very well could be."
Trump embraced his identity as a 'nationalist,' despite white supremacists' use of the word.
Trump declared Monday at a rally in Houston that he was a "nationalist" ― a word white supremacists have used in recent years to argue that some countries should be defined by a white racial identity.
Trump may have been simply stating he was only worried about the interests of the U.S., but he also suggested he knew the word was divisive.
"It's called a nationalist," he said during a rebuke globalist foreign policy. "And I say, really, we're not supposed to use that word. You know what I am? I'm a nationalist, OK? I'm a nationalist."
Popular in the Community