Note: In November 2017, Twitter identified during congressional testimony more than 2,000 accounts that it had disabled for being fraudulent as part of Russian propaganda efforts during the 2016 presidential election. The article below includes or cites an embed of a post from one of those accounts. The article has been preserved as originally published.
Prior to the start of the rally, some Trump supporters began sharing a photo on social media that was purported to show a massive crowd gathered outside the Phoenix Convention Center.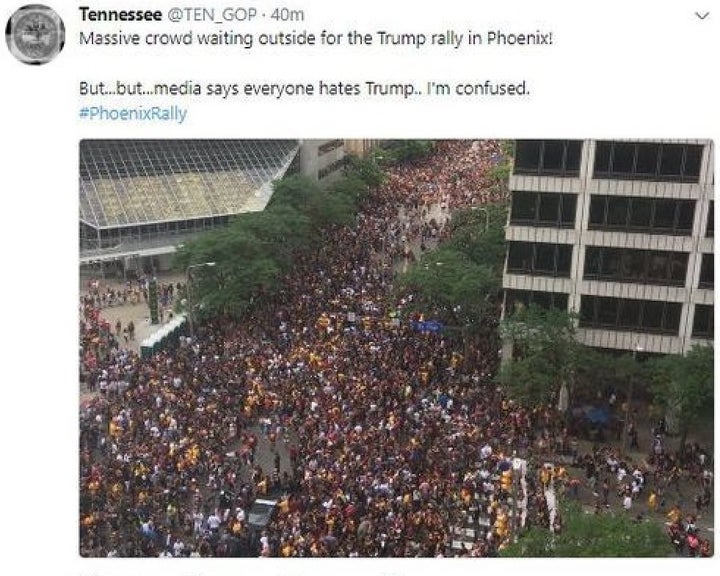 "Massive crowd waiting outside for the Trump rally in Phoenix," read a caption on a tweet posted to the Twitter account @TEN_GOP, which describes itself as "Unofficial Twitter of Tennessee Republicans" and has more than 73,000 followers. It garnered nearly a thousand retweets before it was deleted.
But tweets referencing the photo began disappearing after astute social media users pointed out the photograph was actually taken in Cleveland, Ohio in June 2016, at the parade celebrating the Cavaliers' NBA title. Cleveland.com photographer Joshua Gunter took the original photo, which can be seen here.
The Twitter account @TEN_GOP subsequently apologized for spreading misinformation.
The Arizona Republic noted that it should have been obvious to anyone who saw it that the photo was not taken anywhere near Arizona: "Anyone who is at all familiar with Phoenix should have known better. It's a desert people. Who really thought Phoenix had that much green?"
The photo snafu was pointed out at roughly the same time Trump was blasting the "crooked media" for "fake news."
According to Cleveland.com, this is not the first time a photograph from the Cavs parade has been misrepresented. The conservative website Breitbart reportedly passed off another parade photo as a snapshot of a crowd at an August 2016 Trump rally.
REAL LIFE. REAL NEWS. REAL VOICES.
Help us tell more of the stories that matter from voices that too often remain unheard.
BEFORE YOU GO