A man who sucker-punched a protester at a Donald Trump rally nine months ago has received a year of probation and a suspended 30-day jail sentence.
John Franklin McGraw, 79, pleaded no contest on Wednesday to charges of assault and battery and disorderly conduct, WRAL reported.
Video of the March 9 incident incident showed McGraw elbow Rakeem Jones hard in the head just moments after the 26-year-old protester appeared to wave his middle fingers at the crowd in Fayetteville, North Carolina. Jones was being led out of the rally at the time.
"The next time we see him, we might have to kill him," McGraw said after the incident. "We don't know who he is. He might be with a terrorist organization."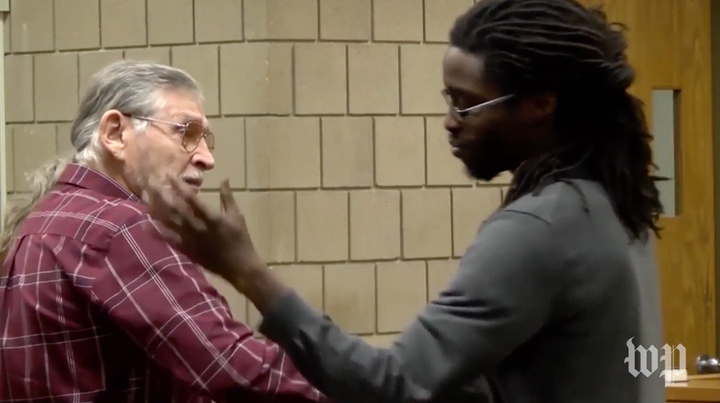 The two men did meet again, this time in a courtroom.
"You know what you did, and I know what I did. I'm not going to say you were wrong or I'm wrong," McGraw told Jones. "I hate it worse than anything in the world. If I met you in the street and the same thing occurred, I would have said, 'Go on home. One of us will get hurt.' That's what I would have said. But we are caught up in a political mess today, and you and me, we got to heal our country."
McGraw, a former Golden Gloves boxer, also offered Jones a handshake. The two men received applause when they hugged.
"I just felt good being able to shake his hand and being able to, you know, being able to actually face him," Jones told reporters after the hearing.
Support HuffPost
Every Voice Matters
Popular in the Community